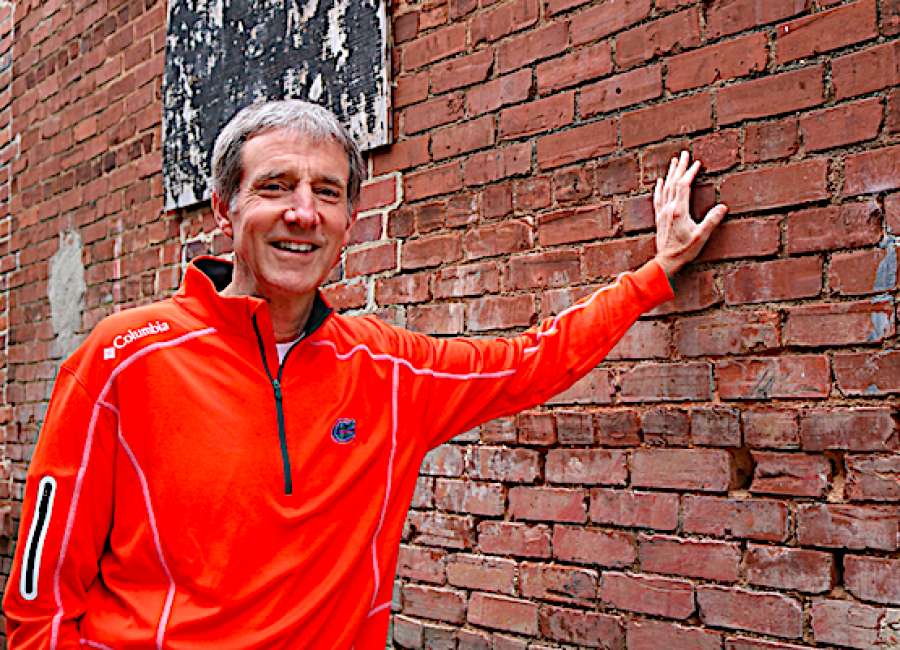 Earlier this summer, Bill Buckalew, an assistant coach for the East Coweta High School Indians cross-country team, invited me to speak to the runners.

The theme was "be legendary," the team's motto for this season. Bill also asked me to limit my presentation to five minutes or less as it would follow a grueling morning workout. I was more than happy to oblige.
I found the 50 or so young men and women to be a great audience. Despite a four-mile run and several speed drills on a hot summer morning, holding their attention wasn't a problem. In fact my "five minutes or less" turned into almost 20, due in part to a lot of questions from inquisitive minds. They didn't seem to mind that their practice session ran about 15 minutes long. Neither did I.
I asked the coaches afterward if there was anyone on the team that would make for a good story. It wasn't long before I had a name: Shannon Ferry.
Shannon, the daughter of Richard and Shele Ferry of Senoia, began running at an early age. She ran with her still-best friend Anna – who now runs for rival Starr's Mill – in a one-mile race in Newnan while still in kindergarten. The two of them tied for first, outrunning everyone else in the race, including all of the boys. Shannon ran her first 5K with her dad as a third-grader. In seventh grade she established a still-standing county record for the mile for middle school: 5:35.
Last year as a freshman, she led the East Coweta Indians to the girl's championship at the coveted Coweta Cup county championship meet. In fact, Shannon's winning time of 21:42 for the five-kilometer – 5K, or 3.1 miles – race highlighted a top-three finish for her and two of her teammates, a mere seven seconds separating the talented trio. She then competed in the state meet where the team finished in a respectable 11th place.
This year could even be better as Shannon has decided to give up her "other" sport, soccer, so that she can focus solely on her running. Last year, her devotion to both sports was exhausting, as she would leave one practice 15 minutes early so she could get to the other practice on time. Most weekdays she wouldn't get home until 8 p.m. with a shower, dinner and homework still waiting for her.
It's worth mentioning Shannon is devoted to her schoolwork as well as her running. Last year she finished with one of the top 10 grade point averages in her class. It's also worth noting that she considers it her proudest achievement thus far, just ahead of her outstanding Coweta Cup victory.
Shannon has been training this summer by running 20 to 25 miles a week, doing her shorter and faster runs in the morning and her longer runs in the evening once she's had dinner, which gives her the extra fuel she needs for those eight- or nine-mile runs. She likes to train on hills, run on asphalt and finds running as a means of relieving stress.
On these three points Shannon and I have a lot in common, especially when it comes to running on asphalt as opposed to trails, because "running on trails requires to much thinking; on asphalt all you have to do is run." I couldn't have said it better myself.
Shannon's immediate goal is to get her time for 5K under 20 minutes. Her best is 20:40. Next year she would like to run the Peachtree Road Race with her dad by her side. She wants to go to college. Georgia Tech is currently on her radar. Maybe one day she'll even convince her younger sister Cate, who is perfectly content with her tumbling for the time being, to run with her.
After meeting with Shannon, I mentioned to her mom that her daughter has the mindset of a runner well beyond her years, and that I felt certain it would take her a long way.
Which is what every distance runner likes to hear.
Scott Ludwig lives, runs and writes in Senoia with his wife Cindy, three cats and never enough visits from his grandson Krischan. He can be reached at magicludwig1@gmail.com