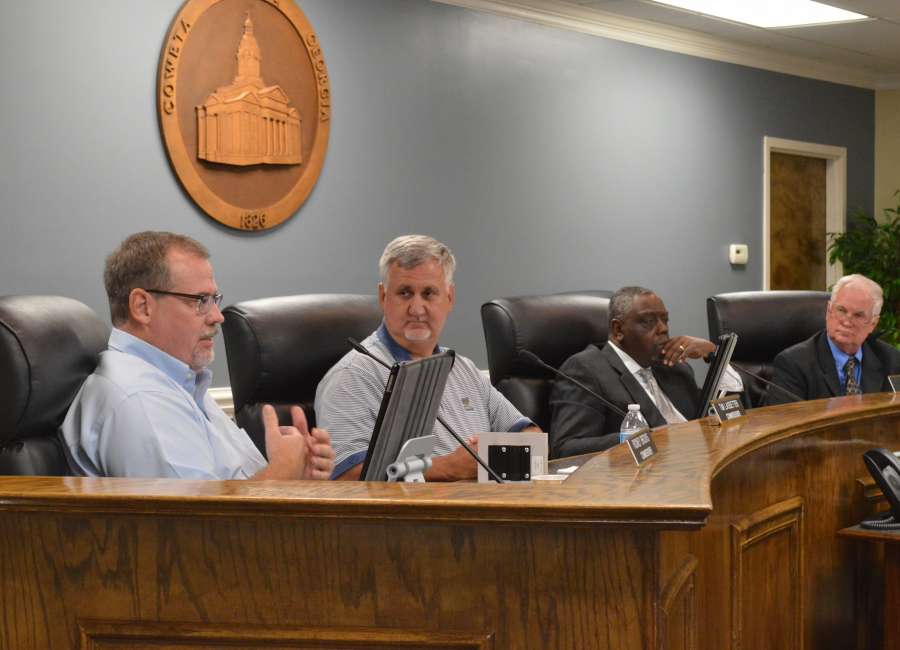 Following two public meetings on ways to preserve Coweta's rural areas, the county's planning and zoning staff have made several recommendations for changes.
One of those is bringing back impact fees.
The impact fee recommendation drew debate at last week's meeting of the Coweta County Board of Commissioners, with two residents, and commissioners, coming out strongly against them.
Technically, Coweta County still has impact fees, but the fees are set at $0, and have been since Jan. 1, 2014.
Impact fees are set fees that are charged on all new development and are designed to pay for specific projects. The county first implemented impact fees in 2006, to help fund recreation, fire services, the jail and the Coweta County Sheriff's Office. Fees for transportation projects were added in 2007.
The fees were extremely high for some commercial categories, and in 2010, the county made some changes to the way fees were calculated and capped them at $7 per square foot.
In 2012, the commissioners voted to change the impact fees again, essentially cutting them in half.
Bob Coggin, former Newnan city councilman, and Larry Callahan of Coweta Industrial Park spoke during the public comment portion of the meeting.
Coggin said he is opposed to a "one size fits all" impact fee schedule. A company that is going to create hundreds of jobs shouldn't have to pay the same impact fees as others.
Right now, the market is good and there is a lot of investment taking place in Coweta, said Callahan. But impact fees could change all that.
"An impact fee is a significant barrier to entry," he said. When the county did have impact fees, there was a "very strong chilling effect on new investment," he said.
"Think about what impact this would have on people selecting this location," he said.
The resurrection of impact fees was just one of seven recommendations submitted, but was by far the biggest topic of conversation.
Commissioner Tim Lassetter asked if impact fees would discourage industry from coming to Coweta. He said the company he works for likely would have been happy to pay impact fees to locate in Coweta with its talented workers.
"But on the other hand, the last thing I want to do is deter investment and increasing the tax base," Lassetter said.
Lassetter said he'd like to sit down with staff and go over the details.
Commissioner Rodney Brooks said he sees impact fees as an illegal tax. Whether or not an a particular industry has to pay them depends on several factors, and he feels it is subjective.
It also sends negative message to businesses who are considering coming to Coweta, he said.
Brooks said he's been told that when large corporations are looking for places to locate, one the first things they look at is how business-friendly an area is.
"When you put impact fees at the top of your list, it turns a bunch of CEOs off," Brooks said.
In the short term, impact fees may bring in a few million, but in the long term, "I think we're losing quality business growth in this county if we reinstate impact fees," he said.
The impact fee collections from 2006 to 2013 "don't reflect the business that we ran off," said Commissioner Bob Blackburn. "I think they are detrimental to the economic vitality of the county."
Commissioner Paul Poole said he doesn't disagree with that for business, but that impact fees are needed for residential growth.
"Why should people who lived here all their life have to pay for things that new people are generating?" Poole said. New residents should have to pay for the services that are needed for them, he said.
County Attorney Jerry Ann Conner said the county couldn't just charge impact fees on residential growth.
The county would have to fulfill certain legal requirements to bring impact fees back and would probably need to do some study, Conner said.
"I don't want to spend money to study it," said Brooks.
Lassetter said he's not ready to do that, either, without more information. But he doesn't want to see people who have lived here for years have to bear the burden of new growth and specifically mentioned a massive proposed residential development on Poplar Road.
Blackburn, whose family owns the property proposed for development, recused himself and went to the back of the room for that discussion.
If new growth were paying its way, the county might be able to roll back the millage rate, Lassetter said.
The county can require developers to do certain things such as put in road improvements, but only as conditions of zoning, through development agreements.
"We're not going to be able to solve this tonight," said Chairman Al Smith.
One of the other recommendations from the planning department was related to open space requirements for subdivisions. Currently, flood plain can be used as the required open space, and the recommendation is to remove flood plain from the calculation. Poole said he would like to go ahead and move forward on that recommendation.
A motion to move forward with an ordinance change and public hearing on the flood plain issue passed without opposition.
Other recommendations include:
•Amending the zoning ordinance to establish a minor subdivision review for residential developments with 2.5-acre and 5-acre lots.
•Making changes to the rules regarding private easements in subdivision developments.
•Establishing incentives for redevelopment of mill village communities.
•Consulting with planning experts to draft a zoning amendment regarding allowable subdivision density based on community infrastructure and services.
•Amending the zoning ordinance so that votes on zoning matters are no longer taken immediately after the public hearing, but instead are made at the next regularly scheduled meeting.