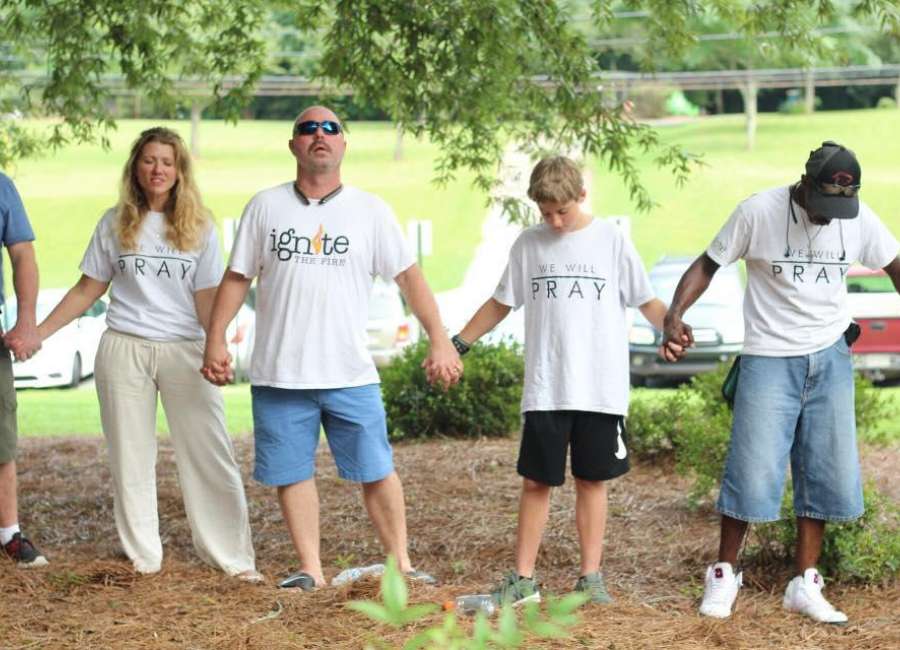 Prayers for the safety of students and teachers, and for a successful school year, were offered Saturday morning in front of Newnan High School, during a prayer rally hosted by Ignite the Fire.

The two-hour rally featured worship music, speakers and prayer, and is one of many rallies that the local organization, a non-denominational, racially diverse group of churches, ministries and individuals, has put on.
Debra Harris of Ignite the Fire said the turnout was lower than she had hoped for, but that's OK.
"Our goal for the prayer rallies is to assemble, pray and then leave, whether we have a crowd or whether we have two or three," she said.
"We will continue prayerfully in the future hope that we will get others to see the need for prayer and to come and stand with us in prayer."
At Saturday's rally, there were several teachers and two school administrators who came to pray, Harris said. "The worship was just beautiful… those who were in attendance were excited about being here," she said. "They expressed that they felt the presence of God there with us, and so did I."
The group's next event will be a unity rally Saturday, Sept. 22, at Greenville Street Park, from 10 a.m. to noon. Harris said Ignite the Fire will be working with a local motorcycle ministry group on this September rally.
The prayer rally hopes to build on the community unity that occurred in light of the April 21 neo-Nazi rally in downtown.
"We want to not just say we're going to be better and try to be unified. We want to continually try to do better," Harris said. "Our goal is not to pray when things happen or after something has happened. Our goal, as the Ignite the Fire Movement, is to continue to pray and be prayed up in case something does happen."