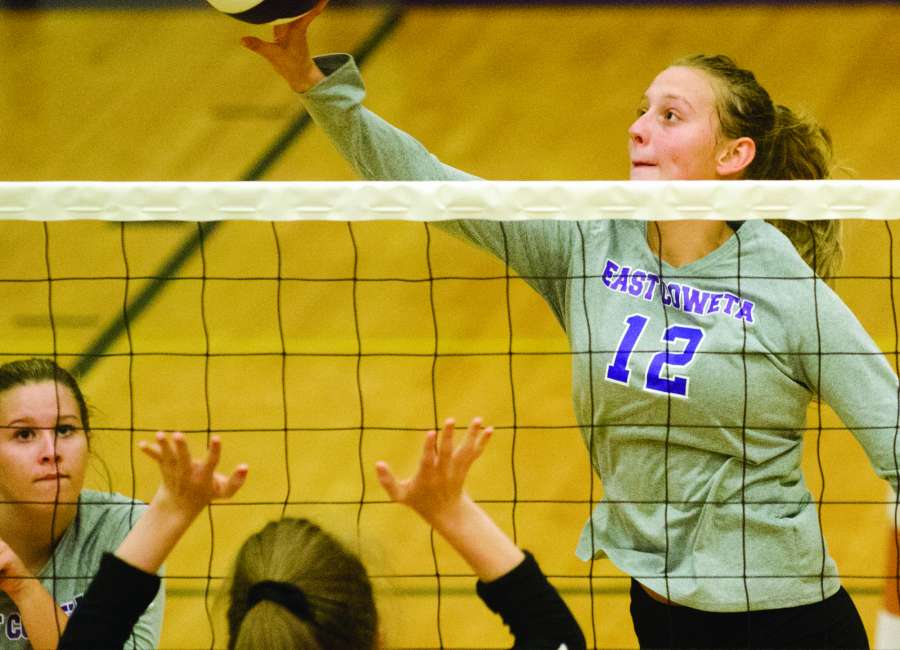 By CHRIS GOLTERMANN
CowetaScore.com 
(Editor's Note: A complete series of high school volleyball preview stories will be published on Thursday, Aug. 16)
The high school volleyball season is tricky for coaches when it comes to its pace. There's a need to speed things up to see how chemistry and rotations will evolve.
Yet simultaneously, some players are coming off busy club-level seasons that include national tournaments. Push a group too quickly and the result could be burnout by late October. 
It's why head coaches have tried to find a middle ground during the summer, one where county rivals have helped each other at times when it comes to scrimmages.
"We try not to play too much in June. We did weight training," East Coweta head coach Paul Collins said after hosting Trinity for an officiated scrimmage on Tuesday. "They play [club] through the end of June. So that way they get a little excited by the time we get started in late July."
Lady Indians seniors Nahla Muhammad, Ryan Spicer-Gordon and Becca Sieckmann traveled with club teams to nationals
"It's a lot. You get used it. It's just kind of how it goes," Spicer-Gordon said in agreement with her senior teammates after Tuesday's scrimmage. "It's like a cool-down time." 
Trinity equally hosted unofficiated workouts with East Coweta and Northgate this summer, a huge benefit especially with all three county public school programs displaced due to the addition of air conditioning units in home gyms. 
It's been as much a benefit to the Lady Lions while making the move to the GHSA. After five state titles in GISA over the past seven years, Trinity will be aiming to make a run in the Class A Private state tournament this fall. 
In addition to the prestigious Rally High event at the LakePoint facility in Emerson, Trinity's 2018 schedule will include at least two regular season matches with East Coweta and Newnan, as well as a pair in late September against former GISA rival Heritage School. 
"Since we didn't know until late what region we'd be in, I tried to schedule higher [classification schools]," Trinity head coach Joe Herrera said. "We're going to go to Rally High where we're going to see a lot of tournaments."
The Lady Lions summer included matches against Johns Creek, Dunwoody and North Cobb."
Part of Trinity's transition process is preparing for regular best of three tri-matches, having played best-of-5 duals head-to-head against former GISA opponents. 
"It's two out of three and you've got to start fast," Herrera said. "Trying to get that competition so we can be ready. We go from trying to beat two or three teams in the GISA to 20 or 30 [in GHSA Class A-Private]. Anybody can win it."