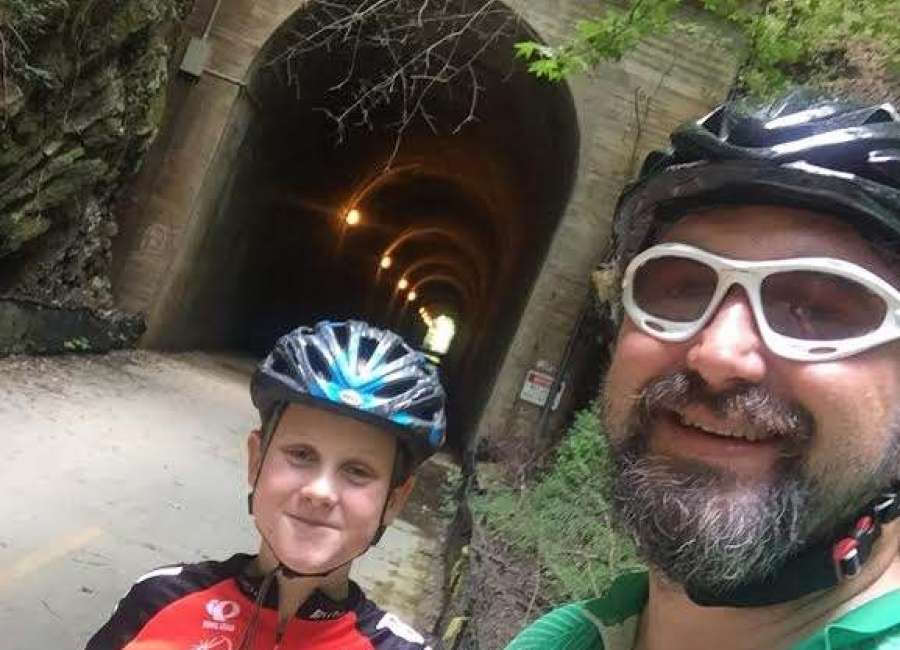 Spending quality time with the ones that you love can make for the best memories.

Father and son duo Kelsey and Thor Bockmuller took an overnight 120-mile tandem bike ride on the Silver Comet Trail July 12.
"I know 120 miles sounds like a hard thing to do, but on a road-style bike, 120 miles is not a bad ride," said the father.
The trip came right before Thor's 11th birthday July 15.
The two loaded their bike with 30 pounds' worth of camping gear that included a change of clothes, sleeping bags, a tent and a hammock. However, the hammock wasn't used much during the trip because of bugs, according to the father.
Both the father and son listed the bugs and the heat as the hardest part about the trip.
The two started their trip in Hiram and biked 60 miles to a campsite outside of Piedmont, Ala. After dinner and camping overnight, the two made a 60-mile trip back to their starting destination.
Each 60-mile trip took six hours to bike.
Thor is a Boy Scout who just recently crossed over from being a Cub Scout this summer. The July trip will help him to earn his cycling merit badge.
It was his idea to do a cycling trip. Kelsey added the idea of camping overnight.
Kelsey has been an avid cyclist since he was in high school and Thor has been tagging along "since he could hold his head up."
The Bockmuller patriarch describes his Senoia family of four as a "biking family," owning two tandem bikes on which both he and his wife Jennifer lead their children.
Kelsey and Jennifer also have a 6-year-old daughter, Elaine.
According to Thor, being alone with his father made it easier for him to enjoy his time, without having to perform big brother duties.
"She tries to get me to do everything with her," said Thor.
Biking through tunnels and meeting new people on the trail was Thor's favorite part.
"That's the thing about a tandem, you get to socialize the whole time," said Kelsey. "Our heads are about a foot and a half away from each other. So we can speak at a conversational level right next to each other."
The father of two said that he spoke to his son about his son's wonders and wants.
"That's where it's worth every bit of time spent," said Kelsey about bonding with his son. "Spending two days together and doing something memorable."
The father-son duo plan to go again on a longer trip with water activities included.