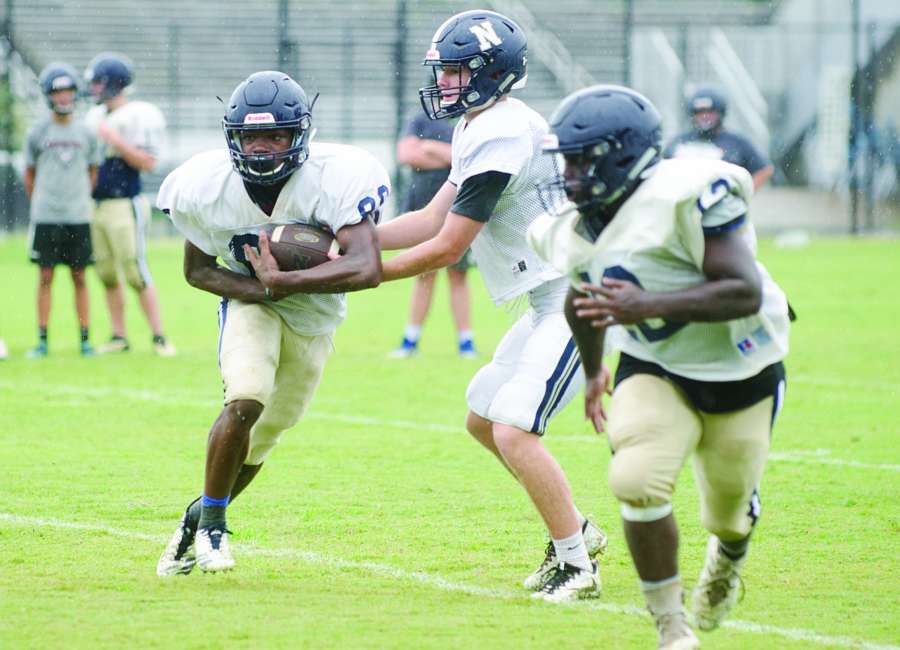 By Chris Goltermann, CowetaScore.com 
It wasn't the driest practice Newnan's football team will see this season. But a chance for the Cougars to put on pads in conditions that weren't in 90-plus degree temperatures may have still been a blessing for high school lineups upon reaching Aug. 1. 
"I thought we had a great first day all things considering [with the weather]," Newnan head coach Chip Walker said.
While Aug. 1 has come to be known as the unofficial start of the high school athletic year in Georgia, fall athletes haven't exactly been laying out by the pool all summer. 
Football programs have been in full swing since June between daily workouts along with allowed 7-on-7 and padded camps while on campus through most of summer vacation. 
Cross-country teams have also held voluntary workouts throughout the last two months while softball and volleyball athletes have been equally busy with club schedules. Volleyball lineups have been able to hold practice scrimmages with Trinity Christian hosting East Coweta and Northgate on occasions. 
The countdowns are immediate to season openers. Softball play is allowed beginning as early as Friday by the Georgia High School Association and volleyball matches can follow starting Monday.
Football teams, meanwhile, will open with scrimmages as early as Aug. 10. Practice in pads continues to be limited to no more than two consecutive days, meaning teams will only have a maximum of five days in full gear prior to taking the field for preseason games. 
Scrimmages on Aug. 10 include Northgate at Grady, Newnan at Whitewater and East Coweta at Griffin. 
East Coweta, Newnan, Trinity Christian, Heritage School and Central Christian will all open respective football schedules the weekend of Aug. 17-18. GHSA schools will be limited to eight days in pads between now and that time.
Newnan and Trinity Christian will be the first to christen new turf fields on Aug. 17, with the Cougars hosting Chapel Hill and the Lions welcoming Northeast Macon in what will also be Trinity's football debut in the GHSA. 
In GISA play, Heritage School heads to Terrell Academy for its opener on Aug. 17. Central Christian, making the move from 8-man football to 11-man in the GICAA, will travel to Flint River for its first game.
East Coweta will rise early on Aug. 18 for a 9 a.m. kickoff at Mercedes Benz Stadium against Kell High as part of the Corky Kell Classic. 
Northgate will open on Aug. 24 at Newnan in the first meeting between county programs since 2003. 
Softball scrimmages begin as early as Thursday, with Newnan hosting Whitewater at 4:30 p.m., before official games start next week. 
Several volleyball programs, including East Coweta's, will begin play at the annual Sequoyah Classic on Aug. 10-11.