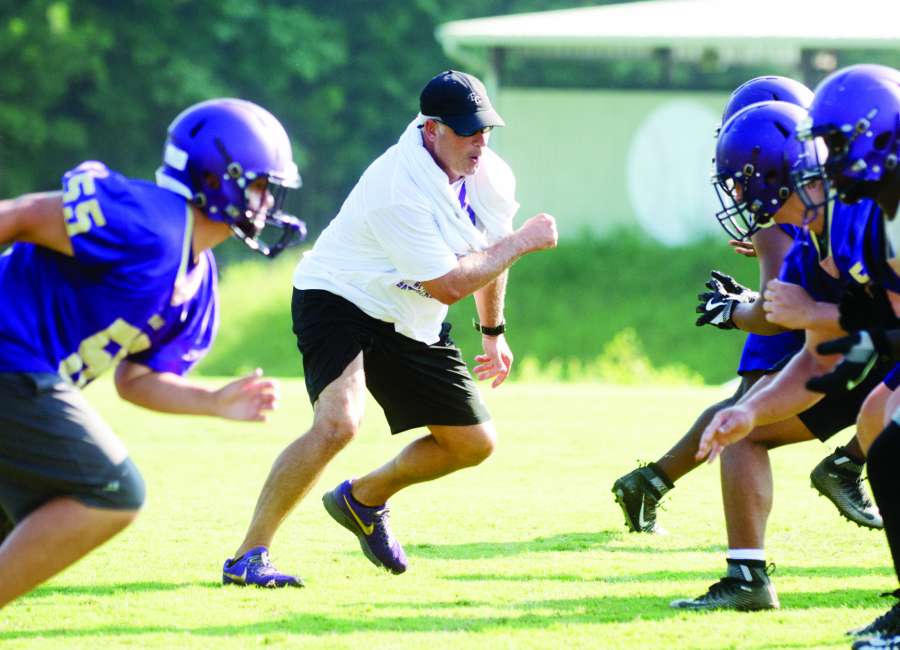 By the time second-year East Coweta football coach John Small brings his team back home for the home opener at Garland Shoemake Memorial Stadium on Sept. 14 against North Cobb, the Indians will be nearly a month into the 2018  season.
They will also have played in some impressive venues the first three games of the new campaign.
East Coweta opens the year at Mercedes-Benz Stadium against Kell on Saturday morning Aug. 18 as part of the Corky Kell Classic, plays Carrollton at University Stadium on the campus of West Georgia on Aug. 24 and makes the trek to Valdosta for a contest against powerhouse Lowndes the following week.
All three games will serve as important non-region tune-ups for the Indians, but the game against Carrollton will give Small a chance to walk down memory lane.
The Indians' coach was a tight end and long snapper for West Georgia from 1992-95 and also served as a tight end coach for two seasons coaching under former head coaches Charlie Fisher and Glenn Spencer.
"Those were some of the best years of my life. The relationships we were able to develop playing football is something I will never forget," Small said.
Fisher is now the wide receivers coach at Arizona State University, while Spencer is the defensive coordinator at the University of Charlotte.
Fisher has stayed in contact with his former pupil over the years. 
"John was a very smart player and very detailed. Always handled his business on and off the field.  I knew that was going to make him a good coach," Fisher said.
Fisher could tell early Small had the right personality to go into the coaching business.
He  was impressed with Small's knack for getting through to his players early in his coaching career.
"Even as as young coach, he had the ability communicate to guys he had just got done playing with. That's not always easy." Fisher said. "That was one of the reasons I wanted to keep him around."
He has stayed in touch with Small over the years. When Fisher was an assistant coach at Vanderbilt, he recruited wide receiver Jonathan  Krause off of Small's South Gwinnett team.
Krause went on to play in the NFL and is now an assistant coach with the Oregon Ducks.
A lot of things have changed at West Georgia in the more than two decades since Small played and briefly worked with the football program.
Back when Small was a student and later a coach, West Georgia played its football games at Grisham Stadium at Carrollton High School and the team was known as the Braves.
"The facilities were a little different back then, but we played because we loved each other," Small said.
Now the Wolves play in a state-of-the-art Division II on-campus stadium that seats just over 9,000.
Small is looking forward to taking his team to his alma mater for what will be just the second matchup all time between the two teams with lots of tradition.
"I am really excited first and foremost for my players to get a chance to play at such a great facility," Small said.
There has been a huge pipeline from the West Georgia football team into the coaching profession over the years, including many of Small's teammates.
"I bet there are at least 20 of my former teammates who went on to be high school coaches. There are others who didn't go into coaching that I still stay in touch with. It was just a really unique situation," Small said.
For Small, that says a lot about the way the coaches from West Georgia influenced their players.
One of the things Small took from Fisher was the importance of being a good teammate.
"He taught us that the team was more important than the individual," Small said. He always said if we all row the boat the same way, we are going to have success. They kind of cultivated that winning attitude, because really it was sort of us against the world."
West Georgia started tasting its first success at the NCAA Division II level during Small's era, going 7-3 in  1994  and 8-3 in 1995.
East Coweta comes into the 2018 season after going 5-5 and missing the playoffs last year for the first time since 1995. Carrollton enters the new season after going 10-3 and making to the Class 5-A quarterfinals.
"I can't wait to see  these kids eyes when we play these early games at  such great places. You want to expose your kids to as many things a possible," Small said.
His former college coach is proud of the coaching resume Small has written since leaving Carrollton.
"Small is a great football coach, but he is a better person. He really cares about his players," Fisher said.