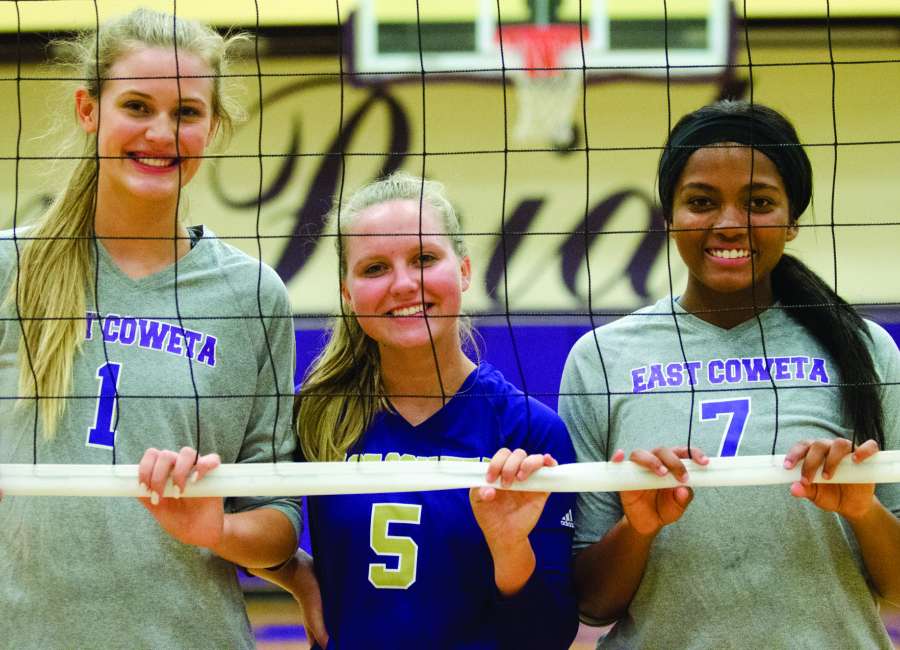 BY Chris Goltermann 
CowetaScore
It's always satisfying to come back from a productive sports season, especially one in high school volleyball that results in a trip to the GHSA Elite 8 in its highest classification. 
And there's plenty of buzz around East Coweta's program this fall while returning a solid core from a lineup that went 34-12 during 2017. 
But as successful as the Lady Indians season was a year ago, the program down the road had an even better one in Region 2-7A, denying East Coweta both a region and county crown.
It's why the program also doesn't expect to be satisfied with last year's accomplishments. 
"They've got to stay focused on trying to do the best they can. We had a good year last year," said veteran head coach Paul Collins, now in his third year at ECHS. "Their challenge is to repeat it and win the county championship."
Both crowns have gone hand-in-hand when it comes to Newnan the past two seasons, with the Lady Cougars' program experience an all-time level of success following its first-ever appearance in the state semifinals. 
Motivation and emotions may also be at an all-time high following the passing of Amber McClure. 
span class="Apple-converted-space"> 
Players from both rival programs have dedicated seasons to McClure's memory and have joined to sell T-shirts where proceeds will go directly to her family as well to her husband, Kevin Fayerweather. The annual county championships, which will be hosted at ECHS on Sep. 13, is expected to be a gray out in her honor.
On the court, however, the two lineups are again expected to go head-to-head to decide another Area 2-7A crown. 
East Coweta's quest has included a 3-1 start starting at last weekend's annual Sequoyah Classic. The Lady Indians split two matches with host Sequoyah in addition to a pair of wins over Milton.
Despite graduating four seniors, the team returns three upperclassmen that all played active roles in last year's successes. 
Outside hitters Nahla Muhammad and Becca Sieckmann were All-CowetaScore First Team honorees in 2017 among top performers in the lineup.  
Sieckmann had a whopping 513 kills to lead the offense, with four others including Muhammad, who had 203, finishing in triple digits. 
Libero Ryan Spicer-Gordon, who has committed to Georgia State, is also coming off an All-County season where she led the team with 388 digs.
"They had that fire last year and I hope they can keep it up as seniors," Collins said.
Off the court, they hope to mesh the group of last year's contributors with an influx of young faces including two freshmen who could see some immediate playing time on the varsity. 
"I feel like just trying to make the younger kids more part of the team and more welcome because they're nervous," Muhammad said. "It's just a lot of nerves and we know, because we were there."
All three of the seniors remember the role that former teammates like Riley Padgett, also a starting libero, along with Sydney Winters and Peyton Smith. 
"It was the same thing when we were freshmen," Sieckmann added. "We all played varsity."
span class="Apple-converted-space"> 
Sara Ridge and Sadie Buckalew both saw playing time a year ago as sophomores and have been in the regular rotation providing depth. 
span class="Apple-converted-space"> 
Freshmen Bailey Olive and Sarah Johnson join the varsity roster after arriving from Lee Middle with potential to also immediately gain playing time. 
span class="Apple-converted-space"> 
span class="Apple-converted-space"> 
"As a team you improve, individually we need to improve," said Collins, who was pleased with the progress over the summer. "They just can't sit back and relax."