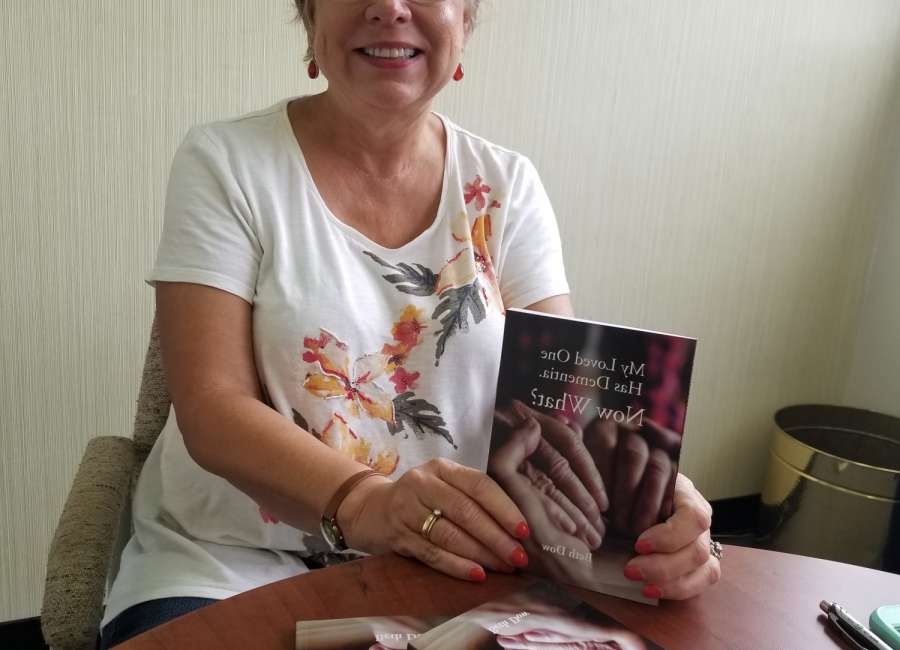 Local business owner Beth Dow has written a book to answer common questions about dementia and Alzheimer's disease for caregivers.

Georgia's death toll from Alzheimer's has increased by 201 percent since the year 2000, according to the Alzheimer's Association. More than 3,700 people die from the disease each year.
Alzheimer's is the sixth leading cause of death in Georgia, according to officials from the Alzheimer's Association. That statistic is expected to worsen.
Nearly 140,000 Georgians are living with Alzheimer's. That number is expected to rise to 190,000 by 2025.
Dow and her husband, Phillip, own Home Helpers, which offers in-home care for seniors. The couple's son, Grant, runs the business so Dow is able to educate dementia and Alzheimer's caregivers through workshops, seminars and her book," My Loved One has Dementia. Now What?"
Dow said she created the book based on feedback from caregivers.
"There are dozens of books out about Alzheimer's and dementia, but most of them are very long," Dow said.
Dow said many caregivers told her they didn't have time to read books that long, and they are often afraid the books will be too technical.
"Many (caregivers) are also afraid the book is not about where they are at the moment," Dow said.
Dow said writing the book didn't take long, because it's based on workshops she hosts.
"I teach nurses, social workers, registered nurses, professionals and families how to deal with these diseases," Dow said. "The book was not written to be overwhelming. It's a quick read. You can read it in 30 minutes. I write like I speak. Just down to earth and not over anybody's head."
Dow said common questions deal with family members' chances of getting Alzheimer's and dementia, whether they are experiencing symptoms, and how and where they can get help.
"I also address the things that people need to know to initially," Dow said. "Caregivers are so tired. They don't think there's any help or they may even tell family members they can handle all of the responsibility on their own. Family members may not live (near)by and think they can't help, but there is always something you can do to help. You can order my groceries or order my meals and send them to my door."
Dow said there are many options for helping caregivers, including financial contributions.
Dow offers free workshops for families of dementia and Alzheimer's patients, but she also said she hopes to raise awareness about organizations and how they can help families.
"My vision is that people, home care companies, churches and pastors will have this, so when someone comes to them, they can give them this book," she said. "It's not the last thing they'll need to read, but it will help them feel like, 'Okay, I know where to start.'"
Books are $5, but Dow also gives books to those who can't afford it.
"When you buy a book for yourself, you're also buying one for someone else," she said.
Dow currently is working on two more short books. One will cover how to explain dementia to children and grandchildren, and the other will be written specifically for pastors to help their congregations cope with the diseases.
She has not set a publishing date.
"Every three seconds someone is diagnosed with dementia," Dow said. "I encourage everyone to learn as much as they can about these diseases. If you're not directly affected by them, you know someone who is."
For more information, email Dow at beth@solutionsbybeth.com