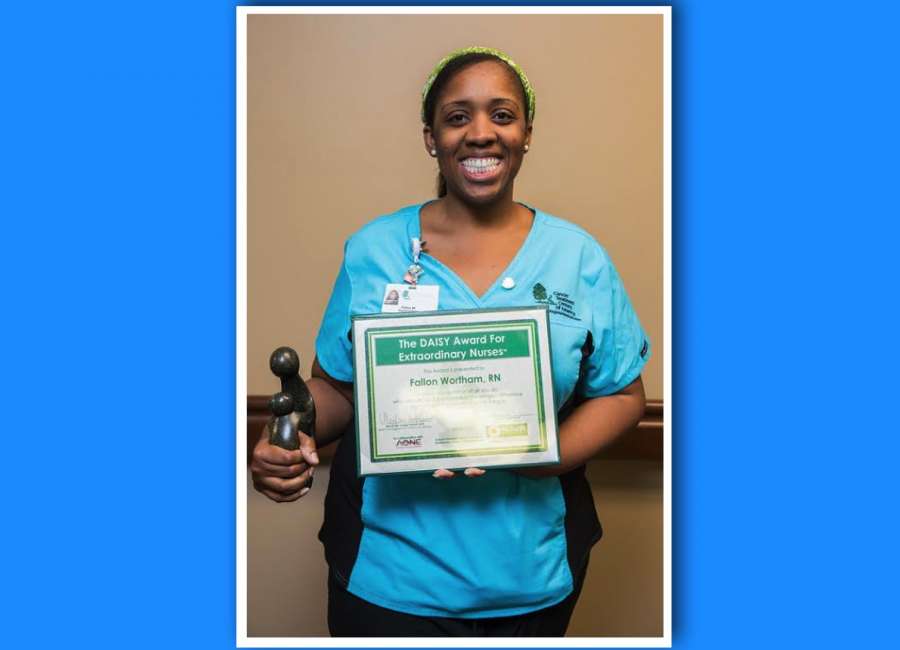 Cancer Treatment Centers Of America Nurse Fallon Wortham has a new plaque hanging from her wall and a decorative trophy, called "The Healer's Touch," adorning her table.
Wortham recently received both awards after winning the prestigious DAISY Award.
DAISY, which stands for Diseases Attacking the Immune System, is a national award that recognizes extraordinary nurses who go above and beyond to provide care to patients and show compassion to a patient's family, according to www.daisyfoundation.org
Winners of the DAISY Award can be nominated by their colleagues or patients.
In this case, Wortham was nominated by the family of a patient she cared for at CTCA in Newnan.
The nurse has worked at CTCA for two years and learned about the honor during a meeting.
"My direct manager started reading highlights of a letter written by a family member of a patient … She then announced my name. I was in total shock," Wortham said. "I sat with my mouth open for at least 10 seconds. I was thankful and in awe that the family took time to say such nice things about me."
Wortham said while her daily job can be rough, it can also be rewarding.
"I love the fact that I can watch a patient's journey from when they receive a diagnosis, through treatment to when they go into remission and are living a normal life again," she said. "But sometimes the outcomes are not the most desirable. That's tough because you've developed relationships with the patient and their families and know them on a personal level.
"To find out the end of their journey is near is a tough pill to swallow," Wortham added.
The nurse said she remains upbeat and supports and encourages all her patients and their families, no matter what the outcome may be.
Wortham said winning the DAISY Award made a positive impact in her personal life and on the job.
"It made me realize that every action, big or small, has an impact on a person's life," she said. "I listened, smiled and gave patients a simple hug.  Who knew that these small acts would be so helpful?
"These patients go through a lot. So, a little compassion goes a long way. I will continue these actions on a daily basis – on and off the job," Wortham added.
The CTCA nurse said she plans to go back to school to get a Master of Science degree.
She hopes to become a nurse practitioner specializing in family psychiatry in the near future.