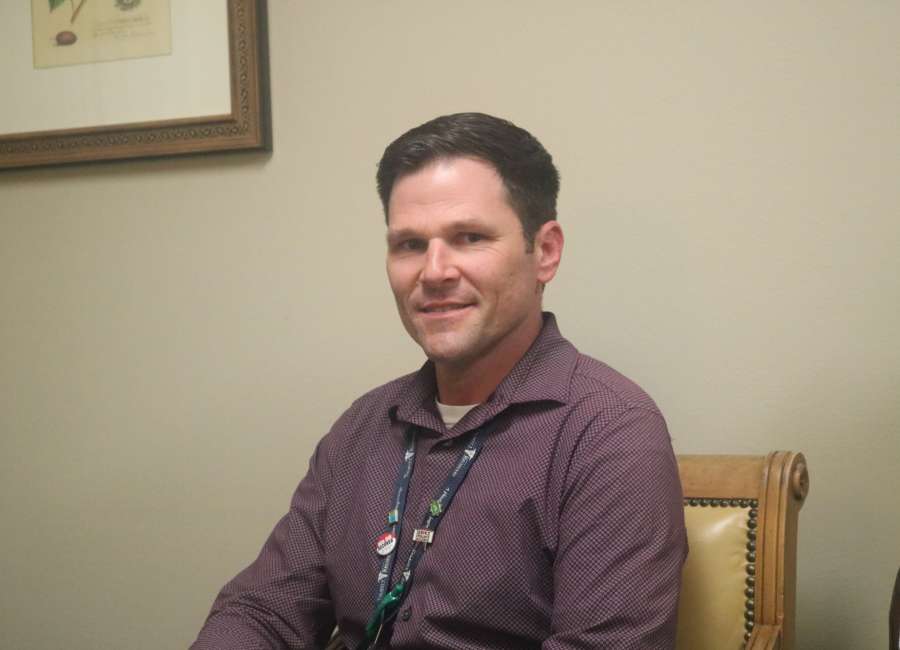 When talking about substance use and recovery, everyone has a different path.
Hank Arnold, a Coweta County resident and program coordinator at Talbott Recovery Campus in Atlanta, sat down for a chat about the various topics concerning substance use, including his own experience.
Arnold is in long-term recovery, which means he hasn't used any mind or mood-altering chemicals since Jan. 10, 2010.
"It's a big deal," he said with a smile.  
Arnold says he was raised in a loving Spalding County household, but started dabbling at an early age with different substances. Falling into legal consequences shortly after, Arnold was introduced to a recovery community in the 1990s. However, he said the idea of recovery wasn't "appealing" to him at the time.
"Within myself, I really struggled to feel worthy and to feel like I was redeemable," Arnold said. "I didn't know if that was something I could recover from."
After going through feelings of being "developmentally delayed" and struggling with personal relationships, Arnold got clean at age 32.  
The program coordinator admitted that it was hard going through recovery because he didn't know what sober life would look like since he had "no experience" – unlike those who began abusing substances later on in life.
"The last time I had been a functioning member of society was in my teens," Arnold said. "I couldn't go back to being a teenager."
Peer support and understanding helped Arnold to live and see his life differently.
Arnold has worked for the recovery campus for seven years, helping young adults through treatment and recovery.
"I get to use my past to help people through early recovery," he said. "I get to pay it forward."
Arnold suggests that there are early warning signs to know that you should seek help, including using more of a substance to get the same desired effect; being physically addicted to a substance with withdrawals; being dishonest when concerning substance use; and continuing to use a substance despite negative consequences.
Negative consequences include a decrease in productivity at work and interferences with a marriage.
Arnold laughed and admitted he was beyond those signs when he decided to get treatment. Arnold said he believes social stigmas and the idea that "something is wrong with you" keep people from seeking help.
"When someone walks through the door, I ask them how long they have been using," he said. "The response is usually 5-10 years."
Arnold's reply is usually, "Wow, that's awesome. How awesome is it going to be to wake up and you don't have to use something to get out of bed?"
To better define the language of seeking help with substance use, Arnold broke down the terms detoxing, treatment and recovery.
Detoxing is the removal of a toxic substance from the body, he said. Some substances that require detoxing are alcohol and opioids and benzodiazepines.
"People are surprised when a person in need returns in a month," said Arnold.
Treatment is described as a behavioral change that can help restore their overall health, well-being and happiness, he said. Treatment is usually found at treatment facilities.
Treatment is also described as a "time-out" from life by Arnold.
"Not everyone needs treatment," he said. "I'm not saying anything bad about that. I work in treatment. However, it might not be what everyone needs. You can find the support you need at home and make a behavioral change there."
A person has to be willing and, sometimes, insured to receive treatment.
Arnold described recovery as a lifestyle change, where a person reconnects to society and a support system.
In recovery, one may find little gifts that come with a lifestyle change. For Arnold, his gift was getting a full pardon from the governor from his criminal past and getting his rights as an American citizen reinstated.
Recovery also brought emotional and spiritual connections back to Arnold.
When talking about recovery, Arnold says that a person does not have to "hit rock bottom" to go into recovery.
Arnold acknowledges that everyone's rock bottom is different.
"Everyone has their own path and journey," he said. "You don't have to be homeless to find recovery. You don't have to have all these horrible things happen to you. You don't have to lose everything to find recovery."
Arnold will be leaving the recovery campus Aug. 17 to continue his work with the nonprofit organization Coweta Friends of Recovery for Community Empowerment, also know as Coweta F.O.R.C.E.
With Coweta F.O.R.C.E., Arnold hopes to help find recovery for the community. The organization is currently looking for a place in downtown Newnan to provide community peer support services.
He will serve as executive director.
Arnold says Coweta F.O.R.C.E. will welcome people to show up no matter what stage in substance use a person may be.
"I envision a nice, warm and welcoming atmosphere," said Arnold, "staffed by people who are in long-term recovery with training in recovery coaching to be available to people.