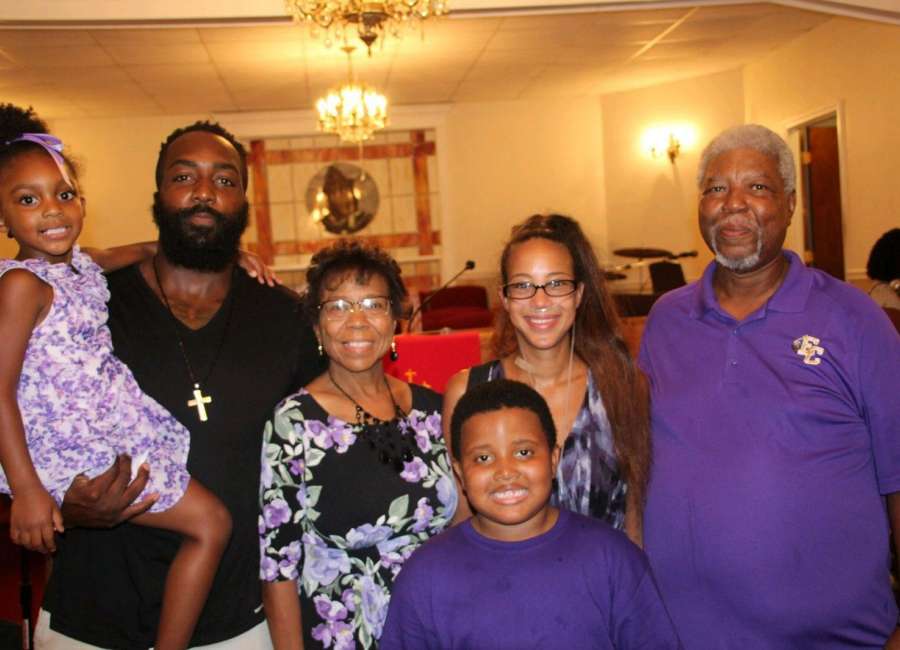 The clock is quickly ticking by on Amy Majors' life.
In April 2017, doctors gave the 33-year-old single mother from Senoia 24 months to live if she did not receive a double lung transplant.
Majors desperately needs the procedure in order to beat Pulmonary Arterial Hypertension, or PAH; a disease she was diagnosed with in 2009.
According to lung.org, PAH forms scar tissue in blood vessels, causing them to narrow and making it harder for blood to flow through the lungs.
As the disease progresses, patients, like Majors, slowly feel like they are suffocating.
The Senoia woman is constantly tethered to an oxygen tank. Majors said she needs the life-saving equipment 24 hours a day, 7 days a week.
While some people may experience self-pity trying to overcome major health hurdles, Majors feels the exact opposite. She believes her disease is a blessing in disguise.
"It's amazing to know there are people out there that are caring and want to help," she said. "All that positivity has touched me. I know I will be healed."
Angels among us
Majors said once her story spread throughout the community, she received calls, texts and emails from friends and total strangers who wanted show their support.
The White Oak Grove Baptist Church in Senoia held a barbecue luncheon and gospel music concert in June to raise money for Majors' medical bills.
The PTO from a local elementary school collected donations, while another group held a bake sale in downtown Senoia during the Memorial Day weekend.
It was there, while purchasing a pound cake, Senoia resident Jenny Haygood learned more about Majors' illness and dire circumstances.
"I felt in my heart  I had to do something for her, and when I was contacted by mutual friends I knew it was meant to be," Haygood said. "I have lived and worked in Senoia for more than 22 years and have met a lot of people through various events. I always go out of my way to help others especially those in need ... I didn't hesitate once asked to host an event for Amy."
Haygood said she reached out to a Newnan charity group called "The Southies." Together, the duo created a fundraiser called, "Ride for Amy's Life." The poker run and silent auction will take place on Aug. 25 at 11:30 a.m. in the parking lot of Great South Harley-Davidson, 185 E. Highway 16.  (Read more about the event on page 2B )
While Haygood was familiar with Majors' family, the two women never met in person until June, as plans for the fundraiser came together.
Until that day, Haygood and Majors were virtually total strangers, though they only lived one street away from each other.
"I had never met Jenny until then and to see she is doing all this for me is truly unbelievable. That was a good day for me," Majors said. "Jenny put the whole event together and her friends are helping her out. I'm surprised and humbled at how the community has embraced me, my family and my health problems. There's so many good people out there."
"Amy has a heart of gold and she would be doing this for someone else if she could," Haygood said. "Everyone who knows Amy loves her – and her family."
Saving grace
The community's outpouring of love towards Majors also emulates a well-known Bible verse. "Do not neglect to show hospitality to strangers, for by so doing some people have entertained angels without knowing it." - Hebrews 13:2.
Those ministering spirits arrived at Major's home one day by mail in the form of cards and letters. The heaping stack of messages were written by students from East Coweta High School, Majors' alma mater.
"I sat there and read each one. I was so overwhelmed by all the encouraging words I received," Majors said. "It was amazing. There were some students who offered to babysit my son Michael or go to the grocery store for me.
"I can't really explain it, but I felt a true sense of hope reading those cards," she continued. "To feel genuine love coming off a piece of paper ... it really touched me. I'm forever grateful for that."
Some students also added biblical references in their letters, but didn't write out the full scripture, Majors said.
"I told my parents, 'I'm going to read each card again and highlight each phrase in my Bible,'" she continued. "Then I realized how long it had been since I had read my Bible and truly gone through God's word. I've grown up with it, but I began to wonder, is my faith there? Am I missing something? I've been praying, but am I still feeling it?
"These kids brought me back to God's word," Majors said. "I absolutely love it. My faith is stronger. This has truly been my saving grace."
Racing against the clock
In May, Majors was hopeful she would soon begin three days of physical and mental evaluations at Emory. The completion of those tests meant she was one step closer to being placed on the transplant waiting list.
However, those evaluations were put on hold when Majors became extremely ill in June.
After she recovered, Majors completed the necessary exams in July, only to be told by transplant specialists she will need to be placed on permanent pulmonary rehabilitation – a treatment she currently cannot receive because it is not covered by her insurance, Majors said.
Doctors also need to retest her kidneys in October, she added.
The therapy and examination are two vital pieces of the puzzle that will determine if Majors is eligible for a double lung transplant – and, if so,  where she will be placed on the transplant list.
A decision will be made by an Emory hospital committee no earlier than late October or November, Majors said.
The Senoia woman's existence is at the mercy of the committee in a dangerous waiting game between life and death.  
"My life depends on these 11 people," Majors said in an earlier interview. "If I'm denied a transplant, that means someone else has hit the 'game over' button, and that scares me more than anything else.
"It would be October or November until I can get on the list, which is close to the 24 months life expectancy rate the doctors gave me to live," she continued. "According to them, my life may be over by May 7."
If Majors is approved for a transplant, she may have to wait two or more years before a new set of lungs becomes available, according to emoryhealthcare.org.
However, even with the odds stacked against her, Majors said she isn't worried.
The Senoia woman's newfound faith and friends have given her a strength she hasn't felt in years.
"Recently, I was able to take Michael back-to-school shopping," Majors said. "It was an all-day experience, and took me about eight hours to get from place to place, but I did it. It made me so happy to see the joy on his face that I was out with him."
The Senoia mom said she picks up her son from school every day and tries to attend his athletic events.
"I don't have time to think, 'OK, I'm only a certain amount of days away from the 24-month date," Majors said. "I just remind myself that one day I'm going to wake up and take a deep breath, something I haven't done in a very long time. I will be able to come off oxygen and won't need IV therapy. I will be healed.
"My faith is stronger," she added. "All I see is my future and I don't plan on giving up."