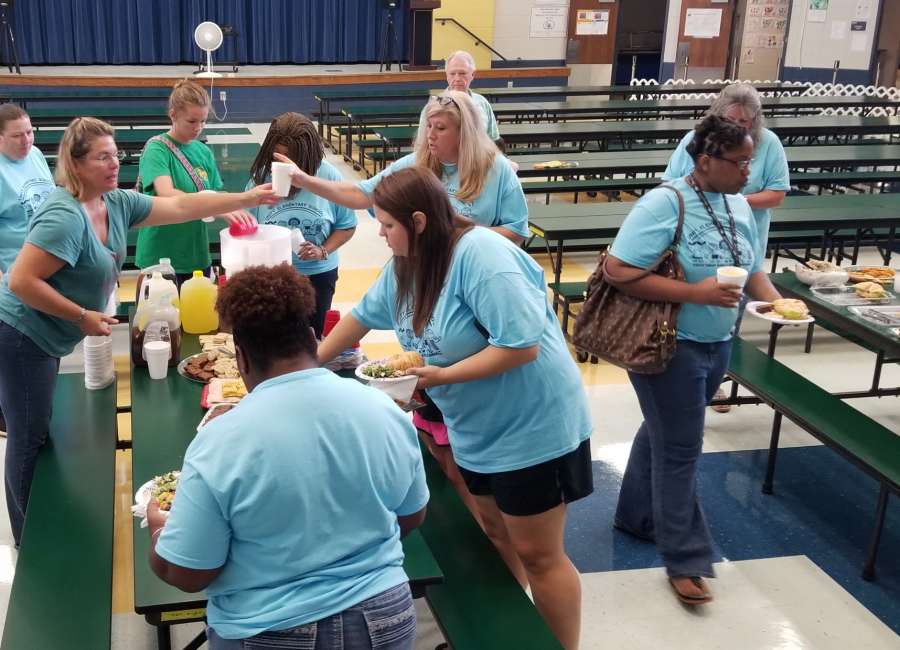 Students have returned to school, and local teachers and their pupils have received help from churches.

Many churches have acknowledged the start of school with a time of prayer or a ceremony blessing bookbags. Other congregations have provided supplies for individual students or welcomed teachers back for a new school term.
Two area churches that have ongoing partnerships with schools are Providence Baptist Church on Providence Church Road and Allen-Lee Memorial United Methodist Church in Lone Oak.
Providence has a long-running connection with nearby Western Elementary School. On Aug. 1, Providence started the new school year by providing lunch for the Western faculty.
The church provided the meat for the meal, and church members prepared side dishes to give the teachers a warm welcome.
Allen-Lee provided lunch on July 31 at Unity, just before teachers headed for a district-wide meeting. Allen-Lee also provided a ream of copy paper for each teacher, and the church's United Methodist Women bought dry erase markers.
Three churches had school supply events on July 29. Powell Chapel United Methodist Church held Praise and Worship Day. After the service, school backpacks were given to each child from kindergarten through 12th grade.
Change Church in Grantville held a school supply giveaway. A hotdog fellowship was held to go along with the distribution of 200 bags of supplies.
Resurrection Lutheran Church, 1250 Lora Smith Road, held a Back-to-School Bubble and Water Bash on July 29. Water play, bubbles and games marked the event, along with lunch.
Admission to the Bubble and Water Bash was a donation of school supplies.
John Wesley United Methodist Church in Grantville and New Mt. Bethel Baptist Church in Luthersville reached out on Aug. 4. John Wesley held a Back to School Bash – giving away book bags, school supplies and food.
A water slide and water balloons were part of the afternoon of fun at John Wesley, along with a bouncing castle and basketball.
New Mt. Bethel has been holding a School Supply Walk-A-Thon near the start of school for several years. 
"Every year New Mt. Bethel provides families with basic school supplies to ensure that children start the school year with the tools they need to succeed," said Tywone Ferrell, pastor of the church.
Games, door prizes and food, as well as distribution of school supplies, followed the event at New Mt. Bethel.