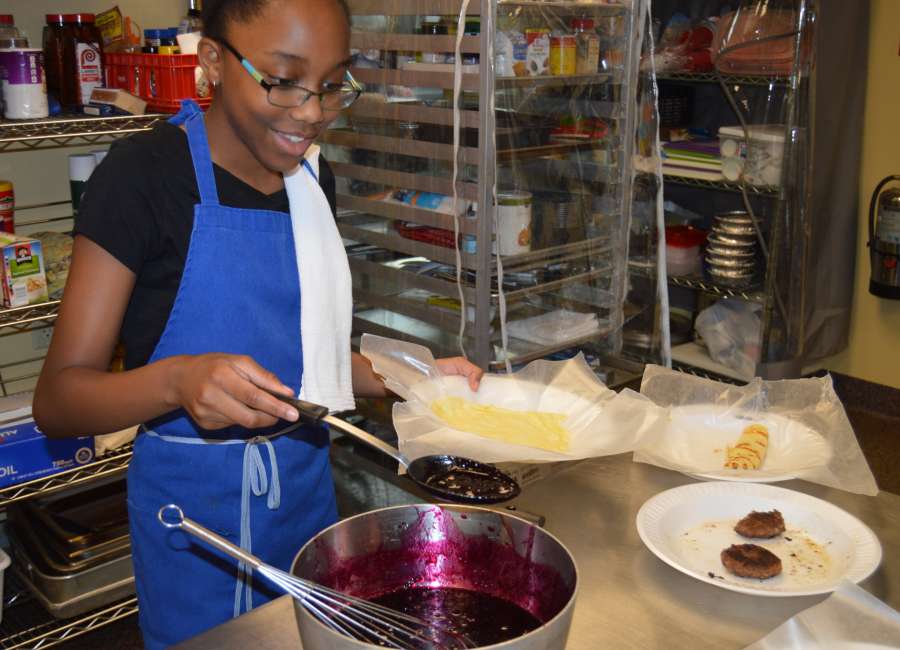 Ten local children may soon be giving nationally known "Top Chefs" a run for their money.

Move over Bobby Flay and and Rachael Ray – the young chefs at the third annual St. George Catholic Church Culinary Camp for Kids are nipping at your heels.
Beginning July 16, campers fine-tuned their knife skills by chopping and dicing fruits, potatoes and vegetables.
"We literally cried while chopping up onions," said Lilli Trahan, 11.
"I liked cutting up the vegetables," camper Jacquelyn Hernandez said.
Each day for the next two weeks, campers learned new kitchen techniques and built on each lesson.
The kids created complex dishes such as white chicken chili and cornbread, tilapia cooked three ways, stuffed bell peppers, pot pies, pasta salad and pizza.
They also prepared more simplistic foods like pancakes and crepes with blueberry or strawberry compote, and learned how to properly cook common items such as sausage and bacon.
Each day, the campers sampled all the dishes they created in the kitchen.
The Culinary Camp for Kids was led by Scott and Donna Eldred. The couple also runs the Culinary Ministry at St. George Catholic Church.
Scott Eldred said campers learned a lot about nutrition and how to eat healthy foods on a budget.
"We use fresh products and teach the kids the benefits of eating quality food at a low price, using fresh vegetables versus canned vegetables. Each meal we make is $2 or less per serving," he said.
The culinary students learned how to read a recipe and try different cooking techniques, like sautéing and baking.
"They used different appliances to cook with, like a grill, instead of always using a frying pan," Donna Eldred said.
The kids also picked up helpful tips and guidelines when working in an active kitchen.
"You always need to watch the oven," said Ariel McCullough, 11.
"Blueberries can explode," added Hudson Dearing, 10.
"If you can't open a jar, turn it over and slap it on the bottom," said Conrad Dearing, 13.
According to the Eldreds, the culinary camp helps hone the students' cooking skills and expand their palettes.
"We had some kids who had never tasted soup," Donna said. "We had some campers who liked to cook, but never wanted to taste what they created, especially the tilapia. That was a big challenge."
But most importantly, the children learned how to work together in a group, which will hopefully translate over into each camper's family unit, the couple said.
"We learned a lot of our previous campers now help their parents pick out groceries from the store," Scott Eldred said. "They're a great bunch of kids who are enthusiastic about cooking. They all bring different skill sets to the table. That's what makes it work."
The Culinary Camp for Kids wrapped up July 27 with a barbecue for family and friends.
The Eldreds will hold a longer Culinary Camp for Kids next winter.  
Here are a few of the culinary delights students created while attending the third annual Culinary Camp for Kids at St. George Catholic Church. All the recipes are from the church's latest cookbook, "Feast of Saint George."
Crepes
Ingredients:
1 cup all-purpose flour
1 cup milk
½ cup lukewarm water
4 large eggs
¼ cup (½ stick) butter, melted
½ teaspoon salt
(For sweet crepes, prepare as above but add in 3 tablespoons sugar and decrease salt to ¼ teaspoon.)
Recipe:
Combine flour and salt into a sifter, sift into bowl.
Add all other ingredients into the bowl and mix until smooth. Cover with plastic and let stand for 30 minutes or refrigerate up to 2 days.
Heat medium saute pan over medium heat. Add ½ teaspoon of butter. Heat butter until it changes color.
Lift pan off heat and put in enough batter to cover bottom of the pan.
Return to heat and cook 1 to 1 ½ minutes. Turn with spatula, knife or fingers. Cook until light brown.
Chicken Pot Pie
Ingredients:
1 pint frozen peas
1 pint fresh carrots, chopped
1 large onion, chopped
2 large stalks of celery, chopped
3 cups cooked chicken
½ cup butter
½ cup flour
2 cups milk and cream mixed, 1 cup each
2 cups chicken broth
1 tablespoon lemon juice
Recipes:
Cook onions and peas together, set aside
Cook carrots and celery together, set aside
Dice chicken, set aside.
In a large pot, melt the butter.
Add ½ cup of flour and blend well.
Add milk and cream, plus 2 cups of chicken broth. Cook until sauce is creamy.
Add mixture to vegetables, chicken and lemon juice. Mix well and season to taste.
Pour into pastry lined pan. Top with crust.
Slit top of crust and bake at 350 degrees or until browned.