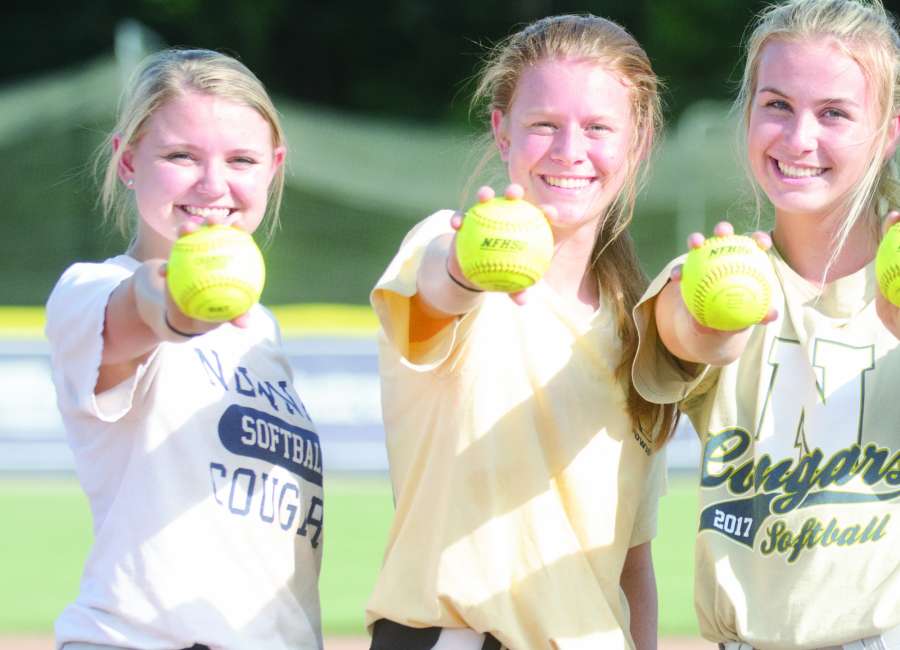 Chris Goltermann
Cowetascore
Numbers often can be deceiving in sports. Count Newnan's six losses during the 2017 softball season among them. 
Five of them came against teams that were on a collision course to last year's GHSA Class 7A championship game.
In Region 2-7A, Newnan was forced to settle for second in East Coweta's path to a perfect 36-0 record. The Lady Cougars were equally a victim of the GHSA bracket while running into eventual state-finalist Etowah in the second round of the playoffs. 
It's why expectations remain high for the Lady Cougars' returning nucleus following a 24-6 campaign, one that has three First Team All-County selections as well as a 2017 Newcomer of the Year at the forefront of that success.
Along with a pair of Second Team standouts that received All-County honors as freshmen and another key returner who powered her way through this year's first four games at last weekend's Carrollton Trojan Slam, Newnan will have a veteran presence this fall. 
Defense, speed and power should all be assets that could have the program continuing an extended state-playoff streak well over a decade while also poised to make a run toward its Elite 8 Tournament appearance since back-to-back trips to Columbus in 2013 and 2014. 
"This is one of our strongest defensive teams ever as far as position play and should be a very strong offensive lineup," head coach Carrie Gilmore said. "We have a good mix of speed and power."
If there's one drawback for Newnan, it could be having to use Ansley Houston and Blythe Bates primarily in the circle. Both are position players at the club level.
While equally capable of handling the pitching duties, it comes much out of necessity following the graduation of four-year contributor Addie Andrews, who was a Second Team All-County honoree. 
"They are both primarily infielders, but both have pitching experience," Gilmore said of the pitching duo.  "They are going to have to take on the role as pitchers and carry the team on the mound." 
Houston helped offset some of Andrews' heavy load in the circle last season while excelling with a 6-1 record and 2.90 ERA in 31 ⅓ innings. She batted .376 with seven homers and 41 RBIs as a sophomore with the majority of her starts coming at third base. 
Both will get a boost from the addition of new pitching coach Amanda Stripling to an already deep staff including veteran assistants Alison Johns and Braden Griner. 
"We have never had a coach to work just with our pitchers, so she is a huge asset to our team," Gilmore said of Stripling. "This is the perfect year for her to join the coaching staff."
At the Trojan Slam tournament, Houston proved ready of stepping into a No. 1 role in the circle. She went 3-0 with a save in four appearances with a 1.09 ERA and 13 strikeouts in her first 19 ⅓ innings. 
Bates also picked up a victory in 6 ½ innings in efforts last weekend that included victories over host Carrollton (4-0), Chapel Hill (7-5), Central-Carroll (5-1) and South Paulding (10-3). 
The junior, who also can play first base and catch when not in the circle, also went 3-for-5 at the plate with 4 RBIs including a home-run in her first at-bat.
Versatility, however, is an asset. Despite moving Houston to the circle, Newnan can easily shift sophomore Alex Williams — who played third, outfield, second base and catcher — to the hot corner while maintaining her own bat in the lineup. 
One of three freshmen that earned honors on the 2017 All-CowetaScore Softball Team, Williams batted .345 in her varsity debut to go with a .436 on-base percentage and 26 RBIs. 
Last year's other top newcomers, Kaylen Madrey and Reagen London equally jump-started sophomore seasons last weekend.
Madrey, coming off a freshmen year that included an impressive .487 average with 36 runs scored, 29 stolen bases and a .585 on-base percentage, gives Newnan a pure leadoff hitter. 
In her first 13 at bats, Madrey scored six times on five hits and two walks while being able to play outfield or infield. 
London returns behind the plate as a sophomore and had five hits in 10 at-bats at the Carrollton tournament to also start the year strong. 
As talented as the younger classes, though, leadership falls to three seniors that include a pair of All-County First Team selections last fall.
Infielder Danielle Curlee, who spent most of last year at shortstop, and outfielder Hailey Bloom, finished 2017 with 25 and 24 RBIs, respectively, while each batting over .350.
Outfielder Hailee Hartfree also returns, with the trio already motivated toward improving on last year's finish. 
"The best is yet to come," Bloom said. "We have a strong team."
It's also one bolstered by a large junior class that also includes Makayala Arrington, Rachel Allen, Maranda Alford, Marti Dunn and Maggie Donaldson along with Bates. 
Newcomer Katelyn Magnus, a freshman who played on the junior varsity as an eighth grader, has appeared in all four games so far while play outfield and second base.