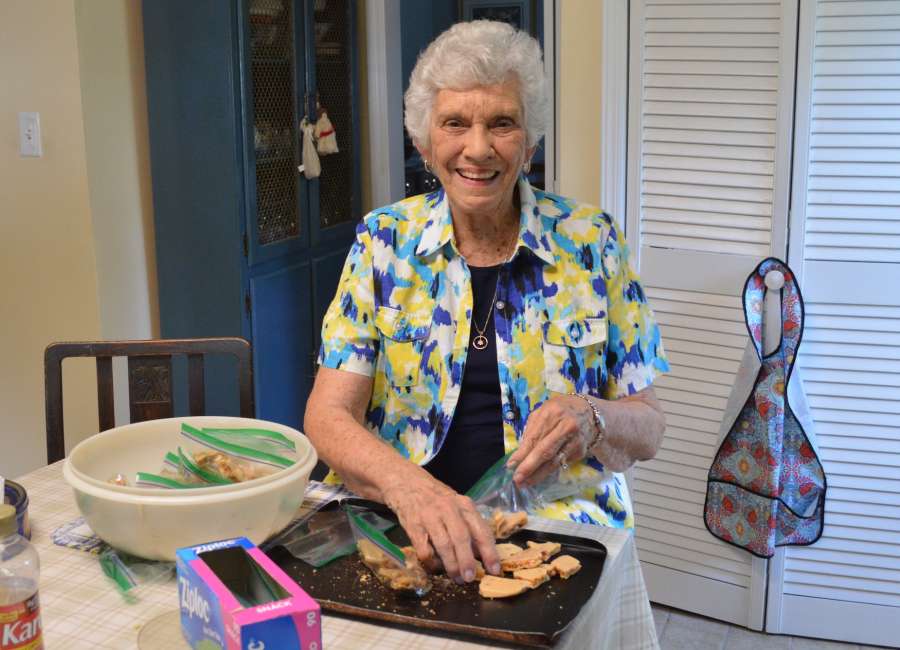 Antique tractors will parade through Turin Saturday morning, and Martha Arnold will be leading them all.
The long-time Turin resident is the grand marshal for this year's parade, which starts at 10 a.m. in downtown Turin. The parade kicks off the 24th annual Turin Antique Farm Power Show and Tractor Pull, a day's worth of events in downtown Turin.
On Wednesday Arnold was bagging up brittle for the Turin United Methodist Church bake sale, which will be part of Saturday's festivities.
She's not a native to Turin, but moved there in 1964 when she married John Arnold, whose ancestors go back generations in the area. She lives in the home where her husband was born.
"They just enveloped me into the community, and I have felt loved," Arnold said. "I have been part of the community and church activities all these 50-something years."
"It's a neat place to live. It really is. There are good folks around here," she said.
When she got a visit from Banks and was told the organizing committee had named her grand marshal, it was a surprise – and an honor.
She'll be riding at the head of the parade on her church's float.
Arnold grew up in the small southeast Georgia town of Edison, near Albany, and when she moved to Turin, she found something very similar.
"Living here is the same feel that I had growing up," she said.
She was a high school counselor in Albany when she met John Arnold, a traveling salesman for the Sheaffer Pen Corporation. They met through a mutual friend, also named John Arnold.
After moving to Turin, Arnold took a job teaching math and being a counselor at Newnan High School.
She was in the midst of East Coweta country, but there were no open positions there, so Arnold made her career at Newnan, working  25 years as a school counselor, until her retirement in 1992.
She's been an active member of Turin United Methodist Church since she arrived. She was raised Baptist, but joined the church her husband had grown up in.
John Arnold loved Turin, and everything about it. He passed away in February 2013, at the age of 84.
His parents ran Arnold Grocery, near the corner of South Hunter Street and Hwy. 16, and his father, Thomas Arnold, was also the town's postmaster. The post office was inside the grocery store.
After his father's death, John Arnold ran the grocery store for a time.
Thomas Arnold used to hold large barbecues for the community at his home, and his son took over that tradition, moving it to his birthday and, eventually, to the church fellowship hall.
"He said that was his birthday gift to himself, having friends and family coming to eat," Martha Arnold said.
When the U.S. Postal Service planned to shut down Turin's post office, John Arnold campaigned to save it.
"He just couldn't believe he could get his mail from anywhere else," she said. He began getting signatures to save the post office, and it was successful. Frank Odom bought property and built the new post office location.
There's no delivery from the Turin Post Office – people get their mail from Sharpsburg and Senoia, and the office hours have been cut back to mornings only, but it's still plugging along.
And Arnold heads down to the post office daily to get her mail. She and John had no desire for a mailbox and delivery.
Each year, a group of organizers put together a short list for the year's grand marshal. Arnold has been on the short list for several years, Banks said.
"We make a list of people who are pillars in the community," Banks said. "People who have lived here a long time and contributed and lived their lives as an example to others," he said.
"We feel that it is an honor to be asked to be grand marshal, and we wanted to honor Mrs. Martha."
For more information about Saturday's events, visit www.turintractorpull.com or call 678-300-4923 or 770-294-4263.