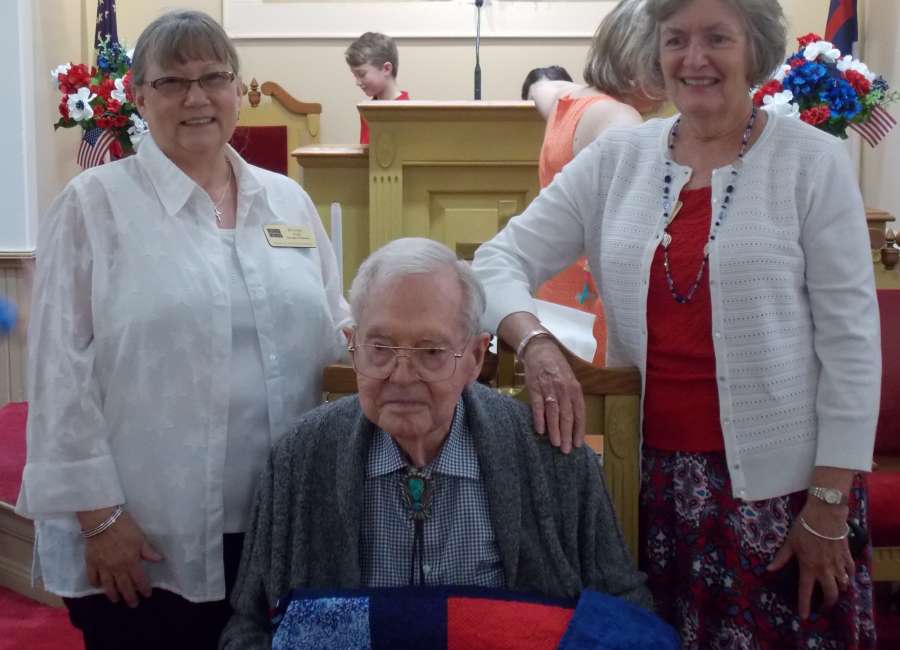 By GLENNA WITH
Special to The Newnan Times-Herald
Worship on June 25 at Liberty Christian Church, 948 Macedonia Road, was a celebration of Lt. Col. Russell P. Hall's military service during World War II.
Mr. Russ is the father of Pamela O'Hara and father-in-law to Bill O'Hara. The O'Haras are members of the Liberty Christian Church, and Mr. Russ is a much loved and respected member of the church family.
Liberty Christian Church celebrated his call to arms and courageous service during World War II.
The Coweta County Quilts of Valor is an organization made up of volunteers who honor the veterans in Coweta County and the surrounding areas with handmade quilts. The Quilts of Valor Foundation began in 2003.
The first QOV was awarded in November 2003 at Walter Reed Army Medical Center to a young soldier from Minnesota who had lost his leg in Iraq. Coweta Quilts of Valor is a part of the national foundation of the Quilts of Valor organization.
The local guild started in August 2014. Since its inception, the Coweta group has awarded over 400 quilts to local veterans. There are three layers to each quilt – symbolizing honor, freedom and comfort.
The first layer represents the how the veteran is honored for his service and willingness to leave home to defend our country. The second layer shows that freedom is never free and each man who served is humbly thanked for his sacrifice. The last layer represents comfort.
Mr. Russ was urged to use the quilt and let it blanket him in comfort and love of home. The work on the quilt came from a group of ladies, Brenda Hall, the quilt maker, Beverly Watkins, spokesman and member of the Coweta County Quilts of Valor Guild, and others who valiantly work on these beautiful quilts as presentation pieces of gratitude for past military service.
Jimmy Walker, a Vietnam War veteran and a former QOV recipient, arranged the presentation for Lt. Col. Hall. More than 23 family members from all over the United States were present for Lt. Col. Hall's ceremony, and four generations were represented.
Hall was born August 7, 1921,  and served in Squadron B, 2528th Base Unit AAF, 9th Air Force, 323rd Bombardment Group. He told his story to his daughter, Pamela O'Hara:
"I joined the Missouri National Guard, 35th Infantry Division in 1939 while attending Central College in Fayette, Missouri. Our unit of the National Guard was mobilized in December of 1940 to Camp Robinson in Little Rock, Ark.
"After watching the World War I movie, "Sergeant York," on a Sunday afternoon, I left the theater to hear that Pearl Harbor had been bombed in December of 1941. We didn't even know where Pearl Harbor was.
"Soon after the bombing, the 35th Division was moved to Ft. Ord, Calif., then on to Ft. Lewis, Wash. Our unit was scheduled to move to Alaska to counter Japanese incursions there.
"I didn't go to Alaska because the Army Air Corp began to recruit aviation cadets to become pilots, bombardiers and navigators. After testing, I was transferred to the Air Corp and Nashville, Tenn. for processing as an Aviation Cadet in March of 1942.
"After bombardier and gunnery training at various bases, I went to Maxwell AFB in Alabama for pilot training. Then I was sent to California for bombardier preflight, and then on to Las Vegas for gunnery training.
"Following that period, I went to Kirtland AFB in Albuquerque for bombardier training, and I ended up at Barksdale Airfield in Shreveport, La. in November of 1943. There I was assigned to a bomber crew consisting of a pilot, co-pilot, bombardier, engineer, radio operator and tail gunner. Our plane was the Martin B-26 Marauder.
"After training missions and getting to know each other, our crew was ready to go to England. The tail gunner and I were scheduled to cross the Atlantic on the Queen Elizabeth while the rest of the crew flew in a B26 on a southern route. We rendezvoused in Ireland for more training and eventual assignment to the 323rd Bombardment Group in England as replacements for crews being rotated home.
"Our crew had only flown a few missions when were briefed to be a part of the Air Force effort on D-Day. Our squadron was briefed with the other B-26 crews to bomb targets ahead of the ground forces who were coming ashore at Normandy on Utah Beach. I had an excellent view of the hundreds of landing craft who were part of the invasion force. It was an unforgettable site and the most memorable experience of the war.
"Our squadron had no losses on this mission. We returned to our base in England and prepared for another mission in support of the British landing force. Our targets were German ammunition dumps near the city of Caen, France.
"Our squadron of 12 planes lost one crew on that mission. I remember watching the crew
members parachute out while the pilot kept the plane flying. The pilot didn't get to jump, however, and none of crew survived. They were bayoneted on landing.
"Then we moved to a new airbase in southern England, a former Royal Air Force fighter base.
"From there, we flew night missions over France in support of the American Army, which was making headway after important breakthroughs. We were very busy supporting the American Army and busy bombing German buzz bomb sites.
"We moved across the channel to American fighter bases in Normandy that had been used by fighter planes. The runways consisted of metal slats. We kept supporting the American Army as they progressed through France. We were stationed in Normandy, Chartres, Laon and Valence, which was our final French base, when the European war ended on VE, or Victory in Europe, Day, May 8, 1945.
"I flew over 54 missions, and my crew was selected as a "group lead crew" and for that reason, we didn't fly as frequently as others. I was very fortunate to have been assigned to fly with five very wonderful crewmen.
"We were too busy to be afraid, and we just didn't think about it. Once while under anti-aircraft fire, shrapnel penetrated the airplane and landed about two inches from my leg. In spite of all the anti-aircraft fire, our entire crew managed to survive.
"When the war ended in Europe, Air Force crews were moved back to England. Our crew was disbanded and we went our separate ways. I was assigned to a Liberty Ship for transport back to the United States. We left Manchester, England in of May 1945 and although Germany had surrendered, our ship was part of a large convoy in case German
submarines had not been advised their war was over.
"Being a small ship, the storms bounced us around a lot, and after three weeks we arrived in Boston in June. I got to go home for a 30-day period but afterwards, since the war in the Pacific had not yet ended, I was sent to Midland, Texas to await transfer to the Pacific Theater.
"However, I never had to leave Midland since the Japanese surrendered.
"I had been in the service for almost five years and didn't know what it felt like to be a civilian again. For several years many of us would get together for reunions to reminiscence about the good old days and remember those who never made it back.
"I stayed in the Air Force Reserves and retired as a lieutenant colonel in 1986."