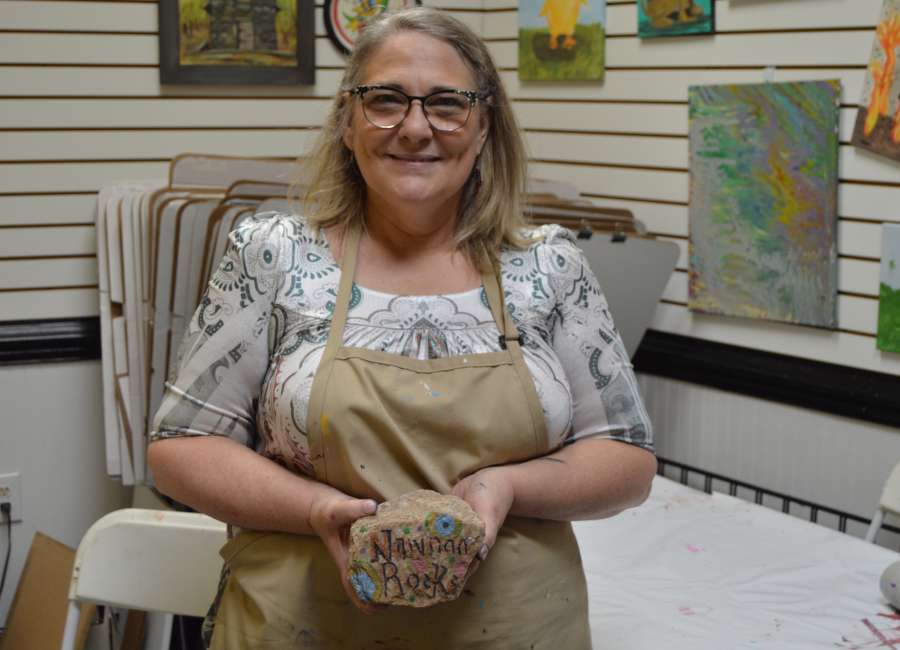 A citywide scavenger hunt for painted rocks is taking over downtown Newnan and beyond.
When Peggy Giles Aldredge began the "Newnan Rocks" initiative two years ago, she had no idea how popular it would become.
Aldredge, of Peachtree City, teaches art classes at the Corner Arts Gallery in downtown Newnan.
"I noticed people would come into the shop and say they had never heard of downtown Newnan," she said.
Meanwhile, Aldredge started seeing Facebook posts pop up from a relative who lives in Washington.
"She was constantly posting these painted rocks she found. I looked it up and there was another Facebook page dedicated to this 'hide-n-seek' rock movement in the town where she lives," Aldredge said.
The art teacher decided to bring the painted rock initiative to Coweta County and started the "Newnan Rocks" program.
"I wanted to bring more focus to the downtown Newnan area and businesses, plus it's something fun for kids to do while they're with their parents," Aldredge said.
The Peachtree City woman admitted in the beginning, she painted most of the rocks herself and would hide them in plain sight, like on window sills, propped up against street lamps or in potted plants and in the grass.
The rocks also had a "Newnan Rocks" hashtag on the back to match the name of the group page Aldredge created on Facebook.
Aldredge said it took a while to catch on, but soon people were posting photos of the rocks they found around downtown Newnan and pictures of rocks they created. People could also "follow" their rocks as they were discovered around the city.
The idea is once you find a rock either leave it for someone else to discover or hide it in a different location.
Monique Adamson said the "Newnan Rocks" initiative is now a family affair.
"We really enjoy painting, hiding and finding them," said Monique Yvette Adamson.
"I love the rock program. It's so much fun to paint, hide and hunt. I like making cartoon rocks the best," said Ansley Byrd. "It's become a great activity for kids and adults … I hide half in easy places for kids, then half in super hard places for adults."
Aldredge said "Newnan Rocks" has taken on a life of its own, with both children and adults searching for the prized possessions.
Some people have turned the "hide-n-seek" game into a scavenger hunt, posting clues on where to find the painted treasures on the Newnan Rocks Facebook page.
Aldredge said some of the rocks have traveled across the globe.
"Sometimes visitors will find them and take them home. I know rocks ended up in Austria and Germany," she said. "One of my granddaughter's rocks ended up in Kodiak, Alaska. Whomever found it, rehid it, took a photo and posted it on the 'Newnan Rocks' Facebook page."
However, there is one hitch to the interactive "game," Aldredge said.
The rocks cannot be hidden around the historic courthouse or anywhere on Court Square, since the land is considered government property, she said.
Aldredge said that one restriction doesn't make the "Newnan Rocks" program less fun.
She said many downtown businesses are on board with the initiative. Some owners paint their own rocks and allow them to be used as "coupons" inside their store.
Other owners permit folks to leave rocks inside their shops for others to find, Aldredge said.
"I think it's great. I love the fact that businesses allow people to hide them in their stores. Even the Carnegie Library has gotten involved with it," she said. "Some people have found rocks on library shelves or even in bathrooms."
Aldredge keeps a box full of rocks just inside the door at the Corner Arts Gallery.
She said anyone can come in, grab a rock and decorate it in the back of the shop for free.
"It's just fun and it's all about the community," Aldredge said. "Rocks have been found in the Ashley Park area. You don't have to be a skilled artist. I don't care if it's painted one color or just has scribble on it. Anyone can get involved."
Aldredge said there will be a "Newnan Rocks" booth set up for people to paint or draw their own creation during the downtown Labor Day event.