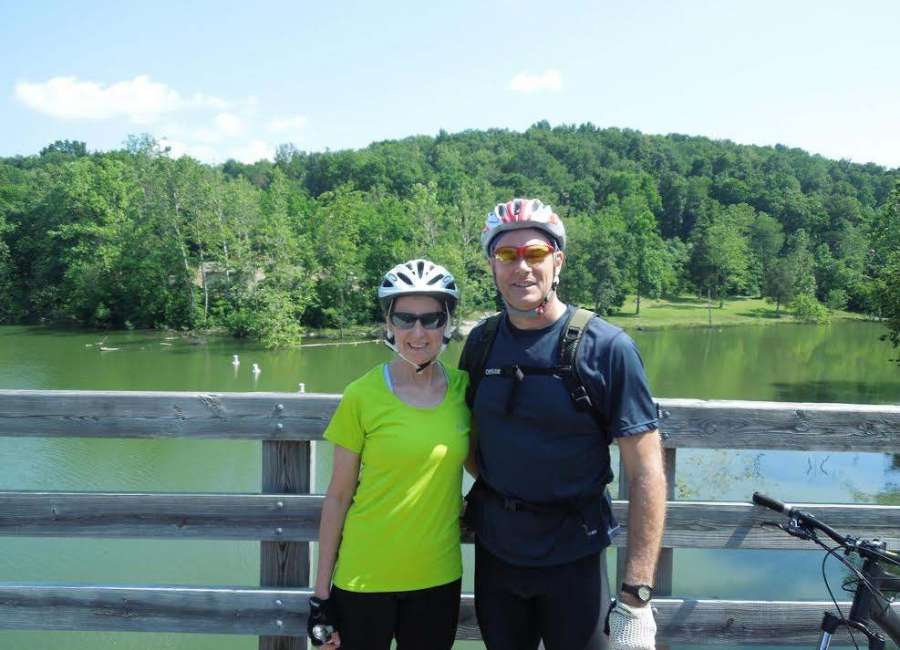 Everyone likes a good comeback story, including Berkshire Hathaway Realtor Jim Qualls.
He just never thought his life would turn into one.
Qualls, 56, and his wife Janna, call Peachtree City home. It's where the couple raised their two daughters, Ellen and Betsy. The town is also home base for Qualls' career and provides a scenic, peaceful ride for the avid cyclist.
Qualls began cycling 20 years ago. Since then, he and Janna have pedaled through some of the most beautiful countryside in the nation, sometimes riding more than 115 miles per day.
The exercise kept Qualls active.  
"Riding bikes is my passion." he said. "Cycling changed my life. The disciplines of cycling are about having grit, determination and perseverance so you can ride and then pedal yourself back from 100 miles."
Qualls said he was in tip-top shape when a routine doctor's exam slammed on the brakes of his life and left him with an uncertain future.
An unexpected diagnosis
Qualls' gastroenterologist was the first to notice a small abnormality during an annual exam in October 2017.
Further tests revealed Qualls had a rare, aggressive form of cancer called mantle cell lymphoma, or MCL.  
"I had zero symptoms at all," Qualls said. "But the cancer was found early and had not spread to any of my lymph nodes. Doctors told me normally it is found in stage 3 or 4. My cancer was found in early stage 1. Doctors said it was miniscule."
According to www.lymphoma.org, mantle cell is a rare, fast-growing form of non-hodgkin lymphoma that mainly begins in the gastrointestinal tract and/or bone marrow. MCL accounts for 6 percent of all non-hodgkin lymphoma cases.
Fortunately, in Qualls' case, doctors felt they caught the cancer early enough and had a positive prognosis, he said.
While the diagnosis came as a shock, Qualls said he was ready to switch gears and fight the disease head-on.
After his doctors consulted with oncologists at the MD Anderson Cancer Center in Houston, Qualls started oral and intravenous chemotherapy. He said he endured five treatments before going into remission in March 2018.
But the toughest part of Qualls' battle against cancer was yet to come.
"Day zero"
Before Qualls' final round of high dosage chemotherapy, doctors at the Northside Hospital Cancer Institute harvested the 56 year old's stem cells.
On May 11, those same stem cells were transplanted back into Qualls.
"When they put the stem cells back in, it was considered 'Day zero,'" Qualls said. "I was placed in quarantine because I basically had no immune system.
"During the course of my treatment, I went to hell and back a couple of times, " he continued. "There were so many days where I was weak and in severe pain. But when doctors put the stem cells back in my body, it was truly hellacious. I wouldn't wish it on anybody."   
For the first few weeks, Qualls and his wife were confined to a suite inside the hospital.
The couple was eventually allowed to go home, but not without strict orders from the doctors, Qualls said.
"We had to restrict who could come over. We had to make sure they weren't sick and they had to wear a mask at all times inside the house," he said. "I was not allowed to hug anyone, have any passengers in my car besides Janna or go to crowded places. I had to wear a mask at all times when I'm outdoors and / or  around other people."
He worked from home, making phone calls and talking with clients while his business partner handled the face-to-face interactions.
The rigid guidelines also meant Qualls couldn't be nearby on July 3 for the birth of his first grandchild, a girl named Charlotte.
"I stayed in a separate hospital room," he said. "After she was born, I went to see her twice and wore a mask both times. I have grabbed her little foot a couple of times, but I still can't hold her."
Since then, some of the quarantine restrictions have eased up, Qualls said.
He is allowed to cycle outdoors again with Janna and a friend. The trio have cycled seven times so far, Qualls said.
The 56-year-old man said he had to start in low gear, but is quickly picking up momentum.
"I've had to stop less, but I don't go near as far, or as fast as I used too," Qualls said. "In the past I've gone up to the state capitol and back, and down to Pine Mountain and Warm Springs and back. I want to get back to that. I'm trying to expand my time, but then I remember I have to get home. But I am determined to ride at least three times a week and keep getting stronger."
"The comeback tour"
August 19 will mark a major milestone in Qualls' battle against cancer.
It will be his 100th day in quarantine, and, if everything continues according to plan, August 19 will also be the day Qualls can "rejoin" society.
This means the 56-year-old man can work in the office, attend Central Baptist Church in Newnan, go to Conservation Trust Board meetings and even hold his granddaughter.
Qualls calls it his "comeback tour."
"I have a lot of grit, determination and motivation … and I have so much to be thankful for," he said. "I had a great prognosis from the very beginning. I have to give tremendous credit to my gastroenterologist at Piedmont Fayette hospital … he saved my life.
"I'm feeling the best I have in months," Qualls added. "I've turned the corner and caught another gear. Most days, I am doing a modified workout and staying on my P's and Q's. But my number one priority is my family and my wife. I've always been a positive person. But after my diagnosis, I became vividly aware of who and what matters, and what doesn't. Getting upset because someone cut you off in traffic really doesn't matter, but the type of people you surround yourself with really does matter."  
Qualls praised his wife Janna, who stayed beside him during his battle with cancer.
According to Qualls, doctors and nurses at both hospitals credited his good health and emotional wellness helped him fight the disease.
The acknowledgement inspired Qualls to begin a new project. He is writing a book simply called "Take Care of Yourself."
Qualls said the manuscript encourages people to get fit, exercise daily, eat right and get annual checkups on time.
"If I had put that colonoscopy off three years, I might not be around to have this conversation," he said. "Cancer packs a wallop. I was lucky. I was in good shape and strong enough to endure the treatments, harsh side effects and stem cell transplant."
Before switching gears and rejoining a life in progress, Qualls will have to endure rounds of childhood vaccinations since he now has a new immune system.
While the cancer diagnosis may have placed Qualls on a different path, with a few more mountains to climb, the 56-year-old man said the ride is still serene and beautiful – and will hopefully continue for many years to come.
"My doctors are very encouraged and told me I'm going to live to be a very old man," he said. "But even if the outcome changes, I will remain positive and thankful. I know, either way, I'll still going to win in the end."