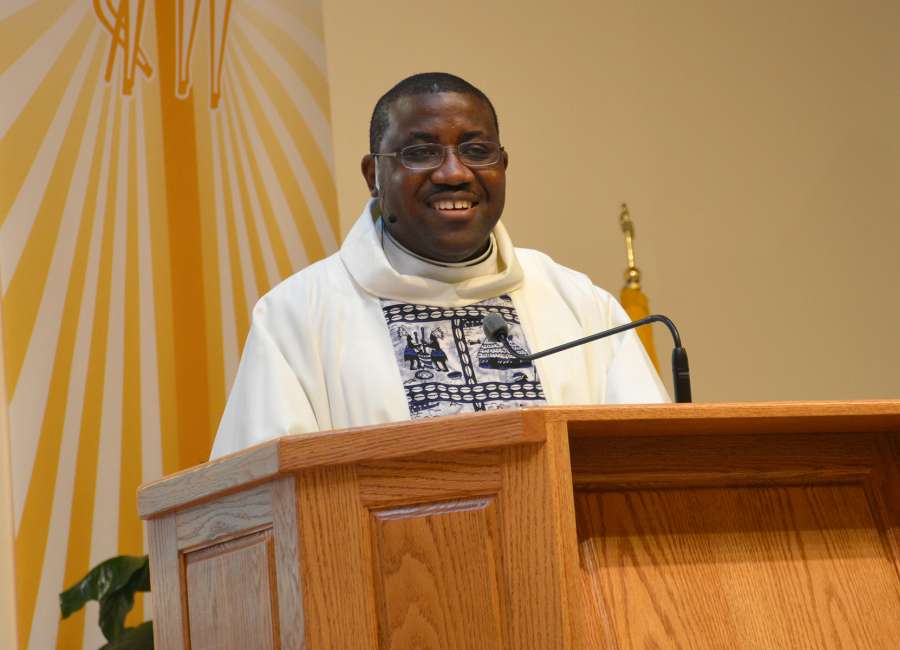 By DEACON STEVE BEERS, Special to The Newnan Times-Herald
"O God, who have taught the ministers of your Church to seek not to be served, but to serve their brothers and sisters, grant we pray, that we may be effective in action, gentle in ministry, and constant in prayer." 
With these words from the Roman Missale, Fr. Henry Atem, pastor of St. George Catholic Church in Newnan, opened the mass celebrating his tenth anniversary of ordination to the priesthood of the Catholic Church.
Some 200 friends and parishioners, along with a number of priests and deacons from the Archdiocese of Atlanta, gathered with him on Friday evening, May 11, to celebrate.
Father Atem's journey to the point of this celebration 10 years after being ordained by Atlanta's Archbishop Wilton Gregory in 2008, has taken him across the world stage – mixing with peoples and cultures far beyond the small African country in which he grew up.
Young Henry was born in the west African country of Cameroon in 1978. As a youth he was immersed in the Christo-African traditions predominant in that part of Africa. However, in reflecting on his worldview life and his successorship to the pastorate of St. George after 20 years of pastors born in Ireland, he has also been
known to claim status continuing the Irish tradition as a son of "Far South" Ireland.
As far south of Ireland as Cameroon may be, it is a country as steeped in traditions as old as Erin itself. Cameroon has been an independent country only since 1961, but the land is immersed in the centuries old traditional mores of African heritage.
In an area geographically slightly larger than the state of California, there are some 200 tribal units and more than 200 associated African dialects. Cameroon is sometimes described as "the African microcosm" because it exhibits all the major climates and vegetation of Africa as a whole: Mountains, desert, rainforest, savanna grassland and ocean coastland.
More than just geography, though, is the history that is endemic to the region. Not only does it have the cultural influences of Western Christianity, Islam and the local religious cults, over time Cameroon has also experienced the political and colonial impact of Portugal, France and England. The combination of these influences and the diversity of native African cultures and peoples has left an indelible imprint which gave the young Henry Atem a worldview of humanity before he ever left his native abode.
Atem's mother, Josephine Atem, who now lives in Gainesville, talks about the early years of her oldest son. At 5 and 6 years old, he would gather his siblings after the evening meal for "Catholic Mass" in the living room. This natural leadership among his younger family members continues to this day as they constantly look to him for advice on everything from financial matters and jobs to concerns of the heart.
In one instance, one of Atem's brothers fell in love with a Cameroonian girl. They both lived here in the United States. The relationship became serious, and Atem's brother wanted to marry his sweetheart.
There was only one problem …while she was Cameroonian, she was not of the same Cameroonian tribe to which the Atem family belonged. Because of the strong family and tribal traditions that were a part of Cameroonian family life, Atem's brother needed his father's permission in order to marry. Because of the strong traditions against marrying outside of the tribal unit, he was afraid to approach his father for the required permission. 
It fell to the oldest brother, Henry, to approach his father, which he did, and, owing to his persuasive disposition, was able to gain the approval desired by his brother for the wedding.
It is these traits of caring and leadership which Father Atem exhibits toward his family that extend to his friends and parishioners everywhere. When asked to describe her son's greatest personal attributes, Josephine Atem said, "He greatly cares for everyone he knows, and he knows no strangers."
Father Atem's easy relationships and effective spiritual leadership makes him a true joy to his church family also. And he acquired an extended "Church Family" early in his ordained life. Not only was he called to the senior pastorate of St. George in Newnan after being ordained for only four years, Fr. Atem is a leader within the whole African Catholic community in the United States as he was called to serve as National President of the African Conference of Catholic Clergy and Religious in the United States (ACCCRUS) in August 2013.
Atem is also the founder and spiritual director of a large Cameroonian community in the Atlanta area and has been the head of the Pan African Catholic Organization of Atlanta for eight years.
Father Larry Niese, pastor of St. Michael the Archangel parish in Woodstock, attests to Atem's leadership and caring for all around him. Niese has known Atem for the better part of 20 years and has acted as his mentor and spiritual director during that time.
In recalling his first meeting with Atem in Athens, he says he was immediately struck by the spiritual elan and humility of the young UGA student. There's a story that goes with that meeting. Niese says he is sure it was all a part of God's plan, and it turned out to be a turning point – or re-turning point – in Atem's life. The story goes like this:
Niese was pastor of St. Joseph's Catholic Church in Athens. On a particular night, he found out he was out of milk. Not wanting to drive all the way to the supermarket for so small an item, he short-cutted to a nearby Quickie market where Atem was on duty. Grabbing the milk and a cup of coffee, Niese went to the counter where Atem waited to ring up the sale. Much to his chagrin, Fr. Niese found he had forgotten his billfold and had no money. 
Without missing a beat, Atem told Niese – whom he had never met before – that he would take care of the bill. Thereafter, Niese invited Atem to visit him at the parish. After several weeks, Atem presented himself for dinner at the parish rectory; an enduring friendship was struck, and the first of many conversations about God's plans for each of his created beings was enjoined.
Shortly thereafter, Atem applied for and was accepted as a candidate for priestly formation for the Archdiocese of Atlanta, thereby returning to his earlier youthful thoughts of a calling to be a priest.
In his homily during the celebratory mass, Fr. Atem talked about God's plan for each of us, hearing God and acting on the plan. He talked about the turning points in his life that led to his priesthood.
In a few short years after his evening "mass" celebrations with his siblings, the youthful Henry was enrolled in a pre-seminary boarding school in Cameroon. The last seven years of his school life in Cameroon was spent preparing for priestly studies.
However, after graduation from this high school, Atem decided to come to the United States and pursue a degree and career in business. He stated in his homily that he decided at that point the way to real happiness was to make money in business, and that could be attained by a career in accounting or the computer sciences.
Pursuing that goal at the University of Georgia – an institution for which he still has great affection to the point of sometimes cutting Saturday night masses short when the Dawgs are engaged in gridiron combat – is where Niese found the young Atem.
Atem's homily made a further statement that, upon meeting Fr. Niese, he was puzzled by the peace and fulfillment that the parish priest obviously enjoyed from his role as a parish priest. After six months meeting with Niese and being convinced that happiness was attained by a life beyond money, Atem "re-turned" to his initial vocation … that of pursuing ordination as a Catholic priest.
It was the fulfillment of this decision that St. George and its extended family celebrated on the eve of May 11.
As of June 2018, Atem had served as pastor at St. George for six years. During that time, he has demonstrated the full extent to which he has adopted his new country, understanding and incorporating its history and traditions into his work as spiritual leader for the congregation.
But he also enriches his flock by drawing on his boyhood experience in Cameroon …an experience that tends to be as much transcendent as western spirituality tends to be formalistic.
His influence and compassionate reach continues to extend beyond his assignment in Newnan as people from his prior parishes around the Atlanta area continue to call upon him to perform weddings, baptisms and funerals well outside of the geographic confines of St. George's parish boundaries.
His ability to relate to others is enhanced by his communicative abilities in languages beyond English. While English and French as well as local Cameroonian dialects were all a part of Atem's life growing up, he has also immersed himself in the Spanish language in order to minister to the large Hispanic community that is a part of the St. George congregation.
Above all, in describing the Father Henry Atem known to all at St. George and beyond, a word that may be most appropriate to describe his nature is, "Gratitude." Fr. Atem continually thanks God for the gift of his ordination …his call to serve God and his extended spiritual family in ways that make him truly happy and a blessing for all who know him.