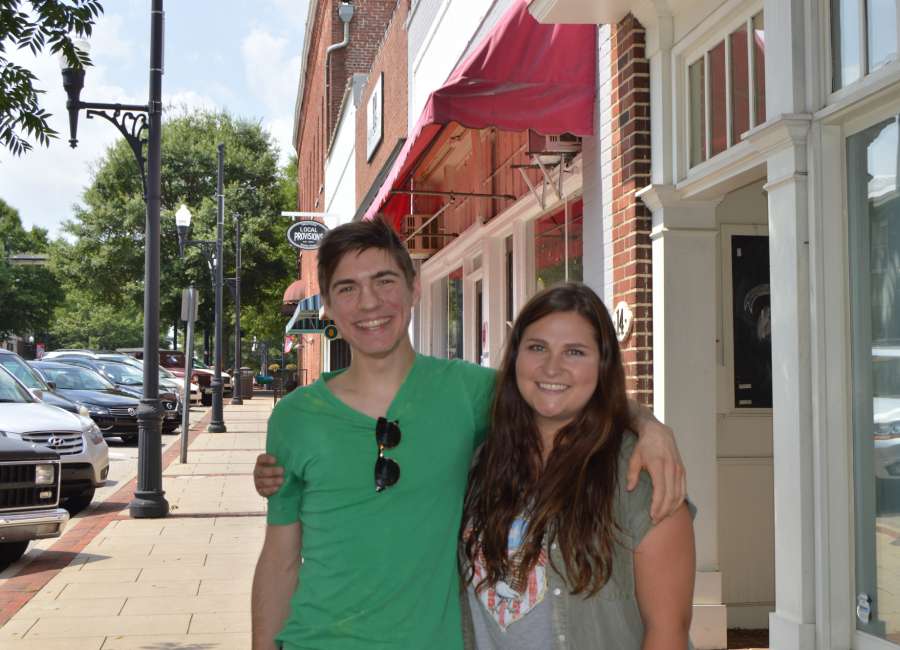 When the lovestruck characters of Hermia and Lysander and the impishly shrewd fairy Puck prance their way through the magical woodlands in "A Midsummer's Night Dream," they'll also be making modern history in downtown Newnan.
The popular Shakespearean play will be performed outdoors in the Greenville Street Park, which is quickly becoming one of the crown jewels for the performing arts community.
The unique outdoor environment is what set Madeline Sain and James Hendley's plan into motion in December 2017.
The duo wanted to create a nonprofit professional theater named Newnan Shakespeare in the Park.
Sain and Hendley both grew up in Newnan and have been best friends since grade school.
Theater was their passion in high school. Sain and Hendley honed their acting and producing skills both on and off stage.
The pair graduated from Newnan High School in 2011 and went their separate ways – Hendley attended Western Carolina University and earned a degree in musical theater.
Sain attended LaGrange College and graduated with a BA in theater performance.   
After a brief stint at an acting conservatory, Sain returned to Newnan.
Hendley found work at the historical Barter Theater in Abingdon, Virginia.
Despite the distance, the two friends remained close and visited each other often.
It was during one of those visits in December 2017, the duo began talking about a compelling plan to bring more performing art to the community.
"We were talking about how we needed a bigger theater presence in Newnan. How the town has grown and is now a different community," Hendley said. "We thought 'Shakespeare in the Park' would be the best way to do this."
"I remember bringing up the amphitheater at the Greenville Street Park and saying it was a shame it doesn't get used more," Sain added. "I think that park lends itself to Shakespeare in the park-type events. A month later, James called me in January and said, 'Let's start this program in July and really do it right."
The nonprofit professional theater group "Shakespeare in the Park" was born, with Sain serving as the managing director and Hendley becoming the artistic director of the organization.
The duo decided their first project would be Shakespeare's popular and whimsical play, "A Midsummer Night's Dream."
Sain and Hendley have already cast the play, with six actors filling the 19 roles in the performance.
Over the past six months, the pair has utilized many local resources.
Sain and Hendley said Newnan Shakespeare in the Park has partnered up with the Newnan Cultural Arts Commission. The organization will provide the group with sound and lighting kits.
Newnan Theatre Company is allowing Sain and Hendley to borrow costumes for the performance, the duo added.
"Everyone seems really excited for us, which keeps me excited and lets me know we're doing something good for this community," Hendley said.
Newnan Shakespeare in the Park will perform "A Midsummer Night's Dream" on July 27 and July 28. The play will start both nights at 7:30 p.m. and is free to the public.
Hendley and Sain said as far as they know, their event is the only free Shakespeare in park performance in Georgia.
"It was important to us that everyone be able to come and enjoy the show, free of charge," said Hendley.
Sain agreed.
"We want the Newnan Shakespeare in the Park to be as accessible as possible for many different groups," she said.
The actors hope the event becomes a popular tradition in downtown Newnan and will one day grow to become a multi-performance festival.
"Before we started, we both talked about our mission statement," said Sain. "We want to strengthen community bonds, provide educational resources, support local services and the economy by bringing more foot traffic to the area.
"We want this to be something people look forward to every year," she continued. "Newnan is a community that we love and gave us our start in the theater arts. This is our opportunity to give back."
Both Sain and Hendley admitted it's been a huge learning curve creating the Newnan Shakespeare in the Park professional theater group and directing their first show.
But they hope the lessons learned will strengthen their plans for future productions.
"It's been surreal to take ownership of a production," Sain said. "For me, it's been a refreshing experience. It's been a challenge and kept us on our toes, but I love every aspect of it."
Hendley agreed.
"This experience has been wonderful and exhilarating," he said. "It's just wonderful to see when you put yourself out there, how much support you receive and how uplifting it can be."
Hendley and Sain's ultimate Midsummer Night's Dream is for the community to embrace the vision of Newnan Shakespeare in the Park began months ago – and propel it forward for years to come.