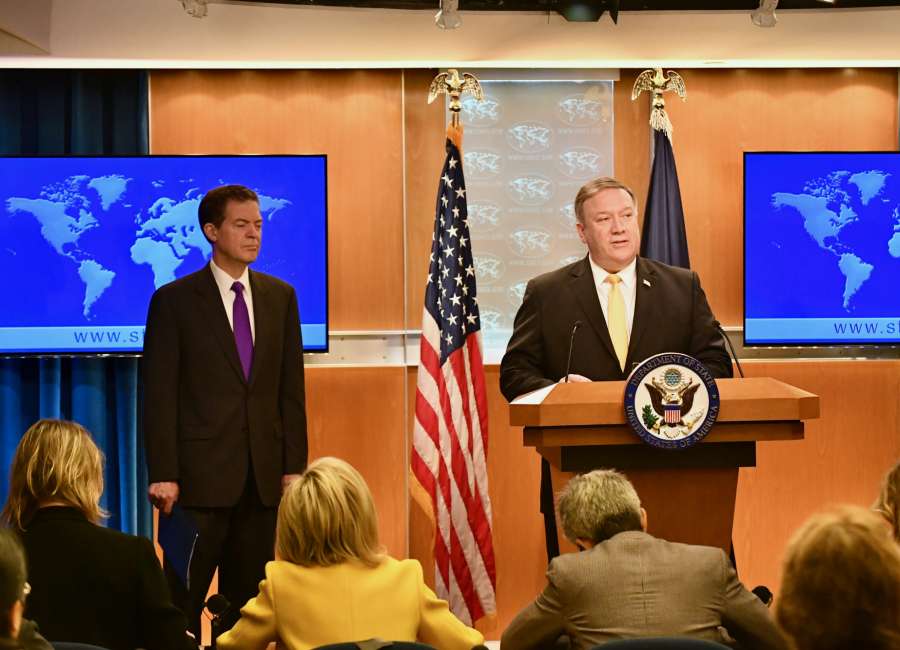 For Christian real estate agent Jim Qualls, religious freedom starts at home.

"The first thing is in how we treat people who come to America or who are in America," Qualls said. America must have an openness to people of all faiths – or no faith – "if we are going to be a shining light on a hill."
Al Smith, a Coweta County commissioner who is also pastor of Clark Chapel United Methodist Church in Luthersville, said similar thoughts.
"Religious freedom carries with it freedom from religion, although that is not my preference," Smith said. "However, as a way of seeking to make disciples of Christ I have inadvertently introduced myself to atheists."
Smith noted he has met people "who despite categorically denying the existence of God, still exhibited traits acknowledging love, admiration and compassion for all people."
"How we treat people of other faith or no faith at all is being scrutinized all over the world," Quall said. America's position in the world means that statements about religious freedom are viewed through a lens of how religious minorities are treated in the United States.
"A lot of eyes around the world are on us," Qualls said. "We've got to first clean up our own act."
The U.S. State Department monitors religious persecution around the world. Sam Brownback, ambassador-at-large for International Religious Freedom, gave a review of the International Religious Freedom Report in Washington on May 29.
The report is "the annual assessment of the state of religious freedom in our world today," Brownback said. "We all have a stake in this fight. One person's bondage is another person's burden to break. We're all people with beautiful and undeniable human dignity. Our lives are sacred. Our right to choose the road our conscience takes is inalienable."
Brownback noted some people pay with their lives for unpopular religious beliefs. "There are people denied access to work or medicine for their beliefs. There are more subtle forms, as well, of persecution," he said.
"Our goal is to protect the freedom of conscience for all people. That means protecting a Muslim, Buddhist, Falun Gong practitioner, or Christian in China and their ability to pray and live out their life," Brownback said. "Our desire is to protect … everyone's right to freely practice what they believe."
Brownback spoke about the trial of Andrew Brunson, an American Christian missionary who has been jailed in Turkey for more than two years, charged with espionage.
"We will all continue to raise this case every chance we get until he is released," he said. "There are way too many Andrew Brunsons held unfairly in prisons around the world."
Brownback also outlined religious persecution in Tajikistan, where minors may not take part in religious activities and in Saudi Arabia which "does not recognize the right of non-Muslims to practice their religion in public."
He said some 50 people are serving life sentences for blasphemy in Pakistan and Russia where "authorities target peaceful religious groups, including Jehovah's Witnesses, equating them with terrorists."
Problems in Iran, North Korea, China and Myanmar were also outlined by Brownback.
Dr. Jimmy Patterson, pastor of First Baptist Church of Newnan, talked about Brunson's imprisonment while reflecting on  this week.
"Religious liberty is not only a basic American value – it is a universal human right.  Nearly 80 percent of the world lives with attacks on their freedom of religion.  When religious liberty is not protected in any country, instability, human rights abuses and violent extremism will have a greater opportunity to take root," Patterson said.
"As long as missionary Andrew Brunson remains wrongfully imprisoned in Turkey and many Pakistanis are on death row or face life in prison for blasphemy, we must fight for the freedom of all people. As long as Malaysia allows Christian converts, Hindus and believers in minority traditions of Islam – non-Sunni – to  face increased social hostilities and government restrictions as the tension grows between civil courts and sharia courts, we must fight against injustice wherever it exists," Patterson said.