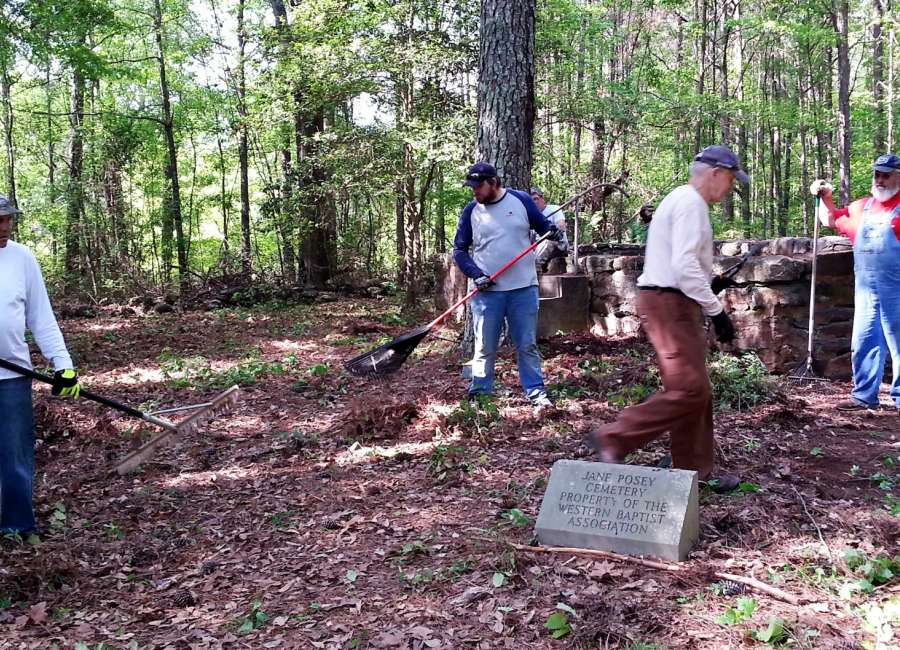 Members of one of Coweta County's newest Baptist churches have cleaned up a cemetery that is a symbol of the denomination's first days in the county.

"A group of men from Real Life Baptist Church – led by Pastor Rhodes Skinner – cleaned up the Western Baptist Association's Jane Posey Cemetery," said Dr. Wayne Jenkins, associational missionary for Western Baptist Association, a coalition of about 50 churches in Coweta and nearby counties.
The cemetery belongs to Western Baptist Association. The burial ground was on a rural patch of Posey Road 35 years ago, but now is in the middle of subdivision development.
"Buried on this spot is the Rev. Humphrey Posey, who died in 1846," Jenkins said. Also buried there are Posey's second wife, Jane Strong Stokes Posey; and William Montford Stokes, the Coweta County plantation owner who was Mrs. Posey's previous husband.
The cemetery is located on what was once the Stokes plantation. William M. Stokes was an early sheriff in Coweta. He and his wife were founding members of Ebenezer Baptist Church, which is now New Heights Baptist on McCollum-Sharpsburg Road.
Humphrey Posey and Jane Stokes were widowed when they married. 
Humphrey Posey spent his last years in Coweta County. He pastored two local Baptist congregation that are still active -- New Hope on Corinth Road and Ebenezer. When he died in 1846, his funeral was held at Newnan Baptist Church – now First Baptist.
Unmarked graves in the cemetery are said to be those of two Cherokees who cared for Posey in his last years.
Posey was born in Virginia in 1780 but grew up in North Carolina. He did not become a Christian until he was 22, and he was ordained into the ministry three or four years later.
Posey was appointed as a missionary to the Cherokees at the Baptist Triennial Convention in 1817. He began four schools within the first year, and later – with Thomas Dawson – he started Valley Towns, a noted school for Cherokee youths. It was common practice for Baptists to financially "adopt" students at Valley Towns and for those students to take the name of their sponsor.
One of the students at Valley Towns took the name Anna Stokes, which provides a clue to Posey's first connection with Coweta County. Anna Stokes was also the name of the daughter of William Montford Stokes from his first marriage.
Posey left the mission field in the 1820s. He served as pastor at First Baptist Church in LaGrange and spoke at the organizational meeting of Greenville Baptist Church. He was living in north Georgia when his first wife, Lettice Jolly Posey, died in 1842.
In her last years, Jane Posey lived in the first frame house in Newnan, which stood near where Dr. William Shockley's office is today. Jane Posey left shares of Atlanta and West Point Railroad stock valued at $10,000 to Mercer University when she died in 1860. Her bequest in today's dollars has been estimated at around $1 million.
Western Baptist Association published a biography of Humphrey Posey in 1852. Robert Fleming, a one-time pastor at Newnan Baptist whose home stood on Jackson Street near Oak Hill Cemetery until it burned some 25 years ago, was the author.
Real Life held its first service on Jan. 3, 2016, and meets at the Western Baptist Association office on Jefferson Place. The cemetery cleanup took place on May 2.