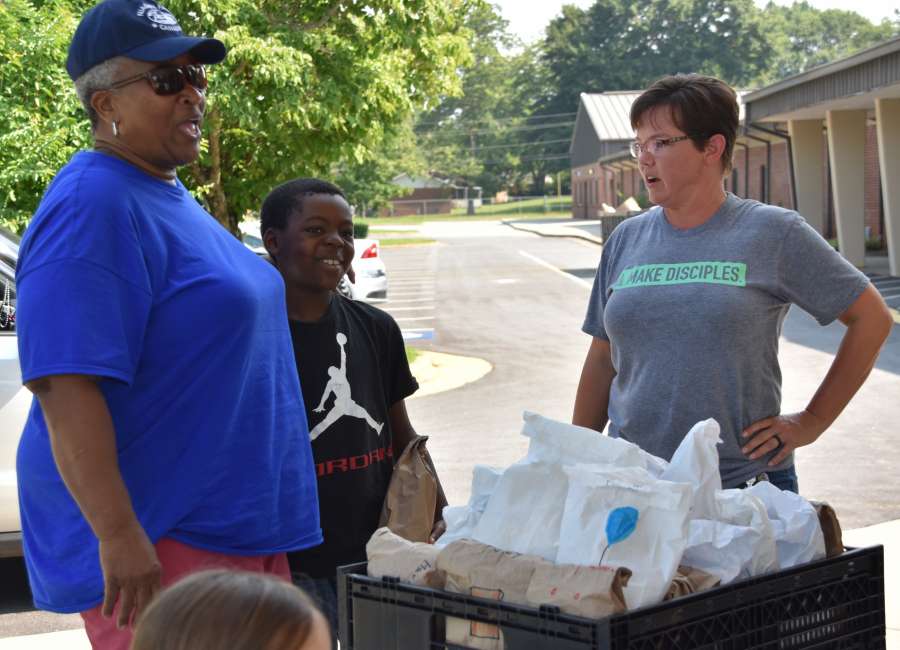 Newnan Presbyterian Church is reaching out to provide food and hygiene kits to people in the community who need them.

As part of the church's Summer of Service 2018 initiative, church members will be working with several efforts to help the needy in the community starting this Sunday. The series of activities will conclude Aug. 26.
This Sunday at 9 a.m. at the church's Barrow Fellowship Hall, members will be assembling hygiene kits for Coweta Samaritan Clinic.
Gallon size bags will be filled with shampoo, bar soap, deodorant, toothpaste and a toothbrush.
Newnan Presbyterian also will be working with Bridging the Gap in meeting food needs for area youngsters this month. From July 23-27, church members will help with BTG's summer lunch program. They will prepare and serve lunches – and then enjoy games with youngsters after the meal.
Church members are now donating supplies for the BTG project including water bottles, juice boxes, fruit cups, chips, cheese sticks or slices, sandwich meat, peanut butter, jelly and bread.
Newnan Presbyterian will joined with three other downtown churches – Central Baptist, First Baptist and First United Methodist – for a Back-to-School Bash on Aug. 1 at Willie Lynch Park. A hotdog dinner and swimming are planned.
The Summer of Service will conclude with a meal packing event for Rise Up Against Hunger on Aug. 26 at 9 a.m. in the fellowship hall. The church's goal is to package 15,120 meals – 70 boxes each containing 216 meals.
Contributions are being accepted to help with the Rise Up project. The goal is $4,384.80.
Help offered by Newnan Presbyterian and other churches makes a big difference to local charities and ministries. Lou Graner of Coweta Samaritan Clinic said the hygiene bags provided by NPC help the clinic's patients.
"We make them available to our patients," Graner said. "A lot of our patients – you can't take for granted they can afford it (hygiene products). It's a great gift."
Bridging the Gap receives assistance and collaboration from many area churches. "The amazing thing about our county is there are so many people who are willing to give and serve," said Matthew Pass, president of the BTG board.
"Bridging the Gap is not able to exist without volunteers," Pass said. Speaking specifically about the July 23-27 effort, Pass said it is immensely helpful to BTG when a church or a group of churches adopts one or more days of the feeding program.
Churches that have helped BTG this summer include Central Baptist, Community Christian, First Baptist of Newnan, Foundation Church, Heatherwood Baptist, Newnan City Church and Newnan Presbyterian. Small groups from Crossroads and Southcrest have also volunteered.
Churches "are integral to meeting the needs in the county," Pass said.