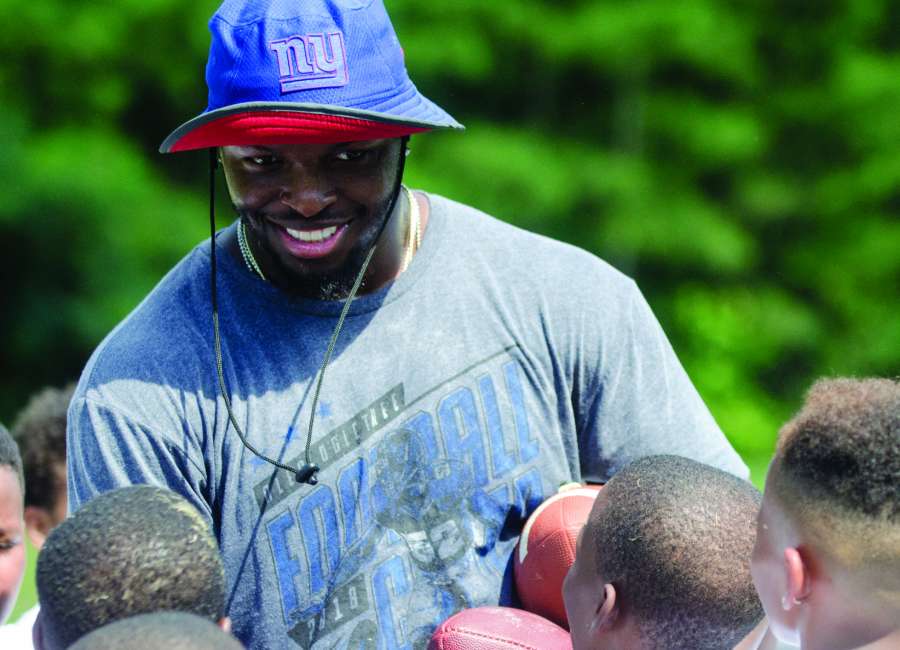 BY CHRIS GOLTERMANN
CowetaScore.com
The past and present of Coweta County high school football met the future on Saturday, when players from ages 6-17 took part in the second annual Alec Ogletree Football Camp at Newnan High.
Even with ongoing work at Drake Stadium on the installation of artificial turf and a new 8-lane track, the lower practice fields across Waterworks Road provided a perfect setting for well over 100 athletes that took advantage of the free camp provided through the USA FUNdamentals program.
In addition to three hours of instruction, campers wer also treated to pizza and ices.
Despite trading in his former colors with the L.A. Rams for the blue and red of the New York Giants, Ogletree's camp staff remained similar to last year's with former high school and NFL teammates lending a hand.
Other things haven't changed either outside of the uniform. The former star safety for the Cougars, who played an essential role in consecutive trips to the GHSA Final Four almost a decade ago, finds himself as a centerpiece for a defensive rebuild with the Giants as a middle linebacker.
It's a position that's well versed in a franchise that has produced several Hall of Fame players from Sam Huff to Lawrence Taylor.
Ogletree found himself a part of a pre-draft trade that swung him from one coast to the other after being dealt for a pair of draft picks less than seven months after signing a contract extension for four years and $42 million.
"It's a football crazy type of city. It's something I really haven't had since I've been at [The University of ] Georgia," Alec said. "I'm definitely looking forward to it. It's going to be the same things. Playing the [Middle] linebacker position and making all the calls and checks and stuff. I feel like I just have to go up there and gel with the guys. That's the main thing."
Twin brother Zander, now a Newnan football assistant, joined Alec and Ogletree family members that helped organize the event.
"This is great to have them both here together for this," said the twins' mom, Allison, who got a chance to spend some more time with soon to be 2-year-old Austin Jonathan (A.J.).
The move to the New York/New Jersey area will also allow Alec to play alongside brother-in-law Andrew Adams, who will return to a secondary that remains intact while looking to put a rough 3-13 season in the rear-view mirror.
Alec also had former Rams teammates Robert Quinn (who signed with Miami) and others including fellow defensive lineman Michael Brockers help out with the camp.
Closer to home, Ogletree's former co-defensive coordinators at Newnan High during his senior year — Lavarett Pearson and Jeff Bryant — were on hand to help out with Pearson coordinating drill assignments.
Former high school teammates on hand included both current and former pros in Alan Bonner and Tray Matthews.
Bonner is currently a certified master personal trainer in Buckhead working with college and pro athletes after spending three years in the NFL following a record-setting career as a wide receiver at Jacksonville State. He started his post-football career in Boca Raton before returning to the Atlanta area.  
Matthews, like Bonner, was an All-State selection in high school with his eyes now set on making the 53-man roster of the Minnesota Vikings after being signed as a free agent out of Auburn after completing both his bachelors and masters degrees.
"Camp's been good. I like it. The system is like it was at Auburn, so I feel like I'm catching on kinda quick," said Matthews, who followed Alec Ogletree as a star safety at Newnan. "I go back July 24. It's coming on up."