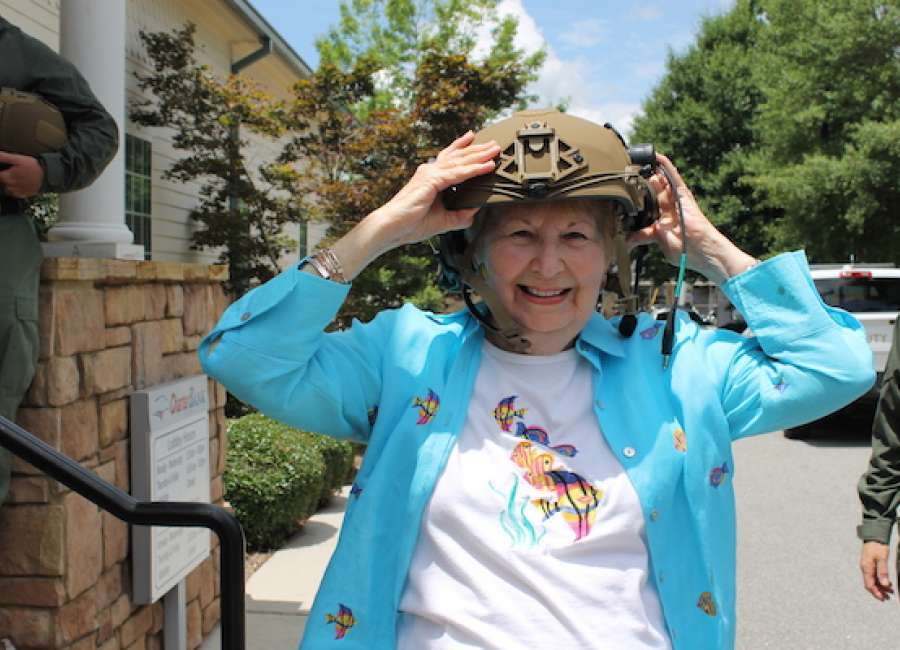 The Newnan Coweta Public Safety Foundation has donated 18 ballistic helmets to the Coweta County Sheriff's Department and eight ballistic body shields to the Newnan Police Department.
Members of each agency met at Charter Bank on Salbide Avenue Thursday to thank the foundation's board for its donation.
The helmets will be used for active shooter situations and SWAT team calls, according to Maj. Mark Fenninger of the Coweta County Sheriff's Office.
Fenninger said that the bulletproof helmets are some of the best on the market and that a year was spent picking out the best equipment.
"These helmets are going to save somebody's life," Fenninger said.
Norma Haynes, president of the Newnan Coweta Safety Foundation, said the foundation purchased the equipment to help public safety employees do their jobs and protect the community.  
"The people in the community are giving them what they need," Haynes said.
The board is made up of volunteers who raise money to help public safety employees throughout the county get what they need to do their jobs, according to Haynes.
Every year, the foundation hosts a public safety appreciation luncheon where citizens can donate to the luncheon and the foundation.
This year, Haynes said they served 400 public safety employees at the luncheon. Leftover donations are used to help public safety employees. Some of the money goes to equipment – like the new helmets and shields – that the departments need but cannot purchase with their budget, according to Haynes.
The departments can send a request to the foundation, and the foundation votes on whether they will grant the money or not, according to Haynes.
In addition to supplying equipment, the foundation is also set up to aid public safety employees and family members. Haynes said that if a public safety employee needs medical or financial support, the foundation also can assist them.
The foundation also awards scholarships to the children of public safety employees, according to Haynes.