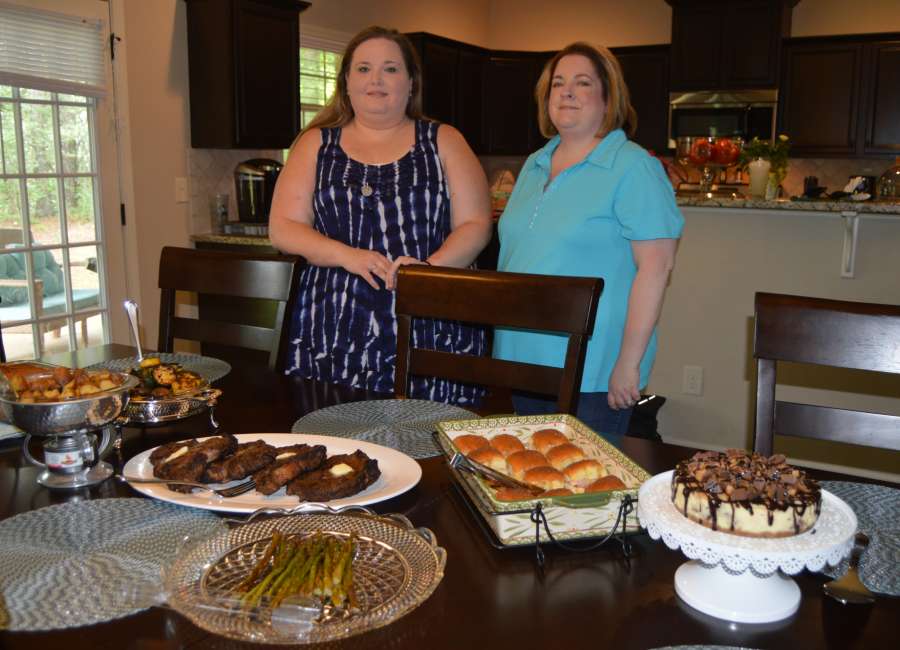 The aroma of a warm, filling meal, surrounded by the sounds of chatter and laughter, seems to bring most people to the dinner table.
It's a scene Dawn Conrad and Amanda Janes like to recreate often for parties and gatherings with family and friends.
Cooking is also how the two women went from being strangers to neighbors and now close friends.
The two women met on a neighborhood internet chat room shortly after Conrad moved into the Madison Park subdivision.
The duo immediately learned they had something in common.
"We both picked our houses because of the kitchens," said Conrad.
"I had to have enough room to put all my gadgets, utensils and dinnerware," explained Janes.
Cooking and baking run in Janes' family.
She said her stepmother and step-grandmother cooked in a popular West Virginia restaurant; while her great aunt worked in a boarding house and prepared meals for local miners.
"I used to help out my grandparents, plus my mom and dad in the kitchen," Janes said. "I took as many home ec classes as I could, starting in the sixth grade through high school."
Conrad's love for cooking and baking came from a very different source.
"I started watching cooking shows on TV and I thought, 'I could do that,'" she said. "I watched QVC and it inspired me to make different dishes."
Both women agreed cooking their own cuisine creates a calming effect.
"It can be therapeutic and gives you something to focus on," said Janes. "You can be as creative as you want. I also enjoy watching people eat and enjoy my meals."
"I like baking," said Conrad. "Even though you have to worry about getting the measurements just right, I just put on some music and it's calming to me."  
The ladies' latest kitchen endeavor involves cooking meats via a process called sous vide.
This method places food, usually meats, in a sealed, plastic pouch or inside a glass jar. The food is then cooked in a water bath at a regulated temperature.
Janes and her husband, Beau, put their new sous vide machine to the test on Monday using ribeye steaks.  
The couple first cooked them in the water bath. Janes added some seasoning and salt to the meat before Beau finished off the meat by searing it over an open grill.
"It was cooked perfectly," Conrad said after biting into the ribeye. "The water circulates to keep the meat at the same, constant temperature. Searing it helps give it flavor."
"I was skeptical about it at first," Janes said. "But it's pretty good."
Monday's meal turned into a feast between the friends.
In addition to the steaks, Janes prepared roasted rosemary potatoes, roasted asparagus, broccoli and cheese casserole, plus grilled squash and zucchini with mini portobello mushrooms.
Conrad brought over an appetizer of ham and cheese sliders, plus a peanut butter cheesecake for dessert.
Janes said she enjoys cooking big meals for friends and family, especially during the holidays.
"My husband and I gather up all our friends who don't have a place to go and invite them to our house," she said. "I tell people to bring lots of tupperware with them because we always have a lot of leftovers."
Both women have joined online cooking groups and swap recipes back and forth.
Janes said she likes looking for new dishes and desserts to try, while Conrad said she wants to cook more with her new air fryer.
While the two women enjoy cooking and baking for each other, the ladies say they hope to start a neighborhood supper club that could meet once a month.
Food & Friendship
By MELANIE RUBERTI
Dawn Conrad and Amanda Janes enjoy sharing recipes with each other and other local chefs via Facebook.
Below are recipes for some of the dishes the women created on Monday.
A few of the recipes were found on other food internet sites, while others have been passed down through generations of the same family.
Peanut Butter Cheesecake
Dawn Conrad created this decadent dessert using a pressure cooker. It takes a few extra steps to make, but in the end the rich and creamy cheesecake will taste like it came from a high-end bakery.
Ingredients:
10 peanut butter sandwich cookies, crushed
3 tablespoons butter, melted
16 ounces (1 pound) cream cheese, room temperature
⅔ cup sugar
2 eggs
⅓ cup creamy peanut butter
12 Peanut Butter Cups, diced, divided
¾ cup hot fudge sauce
Recipe:
Line the inside of a 7-inch cake pan with a large piece of greased aluminum foil (greased side facing up), pushing it into all the edges of the pan.
Crush the cookies in a food processor until they form fine crumbs. Mix the crumbs with the melted butter and press the crumb mixture into the base of the cake pan. Refrigerate while you prepare the cheesecake batter.
Using the paddle on your stand mixer with low speed, regular beaters on a hand mixer on low speed or a food processor, blend the cream cheese until it is completely smooth. When all the lumps in the cream cheese have disappeared, add the sugar and then add the eggs one at a time, mixing only enough to distribute the eggs in evenly in the batter.
Remove 1 cup of the cheesecake batter and place in a small bowl. Add the creamy peanut butter and stir until combined. Set this peanut butter batter aside.
Add one cup of the chopped peanut butter cups to the remaining cheesecake batter. Gently fold until evenly distributed. Pour cheesecake batter into prepared pan with cookie crust.
Dollop the peanut butter cheesecake mixture over the top of the batter in the pan. Gently spread the mixture evenly to smooth it over and to cover the top of the cake. Cover the pan tightly with more greased aluminum foil.
Place a rack in the bottom of the pressure cooker and add 2 cups of water. Lower the cake pan into the cooker using a sling made of aluminum foil (fold a piece of aluminum foil into a strip about 2-inches wide by 24-inches long). Fold the ends of the aluminum foil into the cooker and lock the lid in place.
Pressure cook on high for 22 minutes.
Let the pressure drop naturally and let the cheesecake sit in the turned off pressure cooker for one hour.
Carefully remove the lid and transfer the cheesecake from the cooker to the counter using the aluminum sling or rack. Let the cheesecake come to room temperature and then remove the foil from the top of the cake pan. Blot any liquid that might have condensed on the surface of the cake, wrap it in plastic wrap and refrigerate for at least 8 hours.
Melt the hot fudge sauce in the microwave for about 30 seconds. Drizzle hot fudge across cheesecake and top with remaining chopped peanut butter cups. Dig in!
(Recipe Courtesy: www.meredithlaurence.com)
Ham and Cheese Sliders
Dawn Conrad said the secret is in the sauce placed on top of the sliders.
Ingredients:
12 whole Hawaiian rolls, split
12 slices deli ham
6 slices provolone cheese, halved
4 tablespoons butter
1 tablespoon brown sugar
1-½ teaspoon dijon mustard
1-½ teaspoon Worcestershire sauce
¼ teaspoons poppy seeds
Recipe:
Preheat your oven to 350ºF. Line a rimmed baking sheet with nonstick foil. Arrange your sliced rolls on the baking sheet.
Place a slice of ham on each roll, followed by a slice of cheese.
In a small bowl, combine butter, brown sugar, dijon mustard and  Worcestershire sauce.
Microwave until the butter is just melted, about 30-60 seconds.
Add the poppy seeds and stir until combined.
Place the top half of the roll on top to assemble your sandwich.
Drizzle the butter mixture evenly over the sandwiches.
Bake in the oven until the cheese has melted and the butter mixture starts to caramelize, about 10 minutes.
Serve warm and enjoy!
(Recipe Courtesy: tastykitchen.com)
Roasted Rosemary Potatoes
Amanda Janes said just a pinch of Rosemary elevates the taste of these roasted potatoes. The dish is simply seasoned and easy to make.
Recipe:
Preheat the oven to 400 F.
Wash 3 lbs of red potatoes, and cut into bite size chunks.
Mince a few sprigs of fresh rosemary.  
Place potatoes in a 9 x 13 dish (glass or metal).  
Lightly coat the potatoes with extra virgin olive oil, then add the minced rosemary and salt/pepper to taste.  
Stir to coat the potatoes evenly.  
Bake for 45-60 minutes (or until fork tender). Stir them at least once about halfway through to make sure they don't burn or stick to your baking dish.
(Recipe Courtesy: Amanda Janes)
Grilled Squash, Zucchini & Mini Bella Mushrooms
Amanda Janes said she uses the grill to add more zest to vegetable dishes.
Recipe:
Wash the 1 - 2 squash, 1 - 2 zucchini and 1 package of mini portobello mushrooms.  
Cut the squash and zucchini into thick slices.
Mix olive oil, salt, pepper and garlic powder (to taste) in a bowl.  
Coat vegetables with the mixture and grill over medium heat in a grill basket (or on kabob skewers) until tender, turning/stirring occasionally.  
Convection Oven:
Place mixture in a 9 x 13 dish or on a foil lined baking sheet.  
Bake for 20-30 minutes in an oven.  
(Recipe Courtesy: Amanda Janes)