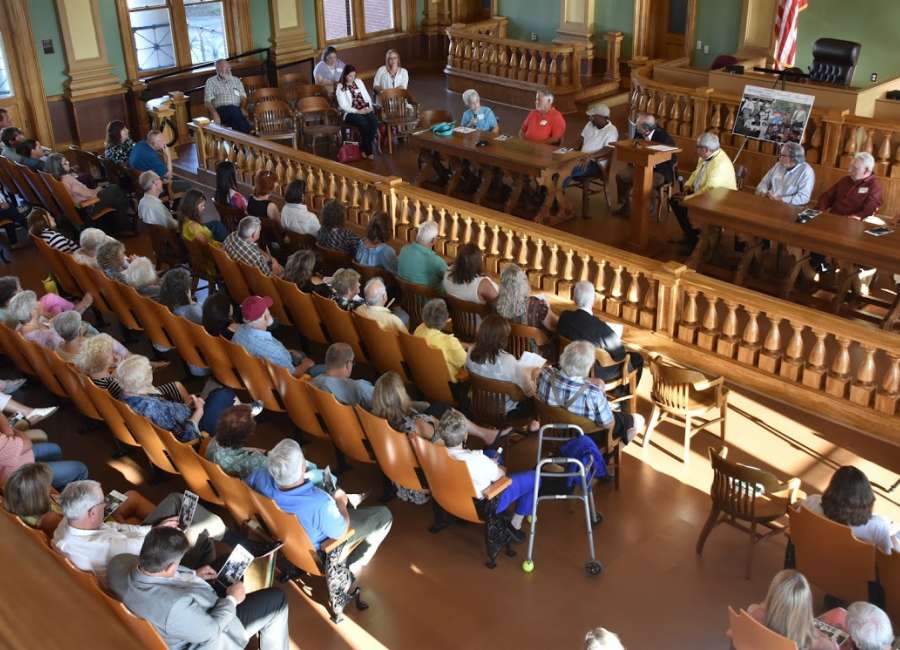 Seventy years after the murder of William Turner, a group of people connected to the murder case gathered for a panel discussion at the Coweta County historic courthouse in Newnan.
"Seventy years ago this room was filled up like this," said Dick Atkins, "Murder in Coweta County" producer. "And now 70 years later we still have this excitement about this."
Atkins produced the 1983 film, "Murder in Coweta County," based on the true story of the 1948 murder of a sharecropper tenant, then-Coweta County Sheriff Lamar Potts' investigation and the trial and conviction of wealthy landowner John Wallace.
Margaret Anne Barnes, a local author and former reporter for The Newnan Times-Herald, wrote the 1976 book of the same name that inspired the movie.
Wednesday's discussion happened in the same courthouse that Wallace's trial took place.
On the panel were the late Turner's son, John William Turner; the daughter of Judge Samuel Boykin, Alice Robertson; an actual witness of the crime, Raiford Smith; Al Brooks, the grandson of Albert Brooks, one of Wallace's field hands; grand-nephew of then-Meriwether County Sheriff Hardy Collier, Sam Collier; and the great-nephew of Henry Mobley, accused as an accomplice of Wallace, Wes Mobley.
Also in attendance was Christopher Billings, who portrayed an infant John William Turner in the film.
It was revealed to Wednesday's audience that John William Turner didn't know anything about the trial of his father's murder until he was 22 years old. After the murder, his mother moved to Alabama. He said she was concerned about the safety of herself and her children, so the family seldom visited relatives in Georgia.
Turner said the family moved frequently during his early years, something he later attributed to his mother's fear of them being harmed.
While serving in the military, relatives – including William Turner's mother – found him at his base. The family had searched for him for years, even hiring private detectives.
Collier described his outrage with his great-uncle being portrayed as a weak villain in the movie and book. In the movie, the then-Meriwether sheriff was portrayed as colluding with Wallace in Turner's murder.
"I didn't like the way he was portrayed because I knew he was a different type of person," said Collier.
Collier, a police investigator by profession, talked with many of the people involved in the 1948 events over the years. He declined a request by one of Wallace's relatives, however, to look into the murder itself.
During the trial, there was speculation on whether Turner was killed in Coweta County or Meriwether County. If Turner had died in Meriwether County, the case being investigated and tried in Coweta County could have been thrown out, possibly letting Wallace off the hook for his crime because of his social standing in Meriwether County, where he resided.
Turner was attacked at Sunset Tourist camp in Coweta County and taken back to Meriwether County. Smith, whose father Steve Smith owned and operated the cafe, was there on the day of the attack. He remembered his father getting a call ahead of time about a reported escaped convict.
Smith also remembered seeing the car drive away with someone hitting Turner – in the back seat – repeatedly.
Two contrasting opinions about Wallace being a good or bad man were also discussed. Mobley said according to his family and people that knew Wallace personally, "He was good as gold- until you crossed him."
Several families expressed a shared unwillingness to discuss the case for many years.
"He didn't like to talk about what happened," said Brooks about his grandfather. "He would get mad if you talked about it. He wouldn't say anything about it."
Brooks' grandfather was a prominent part of the conviction of Wallace. He and Robert Lee Gates, both African-American field workers of Wallace's, were forced to destroy Turner's body.

With the testimony of both the Brooks and Gates, Wallace was given the death penalty. It was one of the first cases in Georgia where a white man was sentenced to death by the testimony of African-Americans.
According to Brooks, his grandfather is celebrated for his bravery by his family. He also said that his family believes Albert Brooks was John Wallace's son.
Robertson talked about her father's being notified he would sit on Wallace trial, and his instructions for her and her mother. "He made sure that we could fire a gun," she said.
"There was this fear that something would happen to us while he was gone. The Carrollton police patrolled around our house," she said. Robertson, who had been accustomed to walking to school with her friends, had to be driven everywhere from the time the trial began until Wallace was executed.
"The trial changed my life," she said. The governor sent state troops to drive the judge from Carrollton to Newnan during the trial.
After the conviction and execution of Wallace, his wife Josephine Wallace was left with very little. She worked at Mansour's, an upscale clothing store in LaGrange, and in her last years, she lived with a nephew.
Atkins and Winston Skinner, news editor of The Newnan Times-Herald, were moderators for the discussion, which was sponsored by the Coweta County Convention and Visitors Bureau.