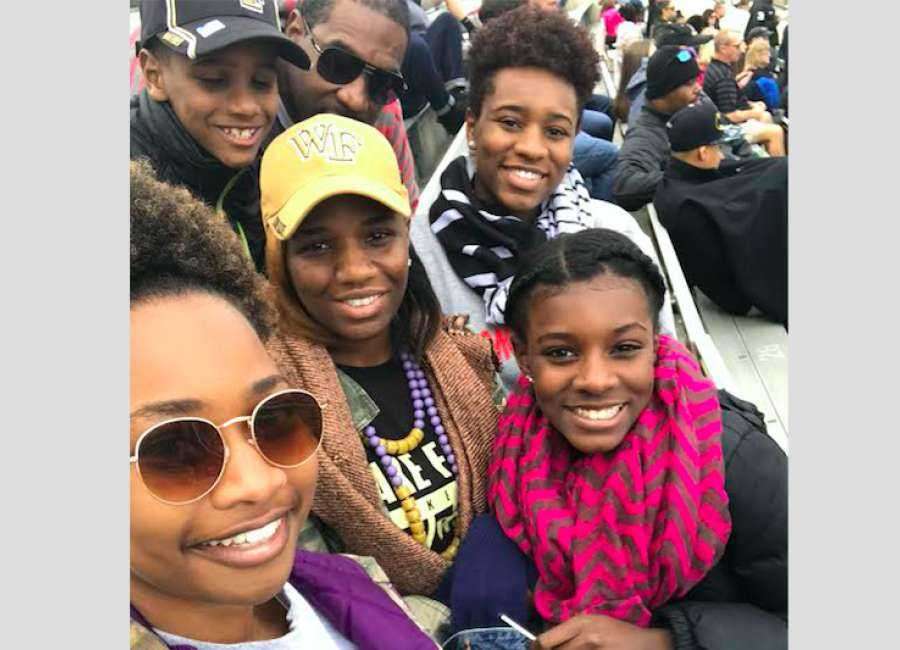 In a string of recent and viral situations where police have been called on black families, a local Subway and the Dobson family are now a part of that list.
"It is just so unfair that that kind of thing can happen to a regular family going in to pay for their food," said Felicia Dobson. "We weren't dressed in all black. We weren't wearing hoodies. And even if we were, the subway employee works in a facility where she has to treat everyone fairly."
The Dobson family, who were traveling from Columbus, decided to stop at the Newnan Crossing Boulevard Subway on July 2. The family was traveling back to their North Carolina home from a family member's birthday celebration. The Subway stop ended with a call to Newnan police, after the family had paid for food and eaten at the establishment.
"I need somebody to ride through here ASAP," said the Subway employee on the 911 call. "I've had a family in here for about an hour and they're kind of just not going anywhere. And they keep going back to the bathroom and stuff, and I've got a back door back there."
According to Dodson, the employee thought the family was going to rob her. Sandra, the employee, had been robbed before.
"I told the kids that everyone has to go use the bathroom," said Dobson. "The back and forth were my kids going to use the bathroom. When one comes out, the other goes in. We never even realized there was a back door back there because we're just using the bathroom."
Dobson describes her family as, "working professionals and our children do well in school."
In the 911 call, the operator tries to clarify with the employee, "You said you need an officer to come and check the restaurant because there's a customer that's been there for awhile?"
To which the Subway employee responds, "No it's not a customer."
"It's more women than men," says the employee later in the call.
The travelers included Dobson and her husband, Othniel, Felicia's sister and the couple's four children. Their three daughters are ages 19, 13 and 12. Their son's age is 8.
A concerned Dobson describes that it is harmful to describe her children as adults to the police.
"They had wanted a bunch of cups so that they can get water and now they're all coming back and forth with not clear cups, and I believe they're getting soda and not water," said the employee during the 911 call. "And they need to go. They just need to go."
"My husband paid for everyone's food with a debit card," said Dobson. "He asked for seven cups so that we could put ice in them. We traveled with snacks and had a jug of Minute Maid. We don't really drink sodas. That's why we asked for the cups."
Dobson explains that the "not clear cups" was her travel cup that she filled with ice.
"We didn't steal anything," said Dobson. "It was a situation that we were blessed to walk away from," said Dobson. "We see the news where police are called on people of color. And it just ends up wrong. That phone call was dangerous. We just happened to have a great police officer who was well trained."
When the responding officer arrived, he assessed the situation and apologized to the family.
"If an officer arrives on a scene and there's nothing going on and he sees nothing criminal or anything like that," said Buster Meadows, Newnan police chief, "all he could've done was clear the scene and talk to the people involved. The officer handled the situation correctly."
A police report was not made.
"When someone interrupts you in that way it just shocks you," said Dobson. "You know it happens but there's no way to prepare for that. There's no way to prepare your kids for that."
According to Dobson, the police officer told the family that he got a call about them not paying for their food.
"It's a call of service," said Meadows. "People feel like they need us to go. It does tie up some other calls that may come in, but officers are assigned to the call and they handle it."
Dobson describes the rest of their road trip as "saddening," as her children were visibly upset.
In other cities around the country, news outlets have reported the police being called on people of color for selling water bottles on a sidewalk, grilling in a park, swimming in a subdivision pool, wearing socks to a community pool and mowing the lawn. The police were called on a black state representative, in Oregon, for campaigning door-to-door as well.
"If there's no criminal activity it makes me wonder why they called the police to start with," said Meadows. "If there's no criminal activity there's not much we can do."
The Dobson family has gained some national attention themselves, being reported on several outlets and social media sites. They've also been included in the #EatingWhileBlack.
"That hashtag really brings tears to me," said Dobson. "Because it's true. That's all we were doing. People from around Georgia have sent me personal messages saying how sorry they are and that they don't tolerate that."
Dobson continued to express her appreciation to Newnan residents for their kind words. She explains that she shares the messages to her children.
"This situation has made my children very aware that they can do absolutely nothing wrong and still be discriminated against," said Dobson. "I want them to know that there are people that don't care what color your skin is and they will love you just the way you are."
To Dobson, this is a situation of racism.
"I do not judge the people of Newnan," said Dobson. "I know there are a lot of good people everywhere. But when we find those bad seeds, we have to deal with those bad seeds. We can't allow people like that to work in a public place that could potentially hurt your grandson, your daughter or your friends. It's not fair."
Subway could not be reached for comment. However, according to Dobson, the employee is on "administrative leave" and the situation is under review. Dobson suggests training for the employee.
According to employees that work at the location, the employee who called the police no longer works at the location. Also, according to the employees, the Subway has since received threats.
According to the employee's former co-workers, the incident may not involve race because the woman is married to a man of color.
According to WSB-TV 2, the Subway franchisee owner issued the following statement, "I take this very seriously, and I am fully investigating. I have also used this opportunity to reiterate to my staff the importance of making everyone feel welcome."
Dobson also revealed that the franchisee owner called and apologized to the family after the incident.