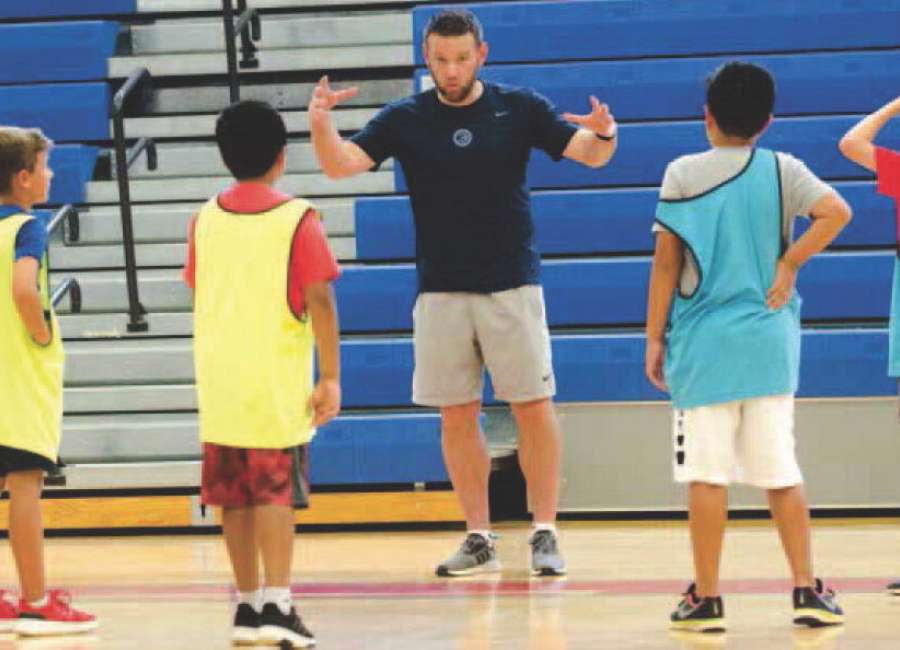 By Chris Goltermann / Coweta Score
It's rare for the car trunk of a soccer coach not to include at least one bag of balls. But last week, Alan Ewing couldn't afford the space.
Ewing, a father of two, tried to spin its popularity into a live version at last week's camp in hopes of adding physical activity to the strategy and decision making skills from the game which has become some parents' worst enemy.
Creativity, strategy and a share of goofy fun much of which come with unique celebration dances - are all part of the addiction that parents battle with daily with their kids.
In some homes, it's absorbed hours of time indoors and sometimes cash as well with additional purchases that give game characters better weapons or protection.
Played outdoors, however, it fits with Conn3ct Sports philosophy. Making a physical game with cognitive reasoning - and sometimes bargaining when players choose to make teams or alliances in the heat of battle - creates skill sets that can become valuable as athletes mature.
'We give them tents and stuff to use on the course. We've got some ideas and if they want to change it, fine. They can do that and we give them five minutes,' Ewing said. 'In England they tracked them doing it and one of them ran 12 kilometers in two hours. That's more than a professional soccer player.'
On Friday, the Conn3ct Sports version of Fortnite's Battle Royale morphed a football field into a battleground of exuberant children from the ages of 7-11, who had the same energy as if it had been a game of kickball.
'What would they do at home [playing] in that time,' said Ewing. 'They'd probably take 20 steps.'
Started in 2015 and designed for ages 3-14, Conn3ct Sports focuses on providing students with a diverse background that moves away from specialization in a sport until middle school and focuses on techniques and problem- solving skills that will help them develop through other activities outside those played at the recreation and club level.
Conn3ct has introduced after-school programs for three Coweta School System elementary schools as well as at The Heritage School, which is the host site for two of the three weeks of camps offered by Conn3ct Sports this summer.
Ewing is hoping to get other schools in the county to also look into starting a program of their own.
'In most sports, coaches will focus on specific techniques or moments in a game, so we want to make sure we help them in fitness, balance, coordination, technique, awareness, decision making and the cognitive side of their sport,' Ewing states on the program's website.
In many cases, they use skill sets from one or more of them, such as FooBaSKILL, which was part of Friday's activities. Developed by a trio of Swiss physical education teachers, the game is split into two half courts, one based on basketball-type rules and the other with soccer.
Athletes are forced to make quick decisions based on the flow of the game and several different point-scoring opportunities which includes more points for a header or a ball that's caught by a teammate off a backboard.
In other cases, Ewing has tried to improvise to cater to the trends of games that are popular.

It's where the idea to infuse Fortnite and other 'battlegames' into the rotation.
One played inside The Heritage Center gym last week had campers using dodgeballs to try and get to the middle of the basketball floor to knock down a bowling pin while forced to use one of three entryways.
'At first they're all on your own. I said get together, come up with a plan. We mixed the older and younger groups and the older ones are talking with the younger ones,' Ewing said.
'Then we did it where the coaches against everyone else and they beat us.'
Putting control in the hands of the children involved is a key to the philosophy of Conn3ct Sports, where coaches whistles have seemed to vanish. Regardless of the activity, Ewing and his staff place the accountability in behavior on the players.
'We're here to help,' he said.
'[But] this year, we're here to bring the sport. You're reffing.
You need to be honest. If you foul, then you need to be honest. If you're not sure. You have two captains and they have to sort it out.'
With over 20 years of coaching and training in club-level soccer, most recently here in Newnan, Ewing left it behind after seeing a program similar to Conn3ct Along with partner Dave Dagostino, the two have also brought Atlanta Futsal as part of the Conn3ct program.
'We should be teaching these kids mental skills,' Ewing said. 'The one thing that we have changed from last year to this year is being humble and accountability. They all know there's three types of behavior. Acceptable, unacceptable and exceptional,' Ewing said.
'If [they] see another one of the teammates displaying the wrong type of behavior in play, it's [their] job to fix it, not mine.
If [they] don't see it, I'll step in.
But I'm the last person to fix it because I'm not on the field.'
In turn, campers find themselves needing to communicate to overcome problems and differences. At times, Ewing rewards those who most display acceptable behavior. On the Fortnite course, it meant a much larger weapon for one camper.
'At a very, very young age we're instilling those actions to where you have control over your actions and you also have control to affect the people around you,' he said.
Currently Ewing and Dagostino are working at creating three levels of development in Conn3ct program, known as Foundation, Performance and Professional.
'The professional is not like we're saying we're going to make you a pro,' he said, 'but it's a junior or senior that wants to go to college or a college player who thinks about being a pro.'