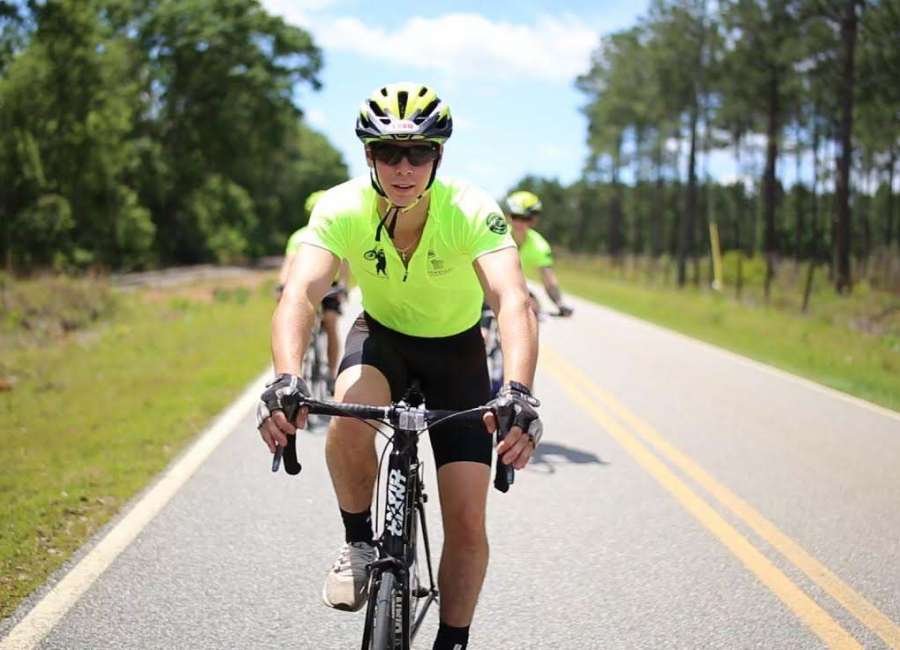 Stearne Pope, 18, of Newnan, has traveled down some rough and bumpy roads in his young life – dark and dangerous routes that led him down a path to drugs and eventually jail.
"I was incarcerated twice in Coweta County," he said. "For me, it was partying, drugs and alcohol. I didn't respect my parents and I had no respect for authority."
That all changed in January 2018, when Pope, a former East Coweta High School student, was given an ultimatum and an opportunity to straighten out his life. He could either remain in jail or move into the Paul Anderson Youth Home in Vidalia, Ga.
The Paul Anderson Youth Home helps troubled young men ages 16-20 years old overcome addiction and other unhealthy lifestyle choices.
The home and its programs are used as an alternative to juvenile correctional facilities.
Pope made the difficult, albeit life-changing decision, to move to Vidalia and into the Paul Anderson Youth Home.
The teen would join 19 others struggling with similar issues.
The relocation meant Pope would commit to the Paul Anderson program and would not return home for at least 14 months.
While Pope didn't know it at the time, that one step would turn into 562 miles of positive pedaling towards a brighter future.
The chosen few
Pope said he remembered riding his bicycle with friends as a young kid, but never considered cycling as a "sport."
That opinion changed when Pope was chosen by administrators at the youth home to be one of five cyclists in the 13th annual Paul Anderson Bike Ride.
"I learned really quickly that cycling is no joke. I have mad respect for those who do it," Pope said. "When they chose me, I was astonished. But I knew I wanted to do it."
"We pick guys who we believe will behave responsibly while on the road. There's an element of freedom from the ride that is not on our campus," explained Stephen Nichols with the Paul Anderson Youth Home. "We want young men that will represent us well, follow instructions, ride safely and be good examples of the youth home."
By day, Nichols is the graphic designer and software coordinator at the Paul Anderson Youth Home. By night, he is the cycling coach.
Since the beginning of April, Nichols and the boys have trained 3–4 days  per week. They learn the basics of cycling, such as safety, riding in a single-file line, bike maintenance and staying hydrated, among other things.
They've also slowly increased the number of miles they ride each week.
The Paul Anderson Bike ride is no walk in the park.
Beginning July 16, the six cyclists will bike through the southeastern portion of Georgia - sometimes covering more than 100 miles per day.
The group plans to start in Vidalia and make their way to the Georgia coast, stopping in the cities of St. Marys, St. Simons Island and Savannah before moving northward to Augusta. The cyclists will then pedal south again to Statesboro and finally return to Vidalia on July 21.
They will cover 562 miles in just six days.
"To think you'll cycle more than 500 miles is insane," Pope said. "It's going to be physically and mentally demanding ... and you can't stop. Your mind has to be there 100 percent of the time. I feel like I'm physically ready and I will be mentally prepared."
"It's fun to watch them progress, not in terms of physical fitness, but in the cycling skills and mental preparedness," Nichols said. "When we began to ride, I could keep up with them. But once they learned to ride efficiently, now I only see them in front of me from a distance."
The annual ride is also a fundraiser for the Paul Anderson Youth Home. This year the group hopes to raise $180,000.
Paul Anderson: "The World's Strongest Man"
Olympic legend and Georgia native Paul Anderson became known as the "World's Strongest Man" in the 1950s as he easily broke several world records in weightlifting championships around the globe.
In the early 1960s, Anderson decided to open up a youth home for troubled teens.
In order to promote awareness about the facility and its mission, plus raise money to open the building, Anderson rode his bike from Vidalia to Omaha, Nebraska, in 1961.
The former Olympic champion cycled on a single-gear bike more than 1,350 miles to help teens struggling with addictions and heading down disastrous paths, said Nichols.
To date, the Paul Anderson Youth Home has helped more than 1,200 troubled teens over a span of 57 years.
"We have a high success rate and we're making a difference here on Earth," said Nichols. "We're also making an eternal impact by introducing these young men to Jesus Christ."
The program provides therapeutic counseling and substance abuse treatment.
The Paul Anderson Youth Home has an accredited college preparatory high school on site, and offers vocational training courses.
There is also a transition program to help them re-enter society.
While the classes and therapy help them get back on the right path, officials said it's the physical and mental challenges of the annual Paul Anderson Bike Ride that can make all the difference in the teen's lives.
Cycling is used to inspire, instill self-confidence and build Christian-like qualities into the young men – and show them how much they can accomplish, according to the youth home officials.
"I hope the boys see they can take on a difficult task, apply themselves and still come out on top," said Nichols. "All things are possible through Jesus Christ. They can overcome any challenge, whether it's physical, mental or a substance-abuse addiction."
Each teen can become "The World's Strongest Man" in more ways than one.
Pedaling for a purpose
When Pope arrived at the Paul Anderson Youth Home in January, he already had a plan in place.
"I wanted to get shape," he said. "I came in here weighing 140 pounds; now I weigh 180 pounds – and it's all muscle.
"I want people to see me and say, 'He's not the same person he was when he came here. He's changed,'" Pope continued. "I'm away from my family and friends and I let them down. I want to change that …  I'm trying to be the man I know I can be and the man my parents want me to be."
Pope said accomplishing the 562-mile bike ride is just the next step in solidifying a second chance at a bright future.
"If I can do this, then what I can't I do?" he said. "When I graduate from the program, I'll have stressors thrown at me or have to do things I don't like. But this ride will remind me I can do whatever I set my mind to, get through most anything and come out stronger on the other side."
Pope said his family will be in Vidalia to greet him as he crosses the finish line.
According to Pope, his ultimate goal is to attend Southeastern Technical College in Vidalia and achieve a welding certificate.
Once he leaves the Paul Anderson program in February 2019, Pope hopes to live on his own and continue his education in welding.