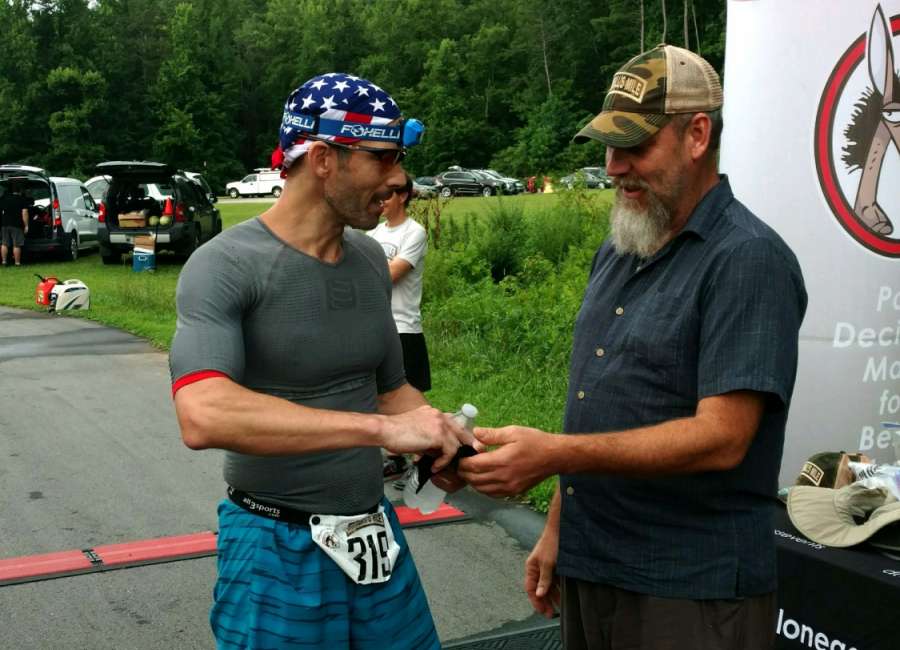 When doctors race against the clock, it's usually to save someone's life.
Dr. Mark McClinton, an Ear, Nose and Throat surgeon with Piedmont Newnan, is familiar with the time crunch in a hospital setting – and on an open course.
The long-distance runner recently put his athletic skills to the test during the weekend of July 7-8 at the "Merrill's Mile Ultrathon" in Dahlonega, Ga.
The goal of the Ultrathon is to run 100 miles within 24 hours. The track is looped and runners are chipped so they can check their progress throughout the day and night.
"I put up a tent and brought a sleeping bag and backpack," said McClinton. "I didn't know if I would sleep at all. Being a surgeon, you're used to being up all night. But after running 50, 60 or 70 miles, it might be a different story.
McClinton did not sleep, but paced himself and used his tiny encampment as a "reward" for running a certain number of miles.
"I used it to entice myself to keep going," he said. "I would stop and call my wife and kids, to eat a cookie, or even to change my socks and shoes. It was nice to sit down. It was like I was 'treating' myself."
McClinton continued to run through the overnight hours, only stopping to sip some chicken broth and drink some coffee.
At one point, McClinton said he lost track of time, and what lap he was on.
"My watch gave out and I didn't have my phone on me. The sun was about to rise and I thought, 'I'm not going to make it.' Then I realized I was an hour behind," he said.
The extra hour gave McClinton a second wind – or maybe, more of a "breeze."
"By that time, I was walking a lot," he said. "When I hit mile 93, I couldn't run anymore. I was hurting too much to even walk. I was limping.
"I remember looking down at the ground and thought, 'I wonder if it would hurt too much to crawl,'" McClinton continued. "I had a huge blister on the bottom of my foot … I was actually walking on the side of my foot."
A friend traveled with McClinton to compete in the race, but decided to participate just for fun.
But as the clock ticked down and McClinton moved closer to the finish line, he asked his friend to lend a hand.
"I said, 'You gotta help me. Keep me moving.' So I hobbled my way to more than 100 miles," McClinton said.
The Piedmont physician walked across the finish line at 23 hours and 45 minutes. He placed second in the race.
McClinton said this was his first time competing in an Ultrathon.
"I was happy. Completing 100 miles within 24 hours was my ultimate goal and I did it," he said.
While this was McClinton's first Ultrathon, it was not his first running competition.
He was a competitive ski racer in high school when he lived in Washington.
McClinton said he began long distance running in 2005 and completed the New York Marathon and a triathlon later that same year.
In 2007, McClinton finished a full Ironman competition.
The Piedmont doctor said he has no plans to participate in another Ultrathon event any time soon.
However, McClinton will be running a 50K trail race across the Olympic Mountains in Washington this fall.
Until then, McClinton said he'll continue to take the hospital stairs while training for his next big race.