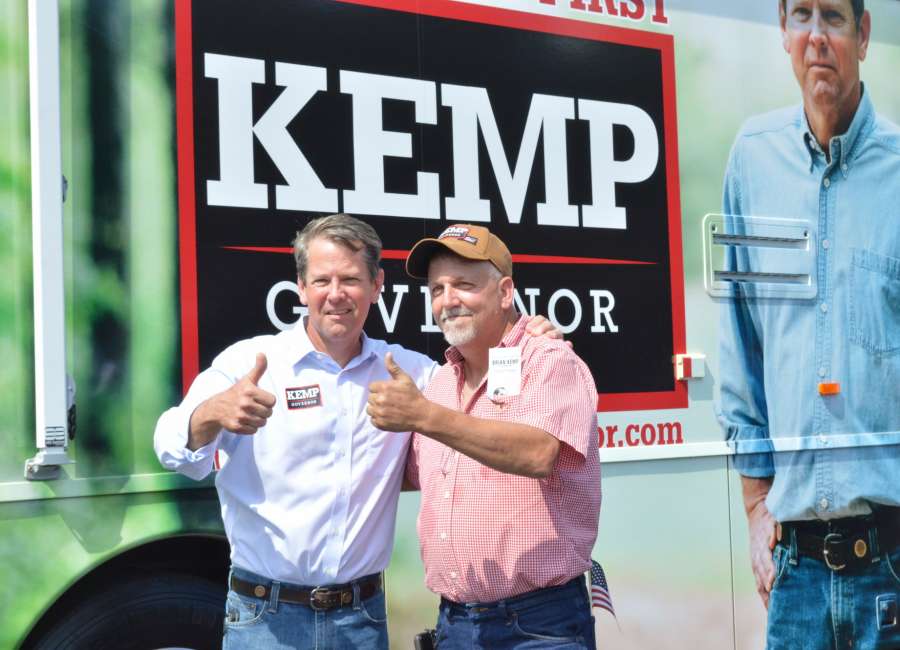 Over 100 people came out Sunday to a campaign stop by Brian Kemp, Republican candidate for governor. 
Kemp, Georgia's current secretary of state, is in a tight race with Lt. Gov. Casey Cagle for the Republican nomination. The race will be decided in Tuesday's runoff. 
Kemp's tour bus was accompanied by a Trump 2020 painted bus at the campaign stop, held in the Sprayberry's parking lot on Jackson Street. Kemp received President Trump's endorsement in a tweet late last week.
"There's no second place in politics. You serve or you lose," Kemp said as he milled through the crowd, shaking hands and posing for pictures. "We got in it to win it." 
Kemp was introduced by Carroll County Commission Chairman Marty Smith and Newnan Mayor Keith Brady. "It's my pleasure today to welcome Brian and his family to the city of Newnan," Brady said. "It's an understatement to say this has been a long, hard campaign. Through the whole campaign Brian has been consistent in his message and the citizens of Georgia have heard this message and they agree that we need secure borders, we need the interests of the hardworking men and women of this state to be held above all other interests," Brady said. 
"Brian is a family man, he's a true conservative who speaks his mind on the issues," Brady said.