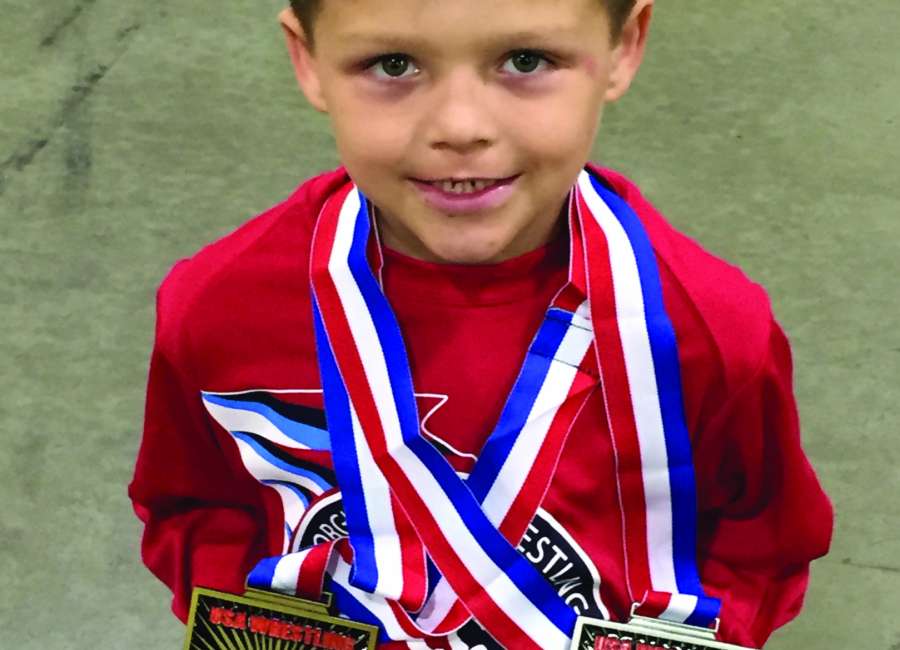 Six-year-old Newnan wrestler, Javen Russo finished another phenomenal year on the mat with a record of 87-18.

In addition to wrestling during the Georgia Kids Folkstyle season with the Newnan Jr. Cougars under the guidance of coach Jeff Maddox, Russo spent time with the Compound Wrestling Team- Georgia going undefeated in the State Duals and helping Compound to a second-place state finish.
He also traveled with Compound to the Smokey Mountain Duals, finishing fourth. Russo is also a member of the Minion Wrestling Program which travels across the US competing against the top talent in the United States.
Russo finished the Folkstyle season as the 6-and-under 43-pound Belt Belt Champion and 6-and-under 43-pound. runner up in the Little Kids State Tournament.
Russo did not let a close loss in the finals discourage him.
He began training with Brandon Smith and Drew Garner of the Heard County Wrestling Program where he was able to find and amazing practice an sparring partner, Braylon Smith.
Russo  took first place in the Georgia Games in both Greco Roman and Freestyle, while earning the Iron Man award.
He then wrestled up in age and won the 8-and-under 45-pound Georgia State Greco Roman State Championship and the also the Georgia State Freestyle Championship.
Russo then competed in the Southeastern Regionals at the Georgia World Congress center, placing first in all three styles, including  Folkstyle, Freestyle and Greco Roman. He also won the Iron Man Award.
Athletes from 27 states competed in this tournament.
The USAW Kids Nationals Championships were in Atlanta,  at the World Congress Center June 29th – July 1st.
Russo competed in both 8-and-under 45-pound Greco Roman and Freestyle divisions against stout competition from Ohio, Pennsylvania, Georgia, Kansas, Arizona and Oklahoma.
Still 6-years-old and competing in his first Greco Roman and Freestyle National Championships, Russo finished 7-1 with a second place finish in the Greco Roman Division and winning his first National Championship Title in the Freestyle division.
It earned Russo his fourth All-American Honor. He was one of two Georgia wrestlers to earned a first- place finish out of 38 who entered the event.