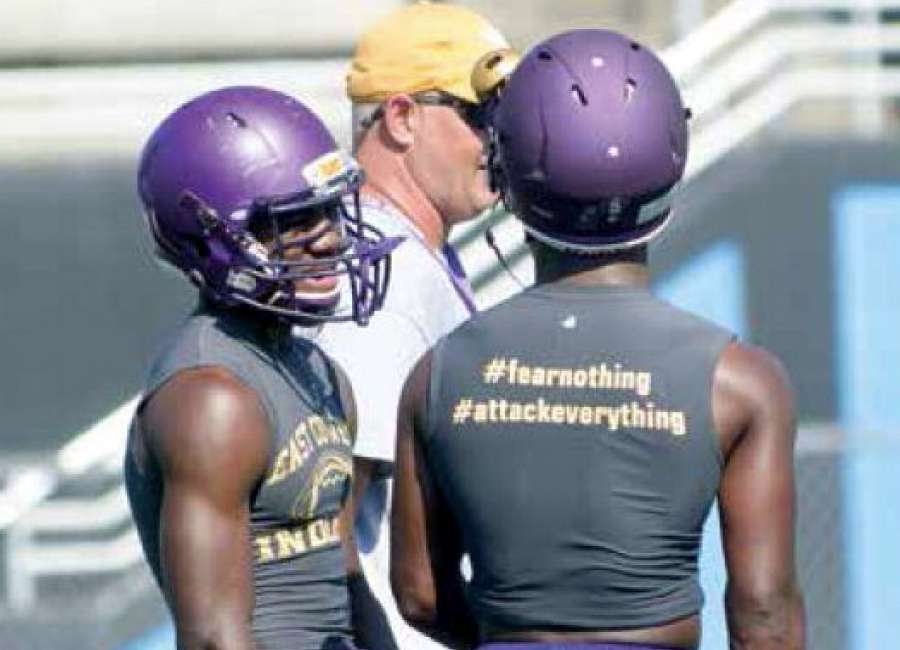 By Chris Goltermann / Coweta Score
East Coweta closed out its final 7-on-7 session of the summer on Wednesday while joined by Northgate in a trip to Starr's Mill.
For both local teams, it was another chance to get in throws against someone else as a change of pace in an otherwise regimented workout schedule in July.
With a new quarterback guaranteed for the fall following the graduation of Christian Reid, coming off a string of 26 consecutive starts to close his varsity career, it provided an obvious opportunity for a pair of Indians signal callers both in getting comfortable and competing against an unfamiliar opponent.
Regardless of who succeeds Reid, a 1,373-yard passer last year, East Coweta's quarterback in 2018 won't have to carry the entire load on offense.
Senior running back Gerald Green gives the Indians an proven 1,000-yard rusher that wasn't on the roster heading into 2017.
His return, as well as a move by Dantarious 'Snook' Chunn from receiver to running back may give East Coweta's passing game a boost considering that Region 2-7A opponents will again be keeping an eye on Green's No. 4 jersey.
Georgia Southern has been in pursuit of the 5-9, 183-pound standout who earned All-County Player of the Year honors after rushing for 1,134 yards over 10 games in his first season as a starter.
Green, who was responsible for 21 of East Coweta's 46 touchdowns last fall, didn't waste any time making a verbal commitment to Southern in May, even with other schools taking notice while making visits during spring practice.
Despite interest from Appalachian State and Georgia State, Green felt right at home after a visit Statesboro while feeling the same comfort zone with running backs coach Chris Foster.
'When you want to commit somewhere you want a relationship with the coaches,' Green said following Wednesday's 7-on-7 at Starr's Mill. 'My running back coach, I felt like I had known him for years and we just met. They showed me great hospitality.'
It's a long way where the All-Region 2-7A First Team selection was a year ago heading into his junior year after showing brief flashes of his playmaking abilities in 2016. As a sophomore, Green had 16 carries for 197 yards. And while averaging 12.3 a carry,East Coweta had a potential successor to then starter Devonte Brown, on his way to North Carolina State to play baseball.
Green admitted he had doubts about working his way into the lineup as a freshman and sophomore despite being a standout at Lee Middle where he was a rival to Chunn at East Coweta Middle.
'I didn't think I was going to make it this far,' he said. 'I had a rough start my first two years. It was my 11th grade year. I didn't think I was ready. I just had to grab the bull by the horns.'
Devonte Ford, coming off a junior year in 2016 where he also averaged 9.6 yards while doubling Green's carries, became a much-needed asset on defense last season with East Coweta graduating all 11 defensive starters. He equally earned All-Region Second Team accolades in 2017, but in the defensive backfield.
Head coach John Small and the Indians staff weren't quite the doubters that Green might have been heading into the season and even less after he opened last fall with 130 yards and two touchdowns on 22 carries against Lovejoy, nearly eclipsing all of his sophomore stats on a single Friday night.
'He's just a great kid,' Small said.
Green and Chunn went on to combine for six touchdowns on kickoff returns as juniors. The duo also had 15 pass receptions together in 2017, five of which went for scores.
'After that [Lovejoy] game, I thought this ismy time to shine. From there, it's been great,' Green said, adding of
Chunn, 'It's great being back there with him.'
It's a feeling that's quite the contrary of where the Indians standout was a year ago with the fit now with Georgia Southern feeling equally right.
'Most places they want you to come to their campus, but it's not always a fit for their program,' he said of his verbal commitment. ''With me being my size, it's a perfect fit for me.'