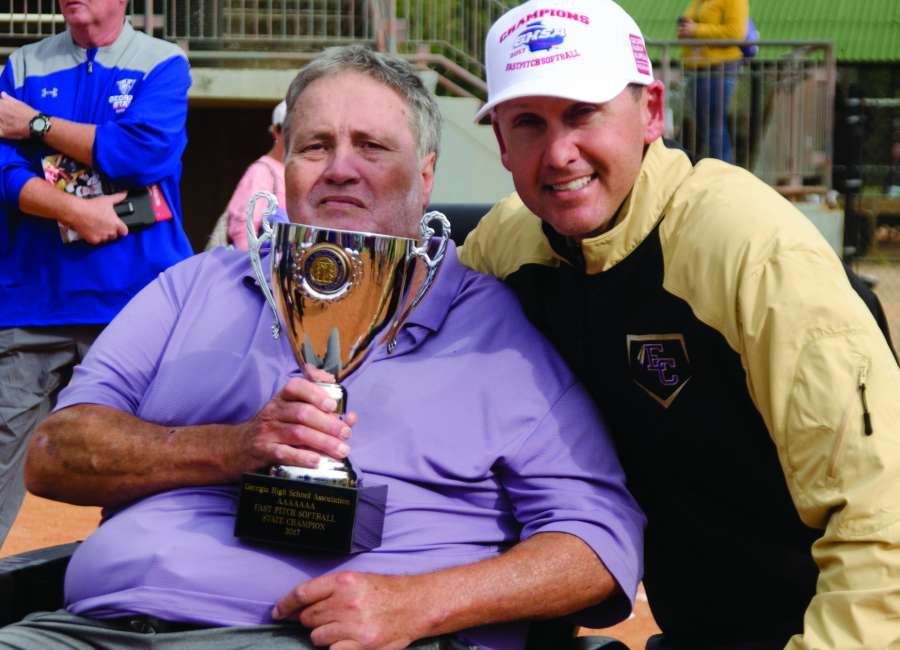 There are a lot of ways to describe former community softball coach Larry Shelnutt.
Pioneer and mentor might say it best.
Shelnutt helped grow fastpitch softball to Coweta County when the sport was still in its early stages of development in Georgia in the 1990s. 
"He definitely deserves credit," East Coweta head softball coach Franklin Deloach said. "He taught the game to so many kids and had them ready once they got to high school no matter where they ended up going to school."
Shelnutt lost his long  battle with cancer Sunday, passing away at the age of 70.
Former East Coweta pitcher Alison Owen is one of the many players Shelnutt coached and guided along the way. 
Owen set several pitching records with the Lady Indians before starting her college career at Georgia and then transferring to Mississippi State. She also played professional softball and is now the pitching coach at Georgia Tech.
"The only reason I began pitching in the first place was because of Coach Larry. I was catcher, and I was awful. I was kind of faking pitching at Whitlock Park and he came up to my dad and said he would like to give me some lessons," Owen said.  "My dad told him he was wasting his time, but the rest is history."
Shelnutt saw something in Owen's raw ability when she was still in middle school.
The future high school standout would later have her jersey retired at East Coweta thanks to her stellar high school career.
Even after Owen moved on to a different coach, Shelnutt remained one of Owen's biggest supporters, often talking to her after her games once she got to college. 
"There was a time when he thought he had taken me as far as he could, so from then on, he became more of a  mentor," Owen said.
In addition to coaching at the recreation level, Shelnutt was one East Coweta biggest fans, also serving as a community coach for the Lady Indians for several years.
"He never stopped believing in us even when we were struggling in those early years," Deloach said. 
Last fall, Deloach led the Lady Indians to a 36-0 record and a Class 7-A state title. 
Even though Shelnutt was confined to a wheeler chair, he was able to enjoy the Lady Indians' victory over Etowah in Columbus in the state title series.
"He told me if we got  to the championship game, he would be there." Deloach said. "He kept his promise."
Forecasted rainy weather forced the contest to be played much earlier than expected, but when Shelnutt arrived just before the first pitch, it gave the Lady Indians' some extra motivation.
"I didn't think he was going to get there, and right before the game started I saw him being wheeled into the stadium. 
We were so blessed that he was there," Deloach said.
In an emotional scene right out of the movie  "Facing the Giants", Shelnutt lifted himself out of his wheelchair, right before East Coweta recorded the final out.
"That was amazing," Deloach said.  It was great he could be a part  of such a big and wonderful day. 
At the team's annual softball banquet, Shelnutt was one of the guest speakers.
Shelnutt's funeral will be held at McKoon's on Friday at 11 a.m. with the visitation set for Thursday from 5 to 7 p.m.
Al Owen, Alison's dad, and Deloach petitioned for field No. 4 at Whitlock Park to be named in honor of Shelnutt and it was quickly approved.
Field No. 4 was where he coached so many young players.
Although the day and time has not been finalized, there will be a ceremony next week.
"He is one of the most selfless people I have ever known  Owen said. "What an incredible man. I know he is in a better place, but I am going to miss him."