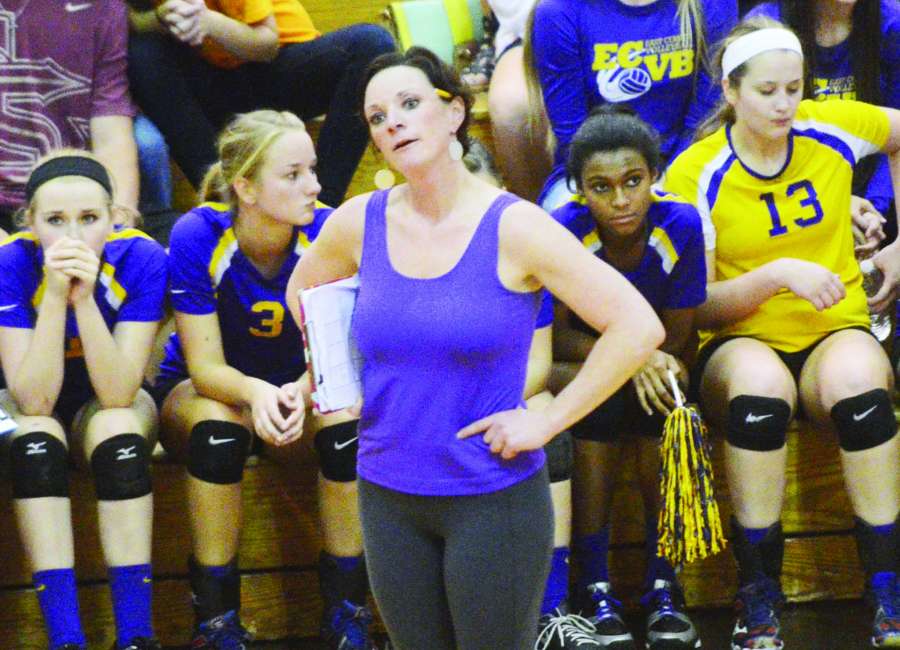 By Chris Goltermann and Doug Gorman 
Amber McClure Fayerweather was as friendly as she was fiery, a bundle of energy whose influence made athletes and colleagues alike better than they were before as described from their own words.
Such messages, along with the grief of a life cut far too short, came locally after McClure, a successful head volleyball coach previously at East Coweta and Harrison High, died on Tuesday at age 38.
It came while battling brain cancer following a diagnosis in March just days after the former Lady Indians leader was hired to fill an opening at Newnan High. Her coaching career was already on the path to greatness on the heels of winning back-to-back GHSA Class 6A state championships at Harrison High in Cobb County.
Each of McClure's last five varsity teams reached the state playoffs, with three advancing to at least the Sweet 16.
In addition to amassing an overall record of 203-63, she also had additional successes at the club level with the A5 South 14-1 lineup and in middle school locally at Smokey Road.
No task seemed too small for McClure, who also helped train a boys club volleyball team at East Coweta High that equally captured a title at the state level.
Along with a picture-perfect beach wedding in Bermuda to her fiancee Kevin in February, and a pending move back to Coweta County, McClure was living life to the fullest before a sudden trip to the emergency room where four bleeding tumors were discovered.
Surgery, a long recovery and the unknown awaited her. Yet she took the fight head on.  
"it is going to be a long fight! I feel so thankful and blessed...even though this wasn't expected—at all!," she wrote in late March."I am feeling very positive, hopeful, and strong"
Up through the final months of her life while undergoing multiple surgeries to remove the tumors, McClure was coordinating workouts with Newnan High's staff preparing for the upcoming 2018 season.
"She was at practices. She got them in the weight room. They had this thing they did in the pool where they were in jogging suits in the pool jumping for an hour," said Newnan High athletic director Randy Robbins, who also was McClure's department chair in English while the two were teaching together at East Coweta. "She did a lot. To do all the stuff she did and be excellent at all of it. She was driven."
It was part of her mindset throughout her career, both as a player and a coach. Growing up in northern Indiana and teased locally in her passion for wearing Notre Dame clothing, she embraced its high school volleyball roots while helping lead Mishawaka High School to a pair of Final Four appearances.
She moved on to play four years at Taylor University, an NAIA school close to home, where she impressed head coach Angie Fincannon enough to add her as an assistant following her playing days.
"What a blessing to work beside such a committed and talented player who then became an incredible collegiate assistant and made continued impact on the TUVB program. What a privilege it was to coach alongside Amber," Fincannon wrote in a Facebook post honoring her former player. "
"Once I 'retired' from coaching, Amber lived out her dream to coach high school players and teams! What a fiery and competitive coach! She was one heck of a coach, and quickly built a reputation of winning but also mentoring and leading these countless young women. God made her uniquely qualified."
Her players admittedly fed off that energy, which routinely began at 4:30 a.m., when McClure would  teach a cycle exercise before school, teach, then go through volleyball before returning home late and repeating the routine.
Newnan JV coach Ayla Brewer was on McClure's first team at Smokey Road upon her arrival in Coweta County. It was just Brewer's second year of volleyball before moving on to Newnan's varsity team and then to N.C. Wesleyan while also playing McClure's setter position.
"The passion and the fire she had was something that she wanted her players to have. I will always remember our talks after games and her words of wisdom," Brewer said. "She definitely helped ignite my love for volleyball and laid the foundation for me to become a coach."
Even opposing coaches from rival schools appreciated McClure's passion for the game and her contributions to the growth of volleyball locally in Coweta County.
"Look what she did for the landscape of volleyball here in the county," said former longtime Northgate head coach Matt Trucks. "It's so hard to see anybody go through [cancer], but especially somebody who so young and vibrant. I feel for her husband and family and her former players."
Even after Trucks stepped down as the Lady Vikings' head coach in 2014 and McClure moved on to Harrison, the two would often cross paths at the annual Coweta County Championships.
"One of the first things she asked me was if I missed it, and I told her I missed coaching against people like her," Trucks said.
Even in days of intense sports rivalries between East Coweta and Newnan, volleyball coaches had each other's respect.
"She was such a unique and amazing person and I was truly blessed to know her," wrote former Lady Cougars head coach Leslie Fant. "Despite the fierce rivalry between those schools we became good friends while coaching against each other. I grew to respect and care for her so much."
Not that McClure didn't put up challenges for both colleagues and superiors through her fiery personality.  
"Amber was just a heck of a person to be around," said Evan Horton, who was principal at ECHS when McClure arrived in 2013. "She challenged me as a principal from time to time. Because of the way her personality was, she was going to make everyone better. And there were times we might butt heads a little bit, but she made all of us better."
Upon being hired at East Coweta, McClure quickly welcomed a return to coaching at the high school level, where the Lady Indians' program had never reached a state semifinal while on the cusp of a breakthrough but without consistency.
"She would do anything for her program and her kids in order to better position it or better position them," Horton said. "She was hard nosed, she was tough on them, but she was 100 percent committed to that program and those kids."
After helping led the Lady Indians to the Sweet 16 in her first season with 43 victories, East Coweta put together a school record 52 wins in 2014 to reach the Class AAAAAA semifinals.
"She taught kids to be leaders," said Northgate High School Principal Ken Kesselring, who was athletic director at ECHS during McClure's career with the Lady Indians. "When she got to East Coweta, she started having leadership classes with her players. They would meet in the morning before school and they would go through this book on leadership. She gave them lessons to help create leaders."
Kesselring said McClure expected the best from her players.
"She could be demanding, but she did it because she wanted her kids to achieve. She knew they were better than what they thought they were."
A 2014 lineup led by four seniors included current Duke University standout Jessie Bartholomew, who honored her late high school coach in a post on social media.
"You taught me how to truly fight for something with everything I have, how to make the impossible possible, how to truly and wholeheartedly believe in something, and how to love with all my heart," she wrote. "I always loved volleyball but you taught me how to love it unconditionally, through all of the ups and downs. You are the most determined, loving, honest, and driven person I've ever met and I have all the respect in the world for you. And I'm so thankful I have you to look up to. Every time I step on the court I try to channel those lessons you've taught me. I will carry you with me forever."
The leadership rubbed off on McClure's sophomores and freshmen at East Coweta, who went on to become seniors after she moved on to Harrison High.
"I will hold on to every single thing that I learned from Amber and every single memory and I will cherish all of it forever," wrote former Lady Indian Peyton Smith. "She was the greatest example of a true friend, amazing coach and teacher, shoulder to cry on, biggest supporter, and now guardian angel."
Current East Coweta senior Nahla Muhammad, who was a freshman on the 2014 semifinalist, wrote that she would be dedicating her final varsity year in McClure's honor, writing, "Coach Amber loved us like we were her own. She was passionate about coaching us."
In the past months since the cancer diagnosis, coaches from throughout the area have visited McClure and her parents while resting at home, some flying in from out of state. Robbins also visited her on Saturday at her home in Canton just three days prior to her passing while still able to give him a smile.
"I went over to Amber and just held her arm and held her hand and her mom said hey Randy's here to see you and she just had this smile," Robbins said. "Her mom said their biggest concern is they just don't want people to forget about her."
Poole Funeral Home of Woodstock is in charge of pending arrangements.