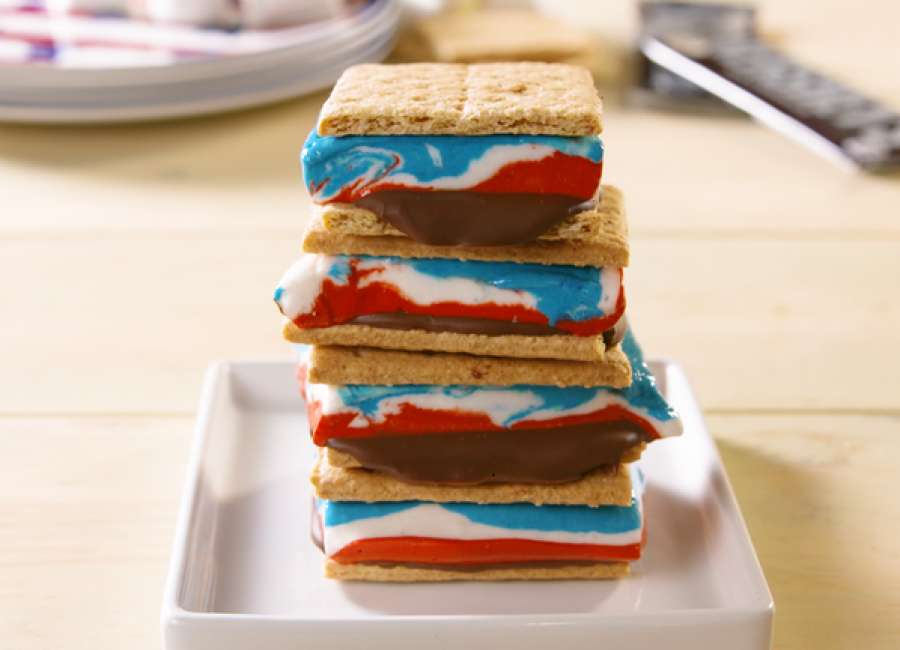 Typically on the Fourth of July, there's a little extra red, white and blue proudly shown off everywhere – and on everything, including fun food snacks, desserts and drinks.
Some people have a traditional meal every year that may involve a variety of meats cooked to perfection over a grill, paired with plenty of savory side dishes.
Many people prepare creative concoctions for dessert, incorporating the colors of the United States flag using blueberries, strawberries and whipped cream.
Others, like Dawn Conrad, tend to create a classic summer treat for her Fourth of July gatherings.
"Banana pudding," she said. "Because this version is cool and light after eating goodies off the grill."
Conrad still adds a touch of patriotism to her delectable dish by sticking a tiny, patriotic flag in the middle of her dessert.  
But whether it's specially made red, white and blue cupcakes or a fun dessert designed to look like the American flag, these "holiday" dishes can still be recreated throughout the summer months.
Here are some special treats to share with family and friends any time, in the land of the free and the home of the brave.
Independence day delights:

Star-Spangled S'mores

Ingredients:
Cooking spray, for pan
1 (10-oz.) bag marshmallows
Red food coloring
Blue food coloring
16 graham cracker squares
2 Hershey's chocolate bars
Recipe:
Preheat oven to 350° and grease a small baking pan with cooking spray.
In a medium pot, melt marshmallows completely.
Working quickly, divide into three bowls. Dye one bowl red and another blue.
Pour red marshmallow into prepared pan, then blue and then white. Spray a small knife with cooking spray (this helps the marshmallow from sticking!) and run it through the marshmallow layers to marble it. Let cool.
Meanwhile, place half of the graham cracker squares on a small baking sheet and top with chocolate squares. Bake until the chocolate is just starting to melt, about 5 minutes.
Cut marshmallows into squares and place on top of melted chocolate, then top with remaining graham cracker squares. Serve immediately.
(Recipe Courtesy: delish.com)
Firecracker Milkshake
Ingredients:
1 half gallon vanilla ice cream
3 drops red food coloring
3 drops blue food coloring
Recipe:
Soften ice cream to a soft-serve/yogurt texture. Evenly divide ice cream into three bowls.
Place red food coloring in one bowl and blue food coloring in the other, using a whisk beat each bowl until color is well-blended.
Layer bottom of glass with red ice cream, then plain vanilla and blue ice cream, using long spoon or knife drag it from the bottom to the top, stirring in between to mix the color (do not overmix).
Optional decorating idea: Finish with whipped cream and edible red, white and blue confetti.
(Recipe Courtesy: delish.com)
4th of July Brie
Ingredients:
1 (35-oz.) wheel brie
6 strawberries, tops removed and sliced
1/2 c. blueberries
1/4 c. freshly squeezed orange juice
2 tsp. honey
Graham crackers, for dipping
Recipe:
Preheat oven to 350°.
Cut off the top rind of brie, then place in a skillet about its same size. Bake until brie is bubbling and totally melted throughout, about 15 minutes.
Meanwhile, place strawberries and blueberries in separate medium bowls.
Divide orange juice and honey evenly between each bowl and toss to combine.
When brie is ready, arrange fruit in the pattern of the American flag. Serve immediately, with graham crackers for dipping.
(Recipe Courtesy: delish.com)
Rocket Jello Shots
You're favorite kids' treat just got a very adult makeover.
Disclaimer: This recipe is not for children. Please drink responsibly and have a designated driver.
Ingredients:
FOR THE RED LAYER:
1/2 c. water
1 box instant cherry Jell-O
1/2 c. vodka
FOR THE BLUE LAYER:
1/2 c. water, boiled
1 box instant blueberry Jell-O
1/2 c. vodka
FOR THE WHITE LAYER:
1 envelope gelatin
1 c. milk, divided
3 tbsp. sugar
1/2 tsp. pure vanilla extract
1/2 c. vodka
Recipe:
In a small bowl, combine boiling water and berry Jell-O mix and stir until completely dissolved. Stir in vodka.
In a separate small bowl, repeat process with cherry Jell-O mix. Let both mixtures cool.
While both jello mixtures cool, make the white layer: In a medium bowl, sprinkle gelatin over 1/4 cup of milk.
In a small saucepan over medium heat, bring remaining 3/4 cup milk to a simmer. Turn off the heat then stir in sugar, vanilla and vodka.
Pour heated mixture over plain gelatin mixture and stir until gelatin is completely dissolved. Let cool for 10 minutes.
Lightly spray 20, 1-ounce plastic shot glasses with cooking spray.
Spoon about 2 teaspoons of blueberry Jell-O mix into each. Refrigerate until set but not completely firm, about 15 minutes.
Top with about 2 teaspoons white gelatin mixture. Refrigerate until set, about 10 minutes.
Cover with about 2 teaspoons cherry Jell-O mixture. Refrigerate until firm, about 2 hours. Serve.
(Recipe Courtesy: delish.com)