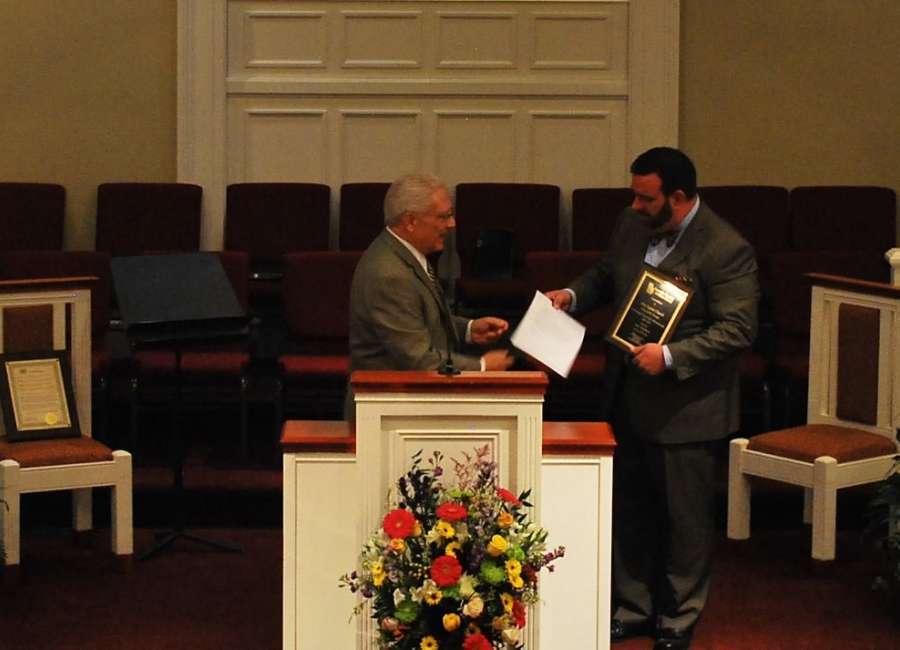 First Baptist Church of Hogansville enjoyed a wonderful day celebrating the church's 150th anniversary and homecoming on April 22.

About 180 former members, former pastors, friends, members and guests came together for morning worship and a covered dish luncheon. There were several significant moments including Hogansville Mayor Bill Stankiewicz's presentation of a plaque recognizing 150 years of continuous service to the Lord and proclaiming March 6, 2018, as  First Baptist Church Day in the City of Hogansville.
On March 6, 1868, 24 individuals met to organize a church of the Baptist faith in Hogansville.
Bobby Boswell, assistant executive director of the Georgia Baptist Mission Board, presented a plaque to Pastor Greg Morris, commemorating the historic occasion. Special music was provided by a former member, Mrs. Beverly Rhodes; a current member, Mrs. Sondra Lee; and the church choir, featuring Mrs. Amy Morris.
A piano prelude by a former member, Mrs. Rachel Yates, set the stage, and Morris delivered the sermon.
Among the guests were John Mark Carpenter and his wife, Betty, along with several members of their family. John Mark Carpenter was the pastor at First Baptist when the current sanctuary was built in 1956, and he preached the first sermon in the sanctuary. 
Following the service, the fellowship hall was buzzing with reminiscing and catching up with old friends. "The celebration was a momentous day in the life of our church, and we thank everyone who joined in the celebration or lifted us in prayer," said church member Ellen Davis.