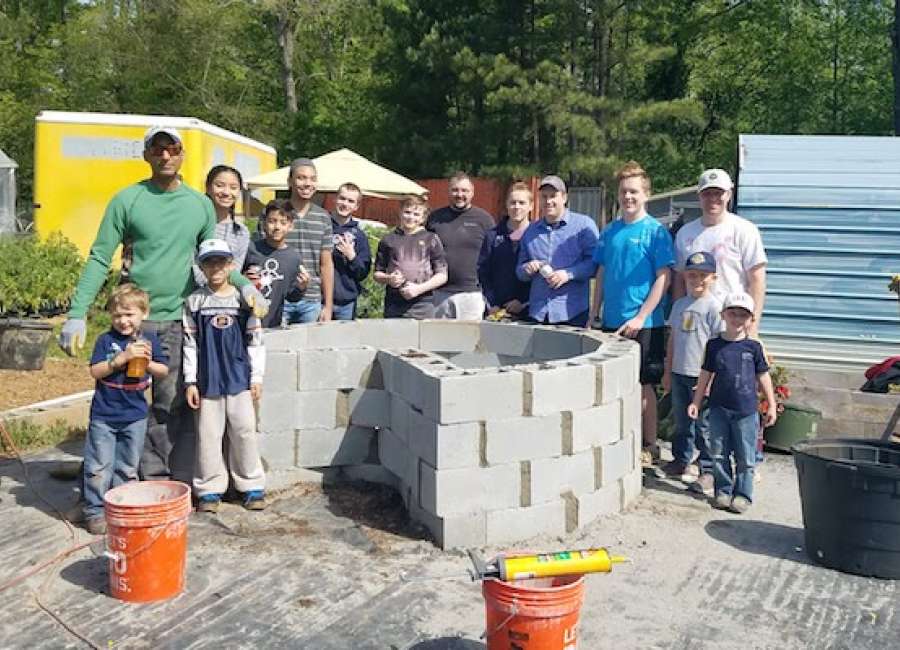 Roman Bordley, a rising junior at East Coweta High School, completed his Eagle Scout project by building a keyhole garden at Country Gardens Farm.
Bordley is in Boy Scout Troop 51. He said he became interested in the project because he knew the farmer, Mike Cunningham, of Country Gardens Farm.
Bordley said he and Cunningham discussed working on his Eagle Scout project at the farm, and Cunningham suggested that he should build a keyhole garden the farm could use as part of their learning gardens.
Bordley's project proposal was approved by the Boy Scout committee on Nov. 19, 2017.
To complete the project, Bordley said he priced the materials he would need to build the garden and worked on getting donations.
Home Depot donated $100 to the project and T&M Supply South, Inc. donated a bucket of stucco. Bordley said he supplied the rest of the materials with his own money he made working at Blue Alpha Gear sewing tactical belts.
A keyhole garden is a round garden that has a slice taken out of it so you can reach the center, according to Bordley.
Bordley said in the center of the garden is a place where you can compost kitchen scraps, and the nutrients can seep into the soil of the garden.
The garden is made of cinder block and mortar and finished with stucco. The composting basket is in the center, and there is PVC piping that can create a canopy over the garden in winter, according to Bordley.
Bordley began working on the project on April 7 and finished it on June 7.
One Saturday while Bordley was working on the project, his Boy Scout Troop and their dads helped him build the garden.
Judy Cunningham, who runs the farm with her family and husband Mike, said the farm has several different types of educational gardens.
Cunningham also said that some of the gardens, like the keyhole one, are raised so that people who cannot bend over can use them as well.
The keyhole garden is part of a bigger project the farm is doing to expand their teaching gardens, and Cunningham said she hopes they will be done by the end of this year.
They are also working on building a pavilion where they can teach cooking classes in addition to teaching people about gardening and preserving food, according to Cunningham.
"I could not have done this without the help of my community, church, family and friends," Bordley said.  
Bordley's Eagle Scout ceremony will take place in a couple months after he has an interview and is approved to receive the award.