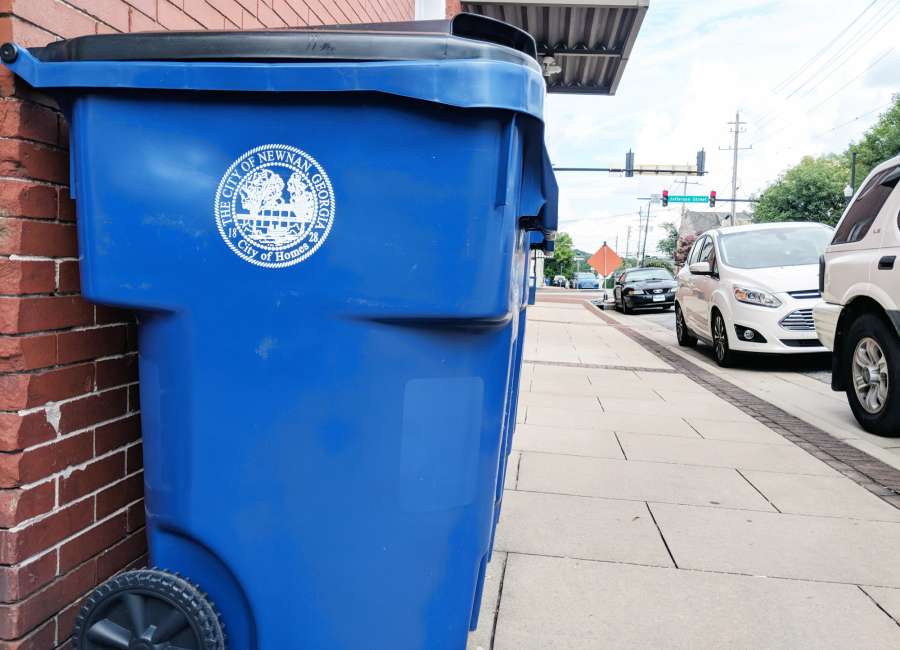 Following a significant rate reduction in early 2018, the Downtown Sanitation Program is now running a six-figure deficit.
Despite taking in an estimated $65,000 in annual revenue, the program is likely to incur $184,000 in expenses, leaving an deficit of $119,000. The program is now into its seventh month with a 50 percent subsidy rate.
In a six-month report, Assistant City Manager Hasco Craver presented the findings to the city council and suggested a solution to the deficit would require using money from the city's general fund while the discovery process continues.
"Overall, we have achieved the goals given to us by council," Craver said. "Our alleys are clean, and there is much less waste. Our program is working, but at the reduced rate."
Mayor Keith Brady said it's clear the program still has issues to be ironed out, but feels it's been a great success so far.
"There's no denying this is a much better environment than it was six months ago," Brady said. "But the money (to fund it) has to come from somewhere."
Currently, the sanitation program is serving 192 accounts, utilizing 255 containers, and collecting 12 tons of trash each week.
The vast majority of volume producers are restaurants. While employees spend a little over half their time collecting waste, they're also working on alleyway beatification and providing front door service for several customers.
Creating a fee schedule for a variety of uses across the city hasn't been easy. Presently, square footage is used as a guide.
Restaurants with a larger square footage than others are charged more. The same applies for retail and office spaces. A residential customer can expect to pay $14.96 each month, while a restaurant with over 3,500 square-feet can pay $251.67.
While 6-day-a-week pickup isn't necessary for all accounts, restaurants, offices and residential units often share the same alleys in downtown.
While having daily service has been very popular in the summertime, Councilmember Cynthia Jenkins asked if once the temperatures cooled down, pickup times could be reduced.
"We've found six out of eight large users are the restaurants who create the most waste," Craver said. "We've set an expectation where the cans are clean, touched daily."
Even if the rate reduction wasn't implemented, a shortfall would have been inevitable with the hiring of an additional staff member and other costs associated with starting up a program like this, according to Craver.
"I'm confident we'll realize cost savings as a result of efficiencies," he said. "It's always a moving target when looking at a commercial district. As business comes and goes, we'll see upticks and downturns with customers."
Downtown business owner Richard Mix said he's grateful to see the results of the services, but despite the rate reduction, he maintains the price tag is still a 400 percent increase from the bill he previously received from Waste Industries.
"Don't put 100 percent of the expense on the small business owners," Mix said. "Look at the building owners, the visitors and taxpayers. We have so many who benefit from this, but aren't writing a check to pay for it."
Another possibility floated, but not adopted, was the creation of a sales tax for those living inside the Newnan city limits.
Christy Baucom, owner of Christy's Cafe, said the rate increase has been extremely hard on her. She thinks the city rolled out the program without thinking of the financial consequences.
"They can't back out now, but it wasn't a smart move for taxpayers to invest in a trash service," she said. "If they wanted the alleys clean, they could have hired someone to do that. That's not what Waste Industries was assigned to do in the first place."
Her bill with Waste Industries was $90 per-month for twice a week pick up. Initially, the city wanted to charge $503 per-month.
After the 50 percent subsidy and adjusting her rate based on square footage of her seating area – not of the entire building -  she's now paying $127 monthly.
Baucom said she could keep a dumpster for less than what she's paying for city trash service. She believes she's being punished for other restaurant owners who didn't address their trash issues sooner.
While she doesn't share an alleyway, she's still locked into the trash service.
"I can't opt out," she said. "My hope is that the city might move the boundary closer to the square. But now, I'm paying for those restaurants who didn't take care of their trash in the first place."