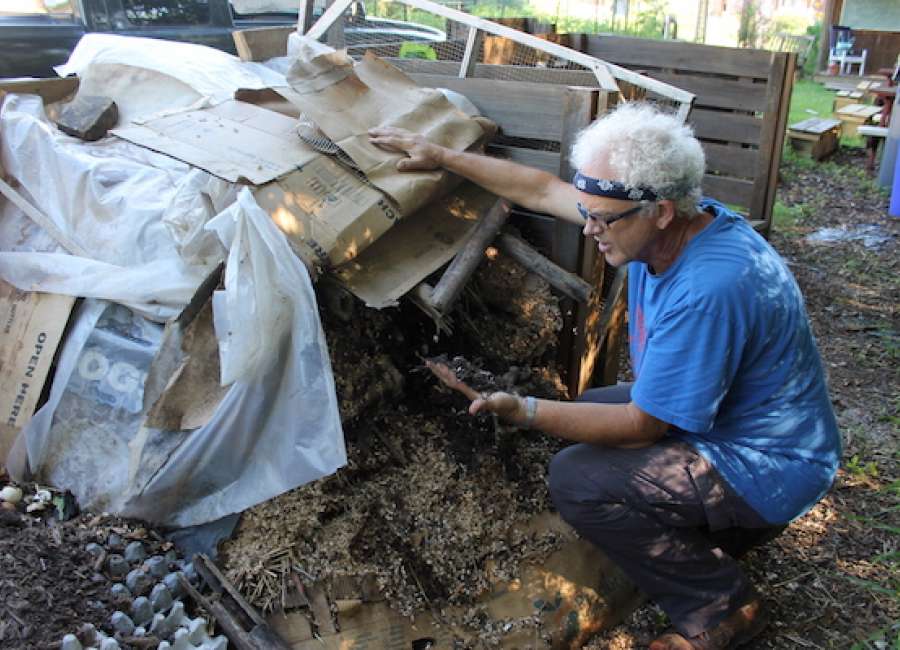 Several downtown businesses have been contributing food scraps that go into the compost pile at the New Leaf Community Garden.
New Leaf Community Garden is located on Salbide Avenue in downtown Newnan, and is open to the public from dawn until dusk. The garden rents out raised beds and donates produce to several local restaurants and food banks.
Ken Nowling, who keeps up the compost pile, picks up the food scraps and adds them to the compost pile at the garden every Tuesday and Friday morning.
Bolton's Bakery, Leaf and Bean and Christy's Cafe all contribute their scraps to be composted.
After Nowling picks up the scraps, he brings it to the garden and sifts through what they gave him to make sure there aren't any pieces of plastic or trash that can't be composted.
The downtown restaurants give the garden their used coffee grounds, coffee filters, egg shells, paper egg cartons and fruit and vegetable scraps.
Custom Wood Creations provides wood shavings and sawdust, and Newnan Utilities and Coweta Fayette EMC donate wood chips to go in the composting pile.
Nowling has been working the compost at New Leaf Community Garden for five years. He said that composting is not as hard as people think, citing rules found on the internet about how to compost that tend to over-complicate what is a simple process that anyone can do.
One of the biggest reasons people think composting is difficult, according to Nowling, is because they read on the internet that compost has to maintain a certain temperature. He said that is simply not true.
He also said people think they need to buy special bins for their compost, when a spot in the garden will work just fine.
Nowling suggests that if someone wants to start their own compost in their garden, to dig a trench and start putting their compostable trash in it, and then put the dirt back over it.
"It's kind of neat being able to do something when everyone makes it seem so hard," Nowling said.
From start to finish, it takes about three months for a compost pile to build up and have enough organisms break down the trash for it to be ready to use for fertilizer.
Nowling said anything that is not man-made can be composted. To prevent attracting animals, it's better to leave out meat, cheese and bones.
Cereal boxes, cardboard, newspapers and magazines are all great for composting. However, Nowling said cardboard that has a wax coating, like milk cartons, isn't as compostable.
After gathering all materials for composting, insects and organisms will start the decomposition process, Nowling said.
The most visible creatures that help eat and break down a compost pile are worms, but there are also smaller organisms that will help in the composting process, according to Nowling.
Nowling said that as the organisms eat the material, the compost will heat up, but it does not have to be at a certain temperature to work.
An important part of making a composting pile work is keeping it covered up, whether with a layer of soil, cardboard or a plastic cover, according to Nowling. He said it should be covered enough where it doesn't get too wet and so animals can't get into it.
"God has been composting since time. I mean, it just falls to the ground and decomposes. So, it's really easy," Nowling said.