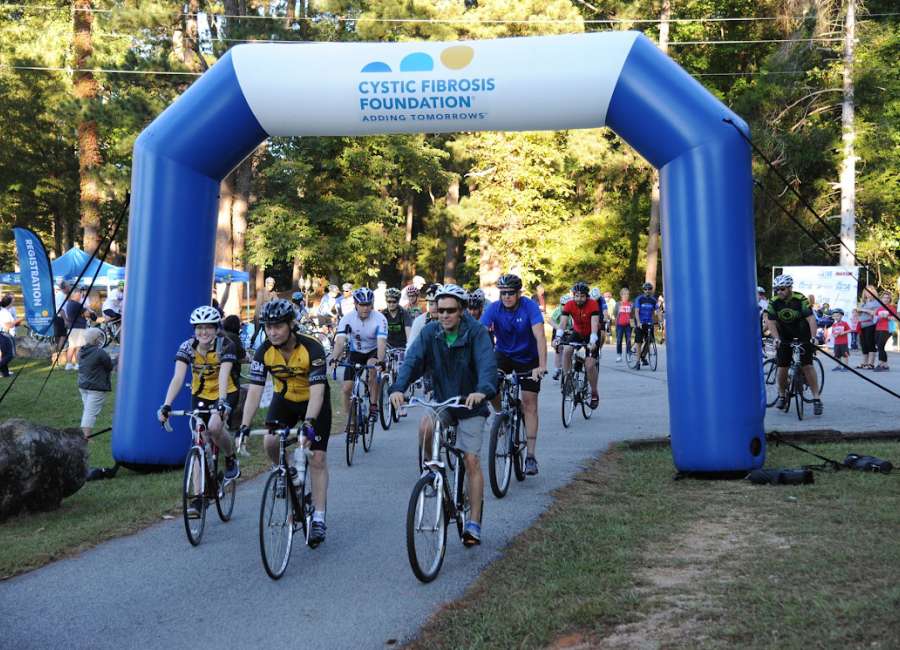 The Cystic Fibrosis Foundation's Georgia Chapter is using free ice cream as incentive to attend a training ride for an upcoming cycling event.
The ninth annual CF Cycle for Life charity ride, hosted by the foundation, will be held Oct. 13.
As a prelude to the big event, there will be a 35-mile training ride on Saturday, July 28. The group will leave Senoia Bicycle at 10:30 a.m. and ride to Gregg Farms to get free ice cream.
The October fundraiser ride that includes cyclists from all over the Atlanta metro area will start at 8 a.m. in Marimac Lakes Park in Senoia.
"Although the ride is a national cycling event, this is the Georgia chapter's one big cycling event of the year," said Joanne Krickovic, development director for the foundation's Georgia chapter.
With Senoia being described as a "cyclist's destination," because of the area's safety and low traffic, the foundation has added an additional route to the ride this year. Cyclists will be able to choose between 15-, 30-, 50- and 65-mile options. The 50-mile option is new this year.
"They have support along the way while they're riding," said Krickovic. "So it's not a race. People can ride at their own pace. There will be rest stops at every 10-12 miles. Riders will be able to rehydrate. There will be support vehicles and route marshals making sure that they go in the right direction. It's a very safe and secure ride. When they're done with the ride they then come back to the park, and they join the post-event festival celebration that we'll have on site."
The celebration will include free BBQ, a free beer garden and free massages. There will also be a live DJ and vendor booths.
Registration is available until the morning of the ride. Riders are to pay a registration fee and are asked to raise a minimum of $165.
All proceeds go towards the Cystic Fibrosis Foundation. Donations are accepted as well.
On a national level, the foundation has a $3.5 million goal for this year.
"The money goes towards supporting our mission," said Krickovic. "Essentially all money that's raised for cystic fibrosis goes towards supporting our mission. Over 90 cents of every dollar goes back towards our mission, which includes medical research, patient programs, patient outreach and advocacy."
According to the foundation, funds raised through CF Cycle for Life have helped spur dramatic progress in the lives of those who have cystic fibrosis. Fifty years ago, most children with the disease did not live long enough to attend elementary school. Today, people with cystic fibrosis are living well into adulthood.
Since the life expectancy of a person with cystic fibrosis has widened, so has their quality of life, according to Krickovic.
According to the foundation, 870 people in Georgia have the disease.
Krickovic describes cystic fibrosis as "a chronic genetic disease that people are born with that affects their lungs and digestive system. The severity of the disease depends on person."
The Georgia chapter raised $160,000 with 250 cyclists during their Senoia ride last year.