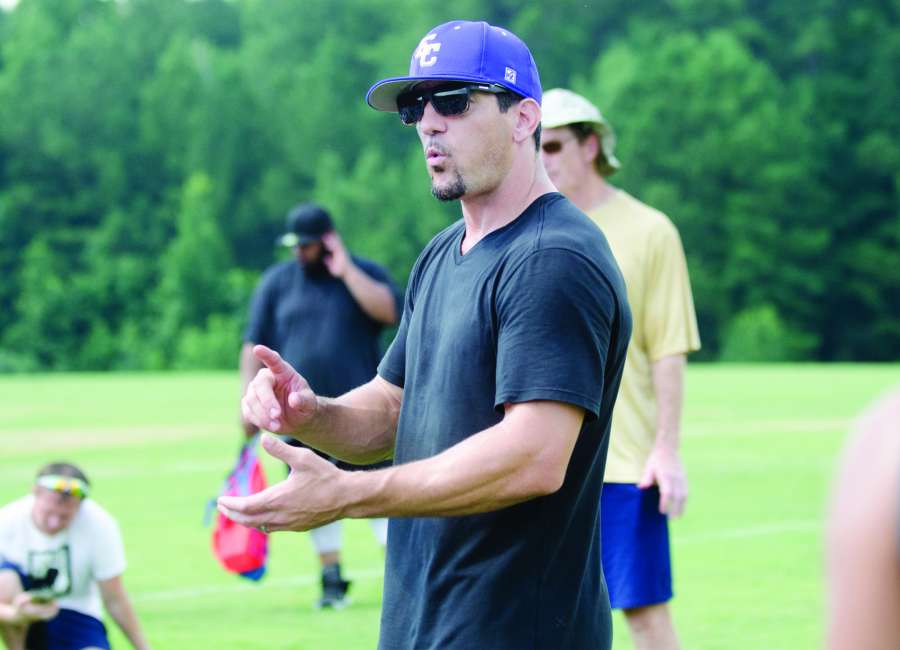 By CHRIS GOLTERMANN
There was a lot more grass on the field at Garland Shoemake Stadium in the fall of 1993 than when Keith Brooking returned to his alma mater on Saturday.
But it didn't dull his memory one bit recalling one special Friday night of his junior season of high school football.
Brooking, who's settled in Bluffton, S.C. and traded in his helmet for a ball cap and the full-time role of dad to his four children, was back home on Saturday to help sponsor a free Kids & Pros Clinic at alma mater East Coweta High through his foundation.
"It's been great to have Keith connected to this program again," said Indians head coach John Small.
While drawing a bit from the past, Brooking equally liked what he saw between happenings on and off the field with the Indians — from a new track and turf playing surface under construction to the preparation for the 2018 season opener at Mercedes Benz Stadium.
"I've gotten to know Coach Small over the past year and I think he's been going about this the right way," Brooking said.
The four-hour clinic, which attracted over 200 athletes and was spared by an early afternoon downpour that was followed by clear skies, was led by two other former Atlanta Falcons, linebacker Buddy Curry and Bobby Butler.
"I think this is the perfect number of kids for this, because you want to keep them involved," Brooking said.
The duo, along with a host of other former athletes have used similar clinics to educate young players and parents about safer techniques of playing the game and incorporating them in drills.
Curry, now a USA Football Master Trainer, and his staff also spoke to parents and family members about a number of subjects including proper equipment fitting as well as concussion and injury prevention training. Prior to its conclusion, Brooking gave the group a final message to how the game can make an impact on their life.
"My coaches ingrained discipline in me and the ability to know that if I set my mind to it, that the sky is the limit. I didn't do it on my own," Brooking told the group. "It's easy to sit there and say create good habits for yourself. But the way you can do that is surround yourself with the same things that you want. That's what football did for me. I wasn't perfect. I had bumps in the road. But for the most part I surrounded myself with wanted the same things out of life and football enabled that for me."
Brooking gave an example of the discipline he learned that came from his senior year of high school football, recalling linebacker drills that were ingrained on a daily basis by position coach Bill Kelly.
"Everyday, 15-20 minutes. The toughest part of practice on technique and fundamentals. Bag drills. Guess what, we complained about it," Brooking said. "All we wanted to do was team drills. When are we gonna scrimmage? We didn't understand it."
Always wanting to scrimmage instead at practice, the former Indian recalled how game against rival Newnan for a region title, they allowed him to be prepared to make a stop off a counter during a shutout victory after the Cougars had run the ball heavy to one side of the field through much of two quarters.
"I knew what was coming because we had studied for it. We had gone over it in drills," said Brooking, who was able to made an open-field tackle that prevented a big gain in a 17-0 victory. "We get in the film room the next day, Coach Kelly's got the clicker. We get to that play and every step he points out all the drills we do everyday. It's an unbelievable lesson, because you are what you repeatedly do."
Brooking equally understood that while football won't be as big a priority growing up as to others, that the lessons of repeating the right habits are essential to success in life.
"What are you doing everyday, not just in football? What are you doing in school? How are you treating your parents? How are you treating your peers?," Brooking asked the group. "What kind of habits are you creating for yourself at this age. Cause guess what? You are going to be what you repeatedly do on a daily basis. Success and excellence is a habit. It's not a one-time deal. Life doesn't work that way. It's not too late to create good habits for yourself."