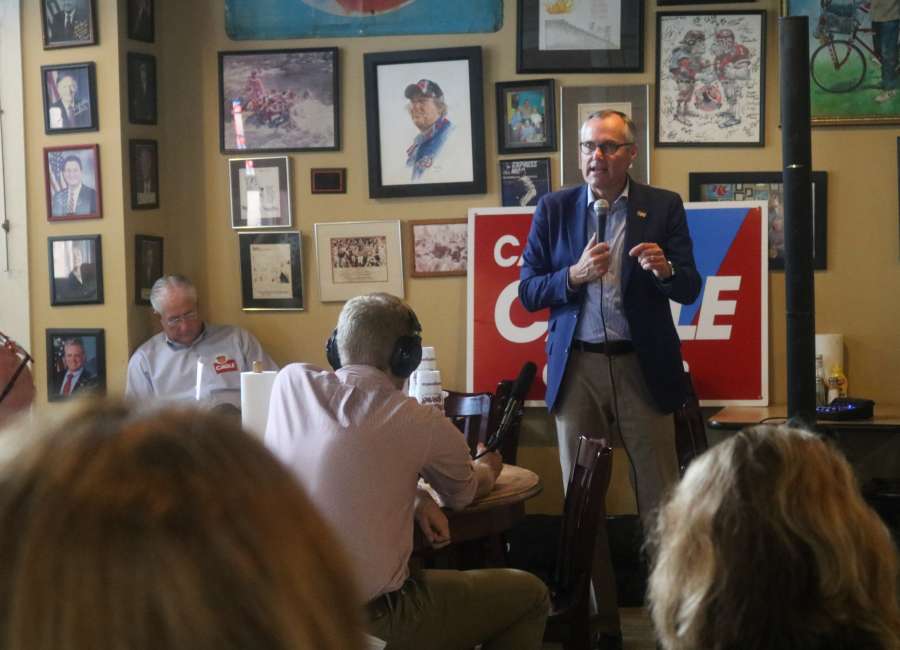 Lt. Gov. Casey Cagle made an appearance at the Redneck Gourmet Thursday to meet with supporters ahead of next week's runoff election.
Cagle is locked in a fierce battle for the Republican nomination for governor against Secretary of State Brian Kemp, who earlier this week was endorsed by President Donald Trump.
Former U.S. Rep. Lynn Westmoreland and Coweta County Sheriff Mike Yeager were on hand to show their support for Cagle, who called their presence "a great honor."
"I am so thrilled and excited to be back here in Newnan and to have the great Lynn Westmoreland here and also the sheriff," Cagle said. "You guys have the best sheriff in the entire state. He's a good, good man."
Cagle touted the nation's first German-style apprenticeship program, piloted in Coweta County three years ago, of which is he has been a staunch supporter. He promised a continuation of Georgia's economic growth, an increase in better-paying jobs and a decrease in the state income tax – "way down below 5 percent."
The candidate drew high praise from Yeager.
"It's people all out here today that's saying that they're tough on crime," Yeager said. "They're saying they're tough on taxes. They're saying that they're tough on immigration. Everybody wants to be tough on everything today.
"I know one person that is tough and fighting for our taxes, (and) he's sitting right there," added Yeager, referring to Cagle.
Westmoreland said Trump would not recognize Kemp if he ran into the Georgia gubernatorial candidate.
"Casey mentioned something about somebody coming out and endorsing Casey's opponent yesterday," Westmoreland said. "He is the president of the United States and I'm an average citizen. But you know the difference? I know Casey Cagle. The president wouldn't know Casey's opponent if he got in a cab with him."
Cagle told the crowd he is the right choice for the Republican nomination because he can defeat Stacey Abrams, who secured the Democratic nomination for governor in May.
"If you want the best candidate to win in November, the only candidate that every poll has shown can win in November, then you need to vote for Casey Cagle," said Cagle. "We have been able to do some remarkable things as a state. When you think about where we are right now, we are the envy of the nation. No one really compares to who we are in Georgia, and I don't think Washington, D.C. should pick our next governor either.  "
Early voting for Tuesday's runoff ends today.