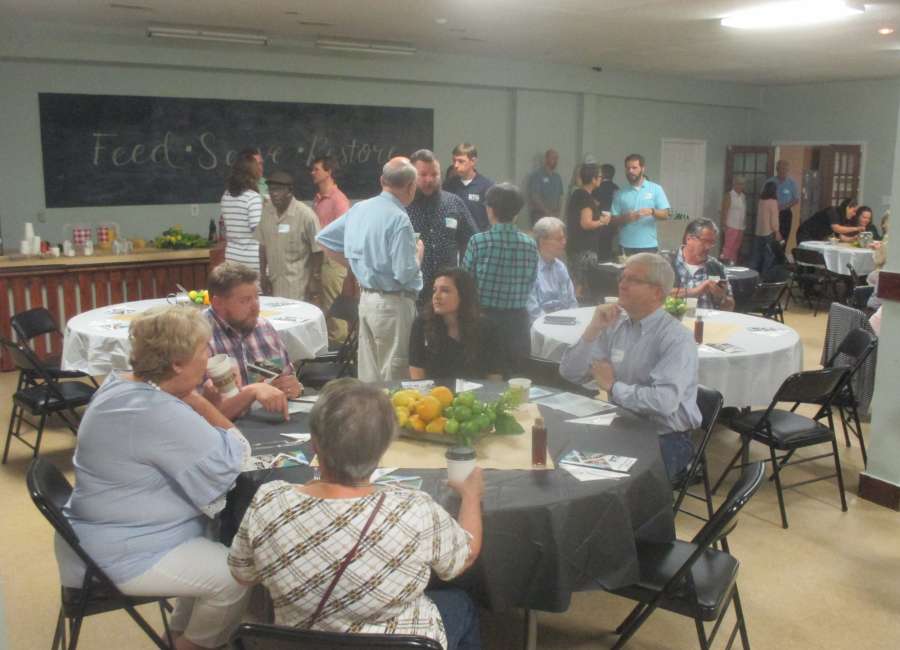 "There is no doubt what God is doing here," local pastor Clint Nolder said at a meeting to connect Bridging the Gap with potential supporters and partners.
"There's something special going on in Newnan," agreed John Melia, who recently completed a stint as interim executive director of the ministry. "You can't help but be blessed by this place."
Bridging the Gap is looking for financial support as the ministry expands. The project began in 2009 – distributing food that would have been thrown away by local grocery stories to people in need and to local groups helping those people.
Today BTG has a ministry that offers food regularly but also offers laundry and shower facilities for the homeless.
BTG's staff and volunteers, in fact, help people with a wide range of issues. Staff members have been known to transport people needing help with long-term substance abuse problems to facilities several hours away.
The needs are growing. In May 2017, BTG served 403 households. In May of this year, that number had grown to 825 households.
Although the economy seems to be improving, many people are caught in a tough situation. "A lot of people we work with fall just above the poverty gap," Melia said.
He told the group gathered for breakfast that they will be encountering people who have needs. "You have a place to send them, and we need your help," Melia said.
"We need reliable donations. We need a reliable income," Melia said. He asked people "to support this bridge in our community."
Donations to help with the ministry may be sent to Bridging the Gap, 19 First Avenue, Newnan, GA 30263.
Melia said BTG often does seemingly small things for people that can make "a huge difference" in that person getting life back on track. "When lives are restored, amazing things happen," he emphasized.
The organization has undergone several major changes in the past six months – including the departure of Alison Wallace, the founder and longtime head of the project, and then an interim period when Melia led BTG.
Last month, the organization held Breakfast at the Gap, inviting community leader to enjoy pancakes while learning about the breadth of BTG's outreach and the need for more funding.
Bridging the Gap is open for people who need showers or laundry facilities on Tuesdays and Thursdays from 10 a.m.-1:30 p.m. A hot meal is served both days.
Food is distributed on a first come, first served basis on Saturdays at 8 a.m. BTG's headquarters are at 19 First Avenue.
At the June 15 breakfast, Matthew Pass, president of the BTG board, praised Melia for his work with the ministry since February. "John has really done an amazing job – leading us toward actualizing our mission," he said.
He also talked about the entire staff and their approach to people seeking help and those coming to volunteer. "They're loving on people – whether they're coming down here to be served or to serve," Pass said.
"What an amazing group of people we have here. That's what makes Newnan and Coweta County a great place. That's what makes Bridging the Gap great," Pass said to the approximately 100 people at the breakfast.
Area churches have always been part of Bridging the Gap's formula. Foundation Church has been involved in several BTG projects recently.
Nolder, lead pastor at Foundation Church, said BTG serves as "an extension of our staff" – connecting the church with needs in the community. BTG offers "an incredible opportunity to dig in and really get our hands dirty," he said.
"It's been a great blessing to many people," Pass said.