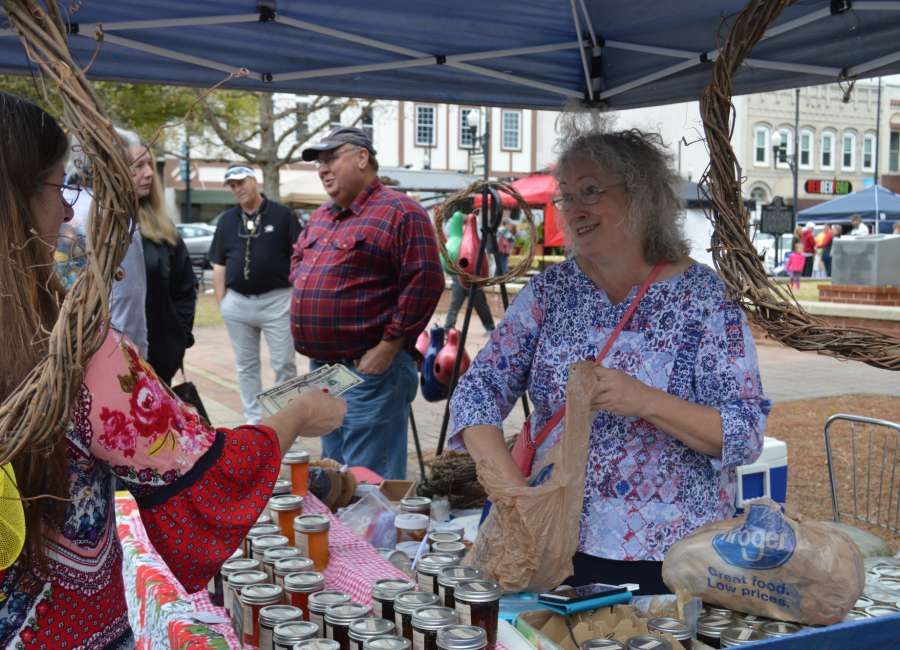 Kim Littleton's jams and jellies have become a hot commodity around Coweta County.
Kim creates 20 different varieties of the spreadable preserves, including five kinds of her now famous "Hot Pepper Jelly."
For three years, Kim and her husband, Richard, won tops awards for the "Best Pepper Jelly" at the Kiwanis Coweta County fairgrounds.
They also placed first in the division for "Best Overall Canned Goods," said Kim.  
But the Hot Pepper Jellies seem to be the real show stoppers.
"We sell blackberry, blueberry, peach, raspberry and a 'regular' pepper jelly," Kim said. "We sell jellies using 'normal heat,' and some with habanero heat. We make sure to label the jellies with habaneros in them."  
Kim said every jar of Hot Pepper Jelly has five types of peppers added into the jar of preserves: cayenne, green pepper, hot banana, sweet banana and jalapeno. She also sometimes adds a sweet italian pepper into the mix.
All of the jams contain fruits and vegetables that are farm grown and handpicked by Kim and Richard.
The couple run the Littleton Family Farms in the tiny town of Clem, right outside of Carrollton.
But the duo spend a majority of their time in Coweta County, selling jams and jellies, fruits and vegetables and even hollowed out gourds for birdhouses.
The Littletons sell their farm fresh items exclusively at the annual Market Day events in downtown Newnan, the Coweta County Farmer's Market and the Kiwanis Coweta County Fair.
Kim and Richard allow potential buyers to sample some of their jams and jellies – both hot and not – before committing to one of their products.
If folks are still unsure how to use Hot Pepper Jelly or what foods to pair with it, Kim has a long list of tips to ensure people find ways to make their taste buds tingle.
What can I do with my award winning Hot Pepper Jelly?
By KIM LITTLETON
Littleton Family Farms
Add the jelly with cream cheese and crackers. It makes a great appetizer for showers and parties. Try the Hot Pepper Jelly with goat cheese, smoked cheddar and brie too.
Use a spoon of pepper jelly on meat before cooking. It's great on pork, chicken, and red meat.  Put a little pepper jelly underneath the skin of chicken quarters. When cooked, the jelly becomes like a syrup. It's a great way to add a little sweet heat.
Add some into cooked carrots for a little extra flavor.
Hot Pepper Jelly works great when cooked with collards and other greens.
Use it to spice up a 'plain' pasta salad.
Add Hot Pepper Jelly to a cream cheese mixture when making Jalapeno Poppers. If using frozen poppers, put some pepper jelly in a bowl for dipping.
The jelly is a perfect addition to a sweet and sour pork recipe.
Add the Hot Pepper Jelly to a pimento cheese sandwich for a little zing or bring a little spicy style to a Peanut Butter and Jelly sandwich.  Or replace a typical PBJ sandwich with a grown up version of Cream Cheese and Hot Pepper Jelly.
The jelly is a great addition to omelets. Mix with plain yogurt or cream cheese to spread on top of a bagel.
Add Hot Pepper Jelly to a spiced-up vinaigrette: In the bottom of a large salad bowl, whisk together olive oil, red wine vinegar, grainy mustard and a flavored pepper jelly until emulsified.
Fish-n-Dip: Mix together equal parts horseradish sauce and a pepper jelly; serve this dip alongside any deep-fried fish or seafood for a uniquely tangy and spicy bliss.
Mediterranean Turkey Burgers: Mix together ground turkey, melted butter, dried sage and pepper jelly. Season generously with salt and pepper, then throw on the grill.
  * Grilled pineapple with flavored pepper jelly glaze
Top a bowl of vanilla ice cream with flavored pepper jelly for a delectable treat.