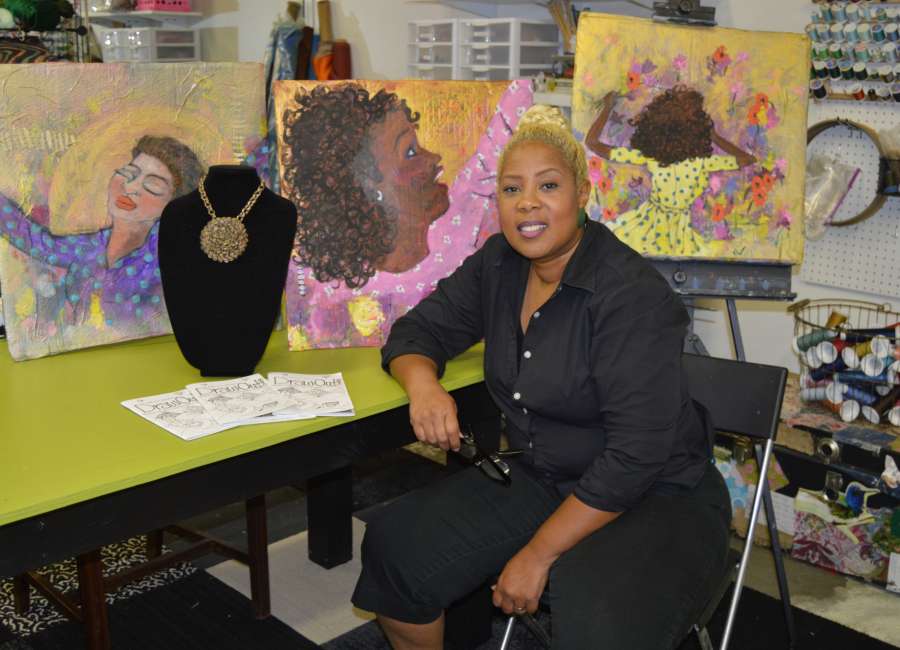 For people peeping through the window into Tracey Brooks' world in 2016, it seemed like the Newnan mother of two's life looked perfect.
Brooks was married and a stay at home mom who lived in a beautiful home, surrounded by top-of-the-line items, the "best" that money could buy.
Only Brooks and her children knew the ugly truth, that she was being mentally, emotionally and physically abused allegedly by her husband.
"I got smacked so hard in the head, my ears would ring," Brooks said. "He would tear me down and tell me I was no good.
"I believed the hype he was feeding me," she continued. "If you believe it long enough, it starts to grow, like weeds. Soon, you can't see light through the forest of weeds."
Brooks said she soon found solace at Backstreet Community Arts studio at 19-B First Avenue.
Backstreet Community Arts provides a place for people who believe in the healing power of art, according to Kim Ramey, founder and director of Backstreet Arts.
"I have all this scientific data, but I know art saved my life,"she said "I have anxiety and grief in my life. If I did not do art, I would come undone. For me, if I'm worried with anxiety, the act of going back and forth with a paintbrush is self soothing for me.
"We find people come into the studio for all different kinds of reasons," Ramey continued. "They're all diverse. As you work with art, your stories come out. It helps you."
Ramey said she has drawers full of scientific studies that prove art has a positive effect on the mind, body and soul.
"I think art helps discover who we are," said Ramey. "Just looking at art helps us feel more joy. I know some people come through the studio and discover they're good at something and create something out of nothing. It does a lot for your self worth and self esteem."
At first, Brooks volunteered her time there to help people build resumes.
Soon, however, she gave in to Backstreet Community Arts' mission and started using art as therapy.
"I felt God calling me to use the studio," Brooks said. "At the time, I wasn't ready to leave my husband or tell people I was being verbally, emotionally and physically abused. I was actually very depressed."
Brooks began painting in the studio and gradually met more people who would join in and share their own stories.
Brooks said she soon found herself mentoring people in her group.
"That's when I grew my wings. I became strong enough to say, 'No. I don't deserve this,'" she said.
Brooks said when her husband planned to move away from Newnan, she drummed up the courage to tell him she and her two children would not be going with him.
She said she filed for separation, and he continued with his plans.
Brooks said she and her children were left with only three backpacks full of clothes and some toiletries, little cash and a car – and without a place to live.
Brooks said for the first time in her life, she swallowed her pride and reached out to various charities and organizations for help.  
During this dark time, Brooks began "drawing out" her feelings in a series of "Draw Out" books that she created.
She said it helped her cope with negativity and /or bad situations.
"If I'm frustrated, I'd write the word 'frustration' down, and then doodle around it … maybe flowers, leaves or other words. I was getting my frustration out and I was also working out a solution to my problem," Brooks explained. "We all have the ability to find the solution to our issues, even if it's just reaching out and talking to someone."
Brooks believes creativity can change a person's perspective on an issue and can even ease the pain of the problem.
"I have to have art, clay and design in my life," she said. "When I feel I can't control something, I paint. It releases so much stress for me. When I'm feeling good, I might paint brightly colored flowers. When I'm feeling bad, I use a dry brush and paint dark colored objects with texture."
During this time, Brooks decided to become an art coach, helping people find ways to express themselves through any medium of art, though she is not a licensed therapist or counselor.
Brooks is currently teaching people to paint at the Backstreet Community Arts studio and showing people how to create jewelry using polymer clay.
Brooks also started her own nonprofit organization called Creatively Promoting Family Wellness, or CPFW.
"My motivation is to help other people," she said. "Humans need to have healthy emotions and be able to open up and say, 'I'm hurting inside.' You have to be able to release that hurt.
"During my darkest days, at least I had my art," Brooks continued. "Some days I just needed another human being in the studio just so they were 'walking' beside me in the midst of things."
Brooks made her debut at Maker's Day in early July at the Historic Newnan Train Depot, where local artist display their talents and work to the public.
Brooks sells her Draw Out books and is continuing to expand her business and her charity.
She helps people face their fears and futures with "manifestation boards," where people draw or cut out pictures to depict their lives and place the objects on poster boards.
Brooks said while the past year has been a rocky road to recovery, it is dark path she would walk again.
"God has blessed me this whole time. Now, I finally feel free," Brooks said. "I thank God for all this. I know I was meant to be here, living in Newnan, and I was meant to do this."