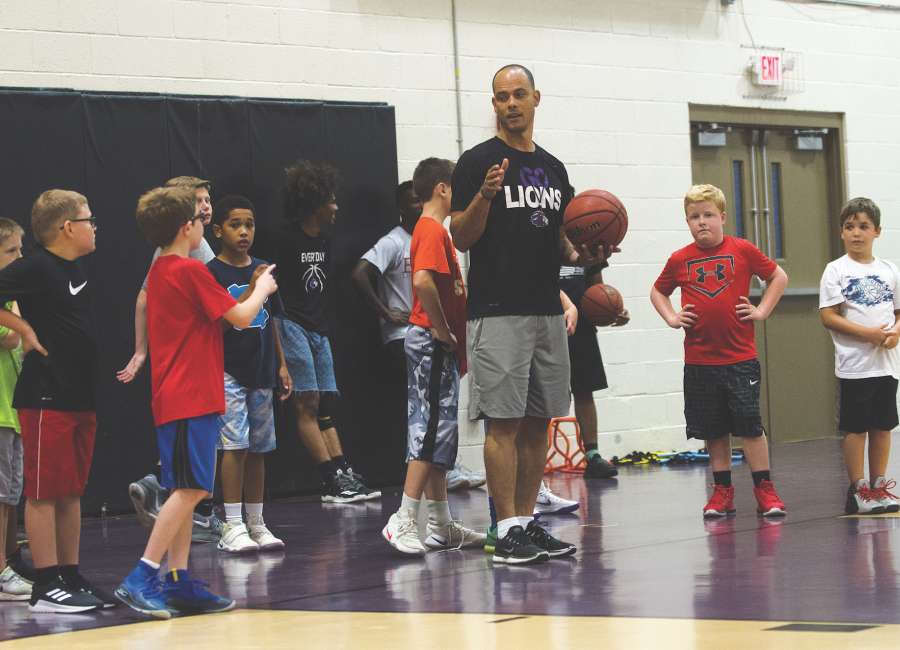 By CHRIS GOLTERMANN CowetaScore.com 
Erick Valdez is an example of how America is the land of opportunity, and more importantly, how to make the most of a chance of a lifetime.
It began last year as a senior transfer from San Cristobal, where he and his family struggled in the Dominican Republic.
A talented 6-foot-7 center on its 16-year-old junior national team, his situationcaughttheatten- tion of Trinity Christian head boys basketball coach Will de la Cruz, who also grew up playing basketball there in his native country.
Having previously helped assist the Domini- can National team in past years, de la Cruz saw equal opportunity to have a positive impact in Valdez's life.
It led to an effort that allowed Valdez to spend his final year of high school in the United States as a senior at Trin- ity Christian thanks to de la Cruz's help.
"Anytime I see a kid in that need basis, I want to help with that change. He wasn't even one of that team's best players. But he comes from a family that was poor," de la Cruz said while hosting his second annual Young Lions Youth Basketball Camp for grades 3-8 this week at the school. "When they come here, they know it's a once in a lifetime opportunity. So they'll do everything. Hard work is not going to be a thing that stops them."
On the court, Valdez excelled last season while averaging 11.4 points, 10.3 rebounds and three blocks per game to earn All- Region and All-County First Team honors for a Lions team that went 28-7 and reached the GISA Class AAA Final Four with only one loss coming outside of state finalists Holy Spirit and Heritage School.
Off of it, Valdez equally maintained an equally fierce work ethic that turned early academic struggles according to
de la Cruz for a first-time English student into A's and B's by graduation.
"It was rough. His Eng- lish wasn't polished. He knows words but it was tough sometimes to put it all together," said the Trin- ity coach. "He finished the year with all A's and B's. It's his work ethic."
It eventually helped Valdez land a full Division I scholarship at Gardner Webb, which benefited from a recruit that hit the college radar later than most players.
"You know we can look at it and say, yeah that's for basketball. But that's what he gives us. Him going to college here is huge for his whole family. That opportunity is huge," de la Cruz said. "We try to do stuff that will help place funds on another end for them."
While Trinity was unable to help Valdez, he was able to attend through an international fund, one that the Lions head coach looks to grow through an inaugural golf tournament event on Aug. 25 at Sum- merGrove Golf Club.
The Lions head coach is hoping that the pro- ceeds from the first-ever fundraiser event hope to provide two more ath- letes from the Domini- can Republic a chance to attend TCS. He and his wife made personal sacri- fices to help Valdez receive an education in the United States.
"That excites me more. The basketball and winning is one thing. But to me, it's [done] to change lives," he said. 
Valdez, who boasts a 42-inch verti- cal leap, arrived immediately at Gardner Webb this summer to get a jumpstart on college. The Bulldogs' staff, led by head coach Tim Craft, made more than handful of visits to see Valdez, who was also able to play at the AAU-level.
"Most of the recruiting begins in that sophomore year of high school, so he was a little off the radar," de la Cruz said. "But I told [Gardner Webb] that if he gets to the live [recruiting] period, he's going to start getting some more interest. Their system is really a good fit for him."
The feeling from Gardner Webb's standpoint seems mutual. "Erick has incredible bounce and athleticism, and could be one of the best rebounders we've had here by the time his career is finished," Craft said in a release. "He has the ability to really impact the game around the rim and on the back- boards on both ends and is learning our system quicker than expected. We are excited about his potential."
While short, Valdez's presence at Trin- ity seemed to make an impact of its own among the student body.
"I've talked with our headmaster [Dean Demos] about it. It's really good for our school. I think our culture at Trinity was helped because of him. Because our guys looked at him and said, 'Why does he work so hard?," de la Cruz said "It's good for them."