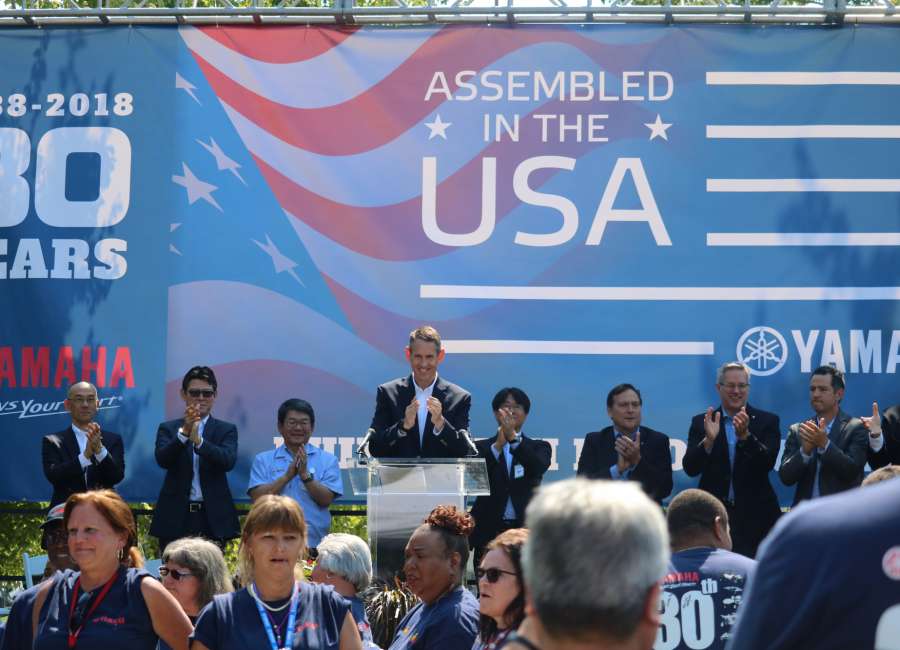 Yamaha Motor Manufacturing Corporation of America and Yamaha Motor Corp., USA, celebrated 30 years of U.S. manufacturing at the Newnan facility on Friday.
Of Yamaha's approximately 3,400 U.S. employees, more than 1,500 people are directly employed at its YMMC factory in Newnan.
Hundreds of employees, including the 44 original employees, were celebrated.
Ken Elerbee started when he was 24 years old and was one of those original 44.
"Sometimes it seems like a long time ago since we started, but most of the memories feel like yesterday," said Elerbee.
He continued to to recount other timestamps of 1988 and the products the facility made in its first year, like the production of the G2 golf car.
"We make the best products by the best people," added Elerbee. "We're just getting started."
Special guests who represented the company's customers and parent companies came to Newnan personally to thank the employees for their hard work and dedication.
Throughout the three decades as a leading manufacturer based in Georgia, YMMC has produced more than 3.5 million vehicles including ATVs, SxS vehicles, golf carts and watercraft for worldwide distribution.
Another one of the 44 original employees, Dwayne Brook, is a native of Coweta County, and started working at YMMC when he was 19 years old. He is the youngest of the original group and plans to retire with the company when the time comes.
"This company has given me an excellent opportunity," said Brook. "I started in the assembly line, and now I'm all the way in management. It's provided for my family. And also all the things that we've done for the community I enjoy."
According to Bob Starr, corporate communications manager for Yamaha, the team is responsible for "assembling the world's best" motor products.
Over the past 15 years, Yamaha has invested more than $354 million to create and maintain a 1,355,000-square-foot facility in Newnan, while ensuring products are built in a safe and environmentally responsible manner.
"When I think about YMMC the most important items to me are the people at YMMC and the relationship with Yamaha," said YMMC President Mike Chrzanowski. "There's been over 3,800 people who have worked tirelessly at YMMC in the past 30 years, plus the 1,500 of you today."
In his 16 years with the company, Chrzanowski cited Yamaha as a "true multicultural company" where the employees take pride in their jobs and embrace "kaizen" – a culture where employees are heavily involved in company and product improvement.
"I work for YMMC," Chrzanowski said. "And YMMC does not move forward without any of the employees."
Chrzanowski has been president of the local facility since the end of 2017.
"I'm proud to be your president and to be part of a team that strives to maintain the unique aspects of why YMMC will continue to strive for another 30 years," said Chrzanowski.